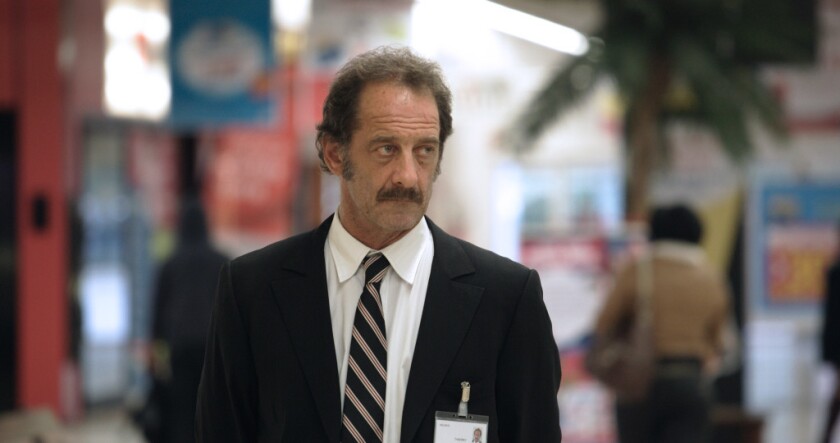 Sobering and political, Stéphane Brizé's quietly tragic social drama "The Measure of a Man" puts an unemployed, middle-aged husband and father (Vincent Lindon) into the kind of economic and moral quagmire reminiscent of the wrenching working-life stories told by Belgium's Jean-Pierre and Luc Dardenne ("Two Days, One Night," "La Promesse").
Sensitively handled yet unafraid to elicit squirming, and boasting a seriously affecting turn by Lindon — who won last year's Cannes award for Best Actor — it's a miniature portrait of quotidian desperation that nevertheless speaks to the collective psychic moan of job-seekers and those barely holding on everywhere.
When we meet 51-year-old Thierry (Lindon), he's been out of work for a year and a half since being laid off from his factory job, and money is drying up fast. But there's fight left in him, as we see right off the bat when he complains to an employment agency rep about four months spent training to be a crane operator, when nobody informed him the job ultimately required ground experience in construction that he didn't have. Four months, in other words, wasted. "You're conning people," he tells the blank-faced counselor.
Grievance doesn't fuel Thierry, however. His former co-workers can't wait to contest the layoffs in court, but Thierry — who has a wife (Karine de Mirbeck), a disabled teenage son (Matthieu Schaller), and a mortgage on their modest but well-kept mobile home — wants to move on and find a job.
But "The Measure of a Man" makes distressingly clear that today's job market is as much a supplemental economy of heartless, degrading evaluation. At a job-recruitment workshop, Brizé trains one of his many long, observant takes on Thierry's impassive face as he's told by strangers who've watched his mock interview video, that he seems distant, inaudible, uncommitted and evasive. How does this help anyone find a job?
Brizé's most effective filmic touch is splitting Thierry's story into halves: the difficult search for income that he nonetheless applies himself to with vigor — when he sits in front of the computer for that Skype interview, Lindon looks like he's squaring off against technology — followed by the ill-fitting job he eventually takes, as a big-box store security guard whose duties threaten to strip-mine his soul.
The humiliated but engaged contender of the early scenes, now tasked with doing the humiliating as he sweats out cash-strapped shoplifters and surveillance-captured employees cutting corners, becomes a shadow of his former self. By this point, Brizé has even taken to filming Lindon from behind the shoulder, as if to spare us his protagonist's shame. The drawn-out effect is patiently devastating, and Lindon, his character no longer speaking for himself but rather for an unfeeling corporation like the one that once fired him, carries the weight of this integrity-damaging sublimation with heartbreaking aplomb. His performance is hard to shake.
The movie essentially depicts a despairing maze, with a beaten-down Thierry its unfortunate lab specimen. He's a casualty of labor's decline wondering if the ever-narrower path he's navigating will allow him a modicum of dignity, or point him toward another exit that means starting over. This is today's capitalism, Brizé and co-screenwriter Olivier Gorce seem to be saying: a chilly labyrinth of bad and worse turns.
Thierry's pride as a skilled, eager-to-learn worker is no match for an environment that replaces rewarded contribution to a bottom line with a carefully controlled network of suspicion, disingenuousness and fear. What "The Measure of a Man" boldly asks is, when did the price for joining a workforce become active complicity in hurting others to stay there?
-------------
'The Measure of a Man'
In French with English subtitles
Not rated
Running time: 1 hour, 33 minutes
Playing: Laemmle Royal, West L.A.
---