From skateboarding to Hollywood, Mikey Alfred dreams big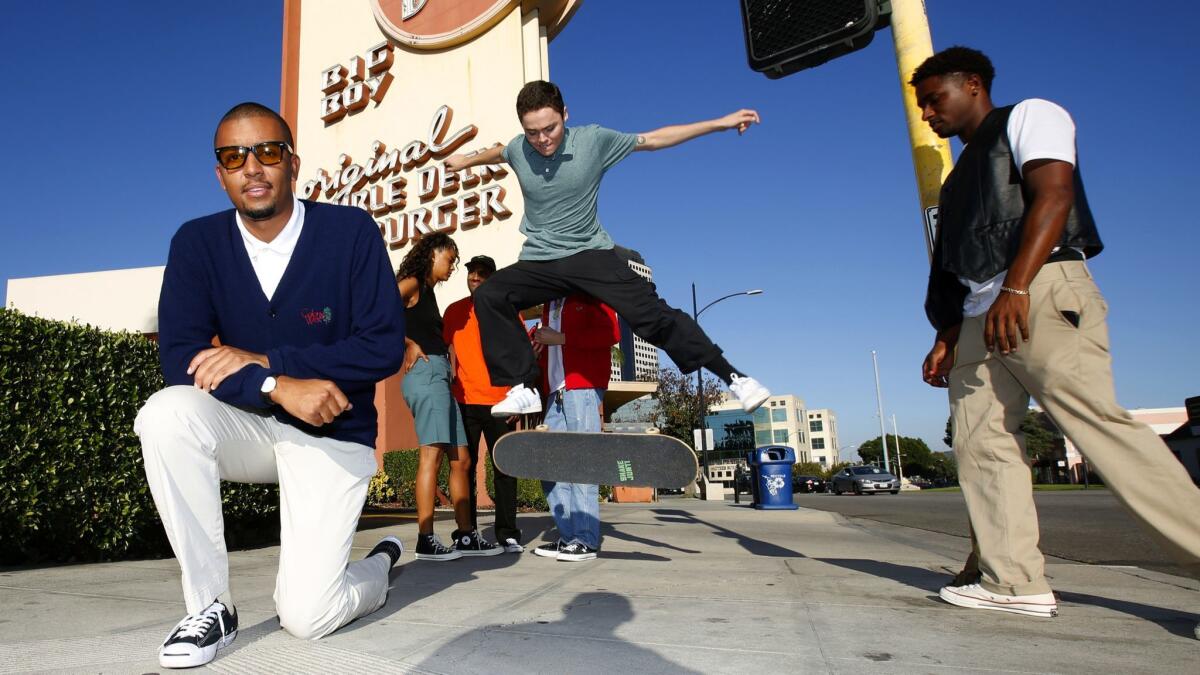 On a recent Monday night, Mikey Alfred was headed to a downtown screening of "Mid90s," Jonah Hill's new film about coming of age in Los Angeles. The 23-year-old is best known as the owner of the skateboard and clothing brand Illegal Civilization, a company he started when he was 12. But he's now branching out to Hollywood, starting with a co-producer credit on "Mid90s."
Sitting in the back of an Uber and in control of the aux cord, Alfred grabbed his phone and pulled up a recent picture of himself, smiling on a light brown couch. On the left side of the photo is Tyler, the Creator, the multi-talented rapper who sparked one of this decade's biggest youth culture movements. On his right was Robert Evans, the octogenarian film producer and legendary Paramount Studios head who was immortalized in the documentary "The Kid Stays in the Picture."
As incongruous as this pairing might seem, each man has helped shape the course of Alfred's life so far. They both play to his sensibility that's part culture shaper, part aspiring entertainment magnate.
Tyler first remembers meeting Alfred eight years ago when the skateboarder Na-Kel Smith brought him to the now-closed Odd Future store on Fairfax where Alfred hung out.
"At first he wouldn't talk; he would just always be filming," Tyler said. "We thought it was weird, because he always had that damn camera in our face. And we would get mad. Then after awhile, we would be like, 'Film this! Film this! Film this!' "We always knew he was there to grab every moment, and he just became family."
When Alfred was only 15, Tyler started bringing him on tour to capture his crew's adventures.
As for Evans, Alfred's mother has been the former film mogul's assistant for 35 years — Alfred now affectionately calls him "Uncle Bob." Alfred aspires to direct and produce movies before starting his own studio, so the two talk every day about how to manage his entrance into the industry.
"Mikey is the first kid I knew who reminded me of me," said Evans. "I had Darryl Zanuck [the co-founder of 20th Century Fox], he made me his protégé. And I want to be Darryl Zanuck to Mikey. Very exciting future."
But even with this support, trying to break into the movie business has been an adjustment for Alfred. "In film, you have to be political," he said. "You have to move all these pieces, and lie to this person so you can get this, and say that to this person so you can gets this. And I don't get down with that. I tell people, 'This is what I think, this is how I feel.' I speak my truth."
Set before Alfred was even born, "Mid90s" is the directorial debut of Hill, who also wrote the screenplay. The movie, which opens in theaters Oct. 19, tells the story of an emotionally wounded 13-year-old named Stevie (played by Sunny Suljic) who is taken in by a group of street skaters. The film premiered last month at the Toronto Film Festival, but the DTLA screening was done in collaboration with Thrasher Magazine to get the skate community behind it — something that's rarely, if ever, happened for a feature in the 50-year history of skateboarding movies.
In the theater's lobby, amid guests that included everyone from early '80s Bones Brigade pioneers to today's Instagram-boosted upstarts, Alfred found Hill. Both were wearing glasses with thick black frames, though Alfred customized his with his trademark yellow lenses.
Hill exuded a young architect vibe, but Alfred's look was preppier — a navy blue cardigan and vintage Ralph Lauren brown corduroy pants emblazoned with ducks. In person, Alfred is polite and gracious, a fan of eye contact and firm handshakes.
The two met back in the summer of 2016 at the premiere of Hill's film "War Dogs." Alfred went to introduce himself to the star but quickly found out that Hill, a favorite subject of style websites, already knew who he was and all about Illegal Civ. The two stayed in touch over text and Hill asked Alfred if he could connect him with the attention-adverse rapper Earl Sweatshirt. He wanted to cast him in "Mid90s" as a character who in the TV edit will probably have to be called Frickshoot.
"Earl is notoriously bad with his phone. Horrible," said Alfred. "I've known this guy since we were 14. It's impossible for me to get him on the phone. So I'm telling Jonah, 'Yeah, yeah, I got you.' When I hang up, I'm like, 'There's no way I'm making this happen.' "
Hill eventually did get Sweatshirt on the line, but the casting idea didn't work out. Still, he sent Alfred a copy of the script for "Mid90s," and after talking with him about it for a few hours, he invited him to work on the production with him. In the film, the four teens that befriend Sunny are played by Illegal Civ-affiliated skaters Na-Kel Smith, Olan Prenatt, Ryder McLaughlin and Gio Galicia.
Alfred grew up in North Hollywood. His father spent time in prison during the 1980s for dealing drugs but went on to start a construction business. His mother, who was raised in Watts, had been working at the mall before she became Evans' assistant.
The tale goes that for the job interview, he had her come to his Beverly Hills mansion, where she found him poolside, smoking cigarettes with Jack Nicholson. She told him that if she was going to take this job, it wasn't going to be about sitting by the pool, they would have to do the interview in his office, sitting across a table from each other. He was impressed by her moxie.
When he was 10, Alfred began skateboarding. He quickly shifted his focus to filming his friends' tricks and hijinks, premiering his first movie, "Spark of Life," at Active Ride Shop in Burbank when he was 12. He went to Catholic and Jesuit schools for most of his life. Upset that his parents were still paying tuition while he spent most of his time on tour or working on video projects, he used Evans' home address so he could do his senior year at Beverly Hills High, commuting in from the Valley in an '83 Oldsmobile Cutlass.
Alfred had long decided that he wouldn't go to college and would instead pursue a career in film, which infuriated his mom and dad. They've since come around to his choice and sat among the skaters at the "Mid90s" screening. His father was even wearing a bright orange Illegal Civilization T-shirt as he snapped a selfie with Hill.
Alfred only recently moved out of his parents' place, opting for a condo in Century City. He said he chose the unfashionable location because its large senior citizen population meant it would be quiet.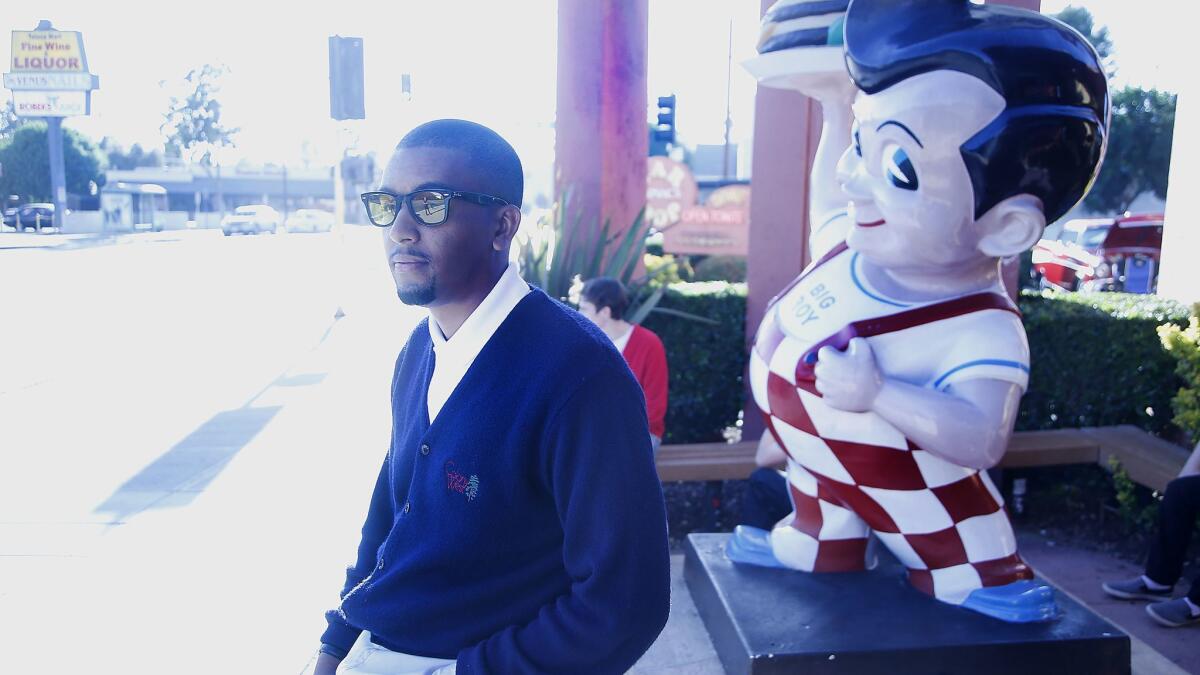 "If there's something I always get from him, it's staying positive," says TV music supervisor Scott Vener who has been getting Alfred's opinion on songs to use in shows for years. "He finds the good in everything. I'll make cynical jokes about things around us and he'll laugh, but that's not his thing."
Alfred and other members of Illegal Civilization recently played exaggeratedly bratty versions of themselves during a three-episode arc on the HBO show "Ballers." Though the appearance may have helped raise their profile, Alfred would prefer to remain on the other side of the camera in the future. "I think acting is horrible, and I would never do it again," he said.
Instead, he is trying to find financing for "North Hollywood," the film script he wrote and hopes to direct. It tells the story of a skater who wants to go pro, against his father's objections. "Obviously, I can relate to that in a real way," he said.
In trying to get "North Hollywood" made, Alfred often comes up against the industry's old gatekeepers. They tell him to be patient, to wait his turn and hold off until the time is right. He tells them the time is right now. That usually doesn't go over well.
In these cases, again he relies on the mentorship of Evans. "Being next to him gives me so much confidence, because I'm like, 'I learned from the guy that produced "The Godfather,' " Alfred said. "Or when people try to intimidate me, I'm like, 'I came up with the guy who ran Paramount during the "Rosemary's Baby" and "Chinatown" era, what have you done? Why would I be scared of you? I'm not scared of him.' "
As Evans said, "I'm behind this kid like nothing else."
Get our L.A. Goes Out newsletter, with the week's best events, to help you explore and experience our city.
You may occasionally receive promotional content from the Los Angeles Times.