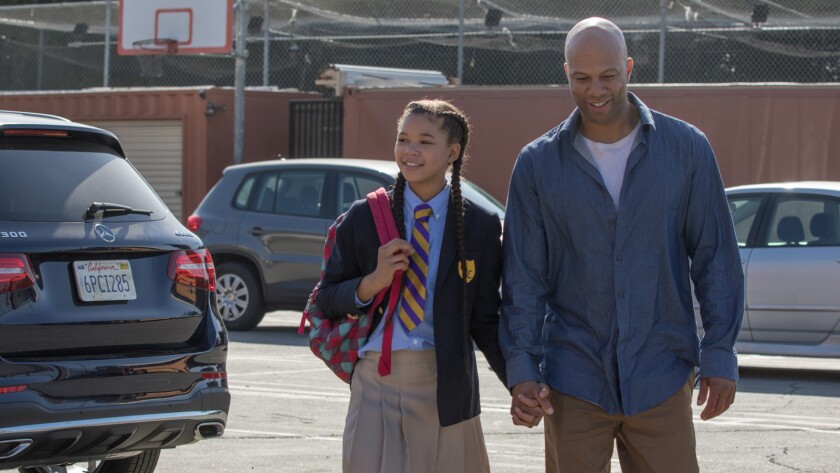 Seldom has so much name talent been assembled in the service of a film as wan and misguided as "A Happening of Monumental Proportions," a title that couldn't be less apt if it tried. If it's a stab at satire, it misses that target, as well.
Judy Greer, the wonderful film and TV actress, makes an inauspicious directing debut with this unevenly paced, tonally awkward comedy about a bunch of stressed Angelenos who interact and intersect before, during and after a predictably ill-fated Career Day at a private school (shot at L.A.'s scenic Cathedral High.)
Gary Lundy's loopy script spins out a jumble of stories involving a widowed publishing firm drone (Common) with a kindly, tween daughter (Storm Reid) and a married lover (an amusing Jennifer Garner); an inept pair of principals (Rob Riggle and a sinfully wasted Allison Janney) with a corpse on their hands; a depressed music teacher (Anders Holm); an insufferably soulful sixth-grader (Marcus Eckert); and a nasty corporate honcho (Bradley Whitford). There's much more set-up than payoff.
John Cho, Katie Holmes, Nat Faxon, Kumail Nanjiani and Keanu Reeves pop up in smaller roles, but, like the other able actors, are stranded by the largely surface material. Common and the lovely Reid, however, do enjoy a nice familial chemistry.
-------------
"A Happening of Monumental Proportions'
Rated: R, for sexual content and language
Running time: 1 hour, 21 minutes
Playing: Starts Sept. 21, Ahrya Fine Arts, Beverly Hills; Laemmle Monica Film Center, Santa Monica; Edwards Westpark 8, Irvine
---