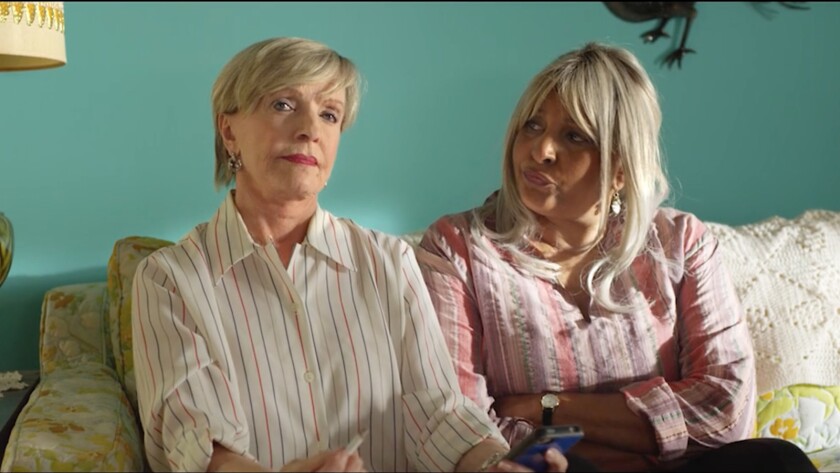 It's always nice to see actors of a certain age get an opportunity to strut their stuff — especially when those pensioners include the late Florence Henderson (in her last role) and Pam Grier.
Unfortunately, the occasion happens to be Srikant Chellappa's "Bad Grandmas," an excruciatingly flat, forced Southern-fried farce about a bunch of old friends who have accidentally killed a man and must find a way to dispose of his body.
Henderson, who died last November at age 82 (the film was shot the previous year), plays the take-charge, pot-smoking Mimi, who can often be heard cussing up a storm when not opting for something more quaint like, "This just dills my pickle!"
But when her friend Bobbi (Susie Wall) is about to be turfed out of her home by her heartless ex-son-in-law (David Wassilak), Mimi pays him an ill-fated visit, ending up with a corpse on her hands and a nosy detective (Randall Batinkoff) and a Waylon Jennings-obsessed con man (Judge Reinhold) on her tail.
While Mrs. Brady gets to cut loose, the weakly written supporting characters aren't as lucky, given precious little to say and even less to do other than attempt to hold their own in the face of pacing that's slower'n molasses.
Subjecting them to such painfully unfunny results would have to be considered a particularly cruel form of elder abuse.
-------------
'Bad Grandmas'
Not rated
Running time: 1 hour, 32 minutes
Playing: Laemmle Music Hall, Beverly Hills
See the most-read stories in Entertainment this hour »
---