Review: Nick Cannon goes 'Berserk' in frantic dark comedy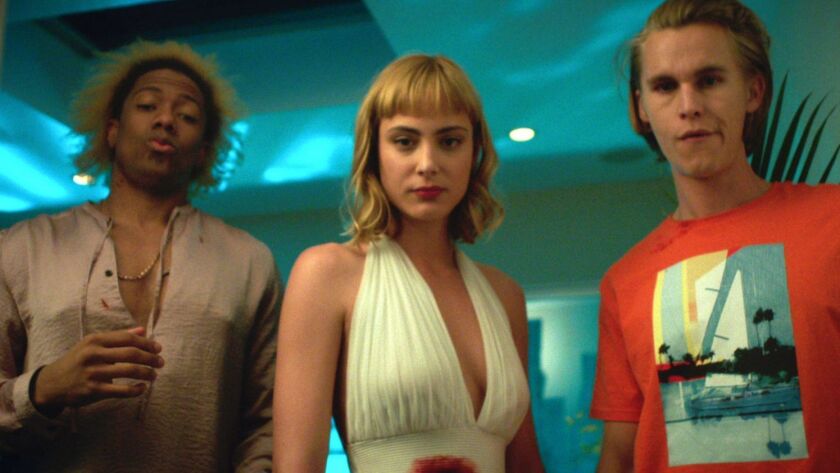 Even for a film titled "Berserk," this darkly comic thriller is ... a lot. Struggling actor Evan (Rhys Wakefield) sees his big break in Hollywood on the horizon: If he and his friend — and much bigger name — Raffy Rivers (Nick Cannon) can just finish the zombie script they're writing together, he'll finally have his vehicle to stardom.
But first, worried their screenplay lacks authenticity, they try to feel the fear that has been missing in their lives by staging situations that will evoke the emotion. Magic mushrooms, coyotes, a jealous girlfriend (Nora Arnezeder) and an admiring cop (James Roday) soon turn a crazy day even crazier for the two mismatched friends.
As the leads, Cannon brings a manic energy that is fitting to the title, if a bit much even for that, while Wakefield seems to be focused more on his behind-the-scenes tasks as a first-time writer and director. His stylish visuals are a bit all over the place but do keep things interesting. His talents as a storyteller aren't as developed.
"Berserk" bounces frantically between tones, even for a dark comedy, and Wakefield's script isn't funny enough to account for his unlikable characters. The film at times seems to be channeling Shane Black with its melding of genres, meta moments and Hollywood setting, but never delivers more than a few good lines of dialogue. As a debut feature it's a big swing, and a miss, but there's also just enough to suggest that Wakefield may connect in the future.
------------
'Berserk'
Not rated
Running time: 1 hour, 20 minutes
Playing: Arena Cinelounge, Hollywood
---
Get the Indie Focus newsletter, Mark Olsen's weekly guide to the world of cinema.
You may occasionally receive promotional content from the Los Angeles Times.