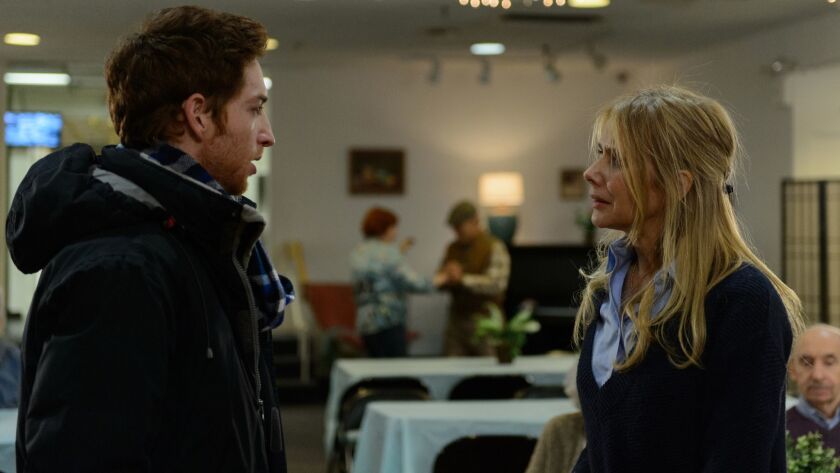 The key to every successful comedy, romantic and otherwise, is having central characters who are likable or at least relatable to some degree.
It's a basic concept that's lost on writer-director Max Heller's "Born Guilty," a shrill urban relationship satire whose lead protagonists are so insufferably self-centered and whiny, there's little hope for redemption.
Exhibit One: Judith Weiss (Rosanna Arquette), a social worker and lonely, bitter New York divorcee with no evident filter, who doesn't see any problem with offering obnoxious, unsolicited advice to random couples she encounters on the street.
Exhibit Two: Her smug, entitled, equally charmless son, Marty (Jay Devore, doing his best Adam Sandler), a Los Angeles-based junior ad exec — an apple who clearly hasn't fallen far from the tree.
Although a semblance of a plot eventually kicks in — Marty pays his free-spirited, globe-traveling Aussie buddy, Rawl (David Coussins), to romance his needy, smothering mom with unintended results — Heller, a TV editor in his feature filmmaking debut, buries it under the cartoonish performances and a grating score that sounds like it was lifted from a '60s sitcom.
It all culminates in an unearned, sins-of-the-parents confrontation in which Marty, rather than taking ownership of his screw-ups, instead blames Judith for his pronounced character flaws.
While the pair obviously deserve each other, they manage to do nothing to deserve a crucial shred of audience empathy.
-------------
'Born Guilty'
Not rated
Running time: 1 hour, 43 minutes
Playing: AMC Sunset 5, West Hollywood
See the most-read stories in Entertainment this hour »
---