Review: Outback noir 'Goldstone' boasts shining star in Aaron Pedersen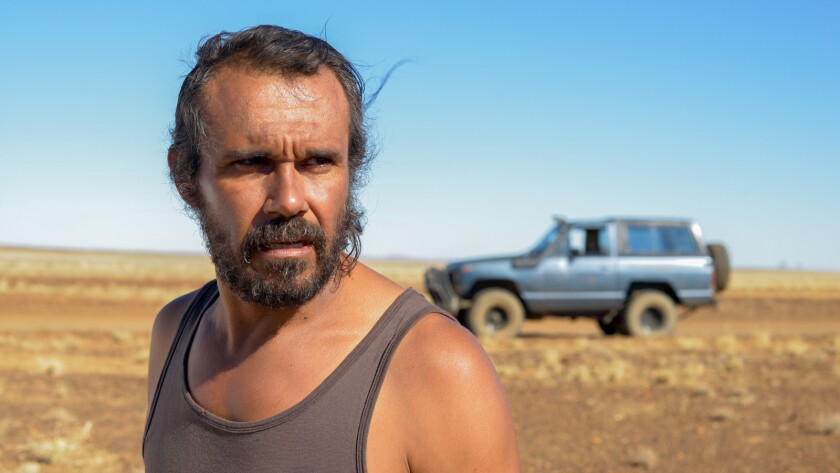 "Goldstone," a tangy chew of socially conscious Outback Noir, boasts the kind of fulsome, mood-loaded desert images that make Australia's famed interior seem both appealing and appalling. It's a slow roast technique that enriches writer-director-cinematographer Ivan Sen's corruption thriller, even when its "Chinatown"-meets-"Bad Day at Black Rock" signposts are readable from vast distances.
The desolate title town, home to an indigenous population but firmly in the clenches of an expansion-hungry mining outfit, is where young white lawman Josh (Alex Russell) butts up against visiting aboriginal investigator Jay (Aaron Pedersen). While the affable yet steely Josh struggles with open bribery by the company's overseer (David Wenham) and Goldstone's mayor (Jacki Weaver), the taciturn Jay — whose search for a missing Chinese woman threatens the local power dynamic — fights his own demons of isolated assimilation.
The only real question in Sen's workmanlike plot medley of land rights controversy, sex slavery and simmering violence, is when its compassionate male-lead loners will stop mistrusting each other and join forces. Make that two questions: why isn't Pedersen — a world-class brooder with soulful eyes and a singed masculinity — an international star?
This is Pedersen's second movie for Sen in the same role (after "Mystery Road," with a reported Australian television series in the works), and his Jay is the kind of compellingly gloomy, intelligent and tough justice-seeker easily worth a whole series of politically thorny, culturally resonant crime sagas. The bush, with all its sun-baked secrets, may not be big enough to contain this magnetic character's multitudes.
-------------
'Goldstone'
Running time: 1 hour, 50 minutes
Rating: R for language and violence
Playing: Laemmle Town Center 5, Encino; Laemmle Playhouse 7, Pasadena; Laemmle Monica Film Center, Santa Monica; expands March 16
See the most-read stories in Entertainment this hour »
---
Inside the business of entertainment
The Wide Shot brings you news, analysis and insights on everything from streaming wars to production — and what it all means for the future.
You may occasionally receive promotional content from the Los Angeles Times.