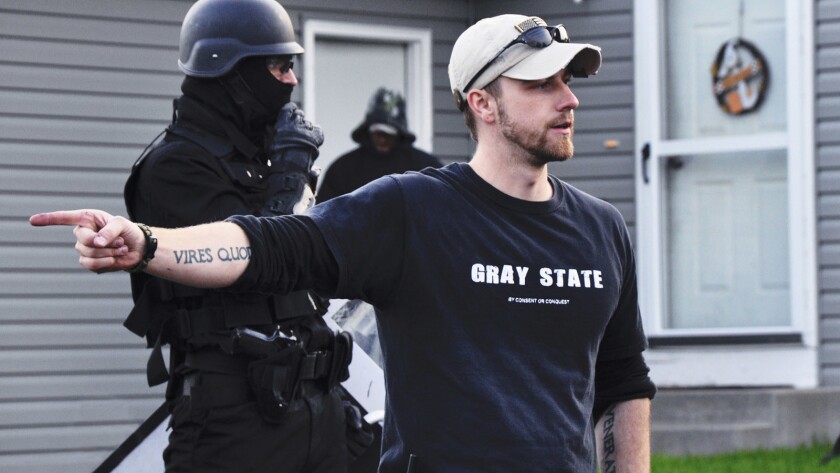 Unfolding like a more intricately plotted installment of "48 Hours," Erik Nelson's "A Gray State" is a genuinely unsettling examination of a 2015 murder case.
Upon initial introduction, David Crowley would appear to be well on his way — a charismatic, driven Iraq War veteran-turned-filmmaker with a spirited Muslim wife and an adorable 4-year-old daughter. Crowley became an internet sensation after his concept trailer for a dystopian feature about American society under authoritarian control went viral.
He would attract a rabid alt-media following, Alex Jones among them, but while developing the movie version of "Gray State," he began exhibiting increasingly antisocial behavior that concerned friends and family, leading to the grim discovery of the bodies of Crowley, his wife and daughter in their suburban Minnesota home.
After a one-year investigation, police ruled the execution-style deaths a murder-suicide, although the revelation that the words "Allahu akbar" were scrawled on a wall in Crowley's wife's blood became catnip for conspiracy theorists contending it was a government hit job.
Less of a whodunit than a "whydunit," the film, executive produced by Werner Herzog, is accurately described by Nelson as "a psychological-horror-thriller masquerading as a documentary," to which "cautionary tale" should also be added.
Whether or not Crowley may have suffered from undiagnosed PTSD, "A Gray State" disturbingly traverses the blurred boundary between reality and performance all too inherent in today's social media-fed climate of cultural narcissism.
-------------
'A Gray State'
Not rated
Running time: 1 hour, 33 minutes
Playing: Laemmle Music Hall, Beverly Hills
See the most-read stories in Entertainment this hour »
---