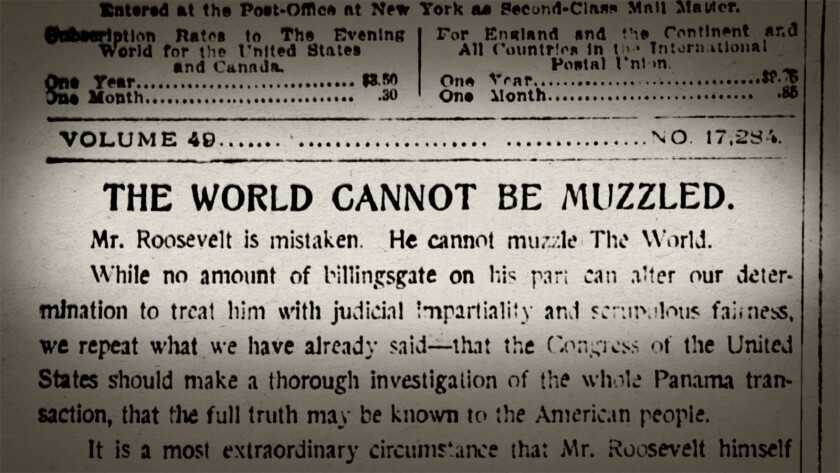 Print pages are the star of the Oren Rudavsky's documentary "Joseph Pulitzer: Voice of the People": aesthetically striking illustrated color spreads and word-clogged pages from the legendary newsman's groundbreaking paper the World, which transformed journalism at the turn of the 20th century.
The Jewish-Hungarian immigrant's rise from dogged reporter in St. Louis to progressive New York publisher and champion of the working class coincided with technological, economic and social revolutions that turned Pulitzer's belief in what newspapers could be into a daily reality for a population hungry for information and inspiration. His papers regularly checked power (Nellie Bly's famous asylum exposé was for him) while establishing standards for reporting accuracy — he used the term "fake news," appropriately, a hundred years before you-know-who tarnished it.
But Pulitzer wasn't averse to creating news, either, whether campaigning for civic causes in the paper, joining in Hearst's sensationalizing of the Spanish-American War, or openly calling the Panama Canal a corrupt, colonialist power-grab on Teddy Roosevelt's part. A genius and a crank, by the end of a life marked by deaths and illness, he was largely a blind recluse micromanaging his empire from a boat.
Mostly, though, this conventionally made, PBS-friendly biodoc marked by those pages you could fall into, Adam Driver narrating, Liev Schreiber accenting his way through voice-overs as Pulitzer, and historian interviews, is a brisk, engaging-enough reminder of why the man's name is synonymous with press freedom and prizes for the best in reporting.
------------
'Joseph Pulitzer: Voice of the People'
Not rated
Running time: 1 hour, 25 minutes
Playing: Starts March 8, Laemmle Music Hall, Beverly Hills; Laemmle Town Center, Encino; and Laemmle Playhouse 7, Pasadena
See the most-read stories in Entertainment this hour »
---