Review: South African music-drama 'Kanarie' ably hits the high notes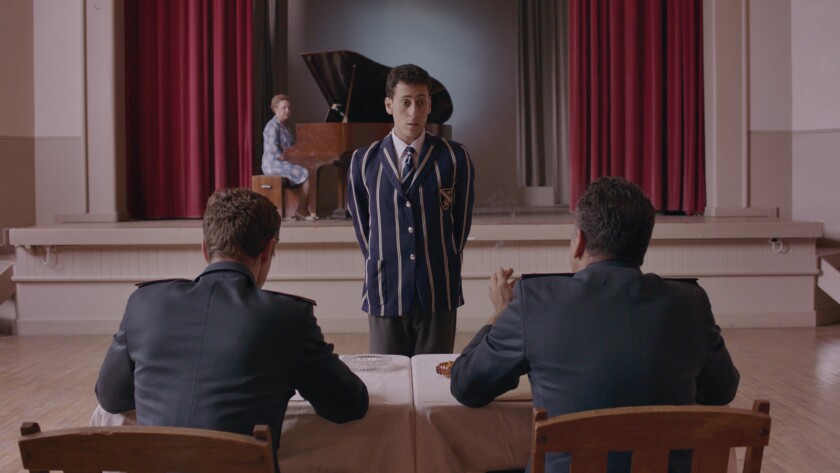 A gay teen from small-town South Africa serves in the military in 1985 with unique and life-changing results in the rich, poignant and finely observed musical-drama "Kanarie."
Given that we first meet Boy George aficionado Johan (Schalk Bezuidenhout) puckishly decked out in a wedding dress, it's a surprise when he acts so by-the-book upon dutifully joining the Defense Force Church Choir (a.k.a. the Kanaries), a non-fighting chorale that tours the country inspiring soldiers through song.
No stranger to bullying, the conflicted Johan keeps his head down and toes the line in the deeply conservative, devout and homophobic environment. That is, until he bonds with more self-possessed chorale mate Wolfgang (Hannes Otto) and a furtive romance blooms.
How Johan navigates this tricky territory is handled with warmth, authenticity and backbone in the first-rate script by director Christiaan Olwagen, who co-wrote with musical director Charl-Johan Lingenfelder.
The film, which adeptly touches on then-apartheid South Africa's thorny intersection of religion, politics and racism, smartly eschews lurking melodrama and easy outs for subtle tension, tender symbolism, stirring musical bits and effective flights of fancy.
Bezuidenhout, a South African comedy star with a passing resemblance to Buster Keaton (plus a clear talent for drama), superbly juggles the evolving Johan's many moods and modes. He receives winning support from both Otto and Germandt Geldenhuys as irrepressible fellow Kanarie, Ludolf.
-------------
'Kanarie'
In Afrikaans and English with English subtitles
Not rated
Running time: 2 hours, 4 minutes
Playing: Starts June 7, Laemmle Glendale
------------
---
Get the Indie Focus newsletter, Mark Olsen's weekly guide to the world of cinema.
You may occasionally receive promotional content from the Los Angeles Times.