Review: Despite chemistry of stars, Korean comedy 'The King's Case Note' is easily dismissed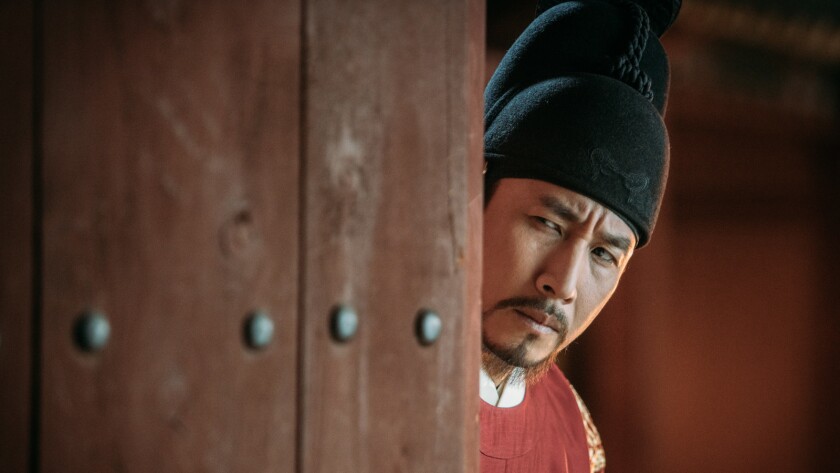 Film Critic
There's at least one hyphen too many where the intermittently entertaining South Korean historical-mystery-adventure-comedy-drama "The King's Case Note" is concerned.
There's a workable, quirky Holmes-Watson dynamic in this yarn about a king who sets out with the aid of a loyal but somewhat clueless savant assistant to unmask the perpetrators behind a nefarious conspiracy to dethrone him. However, the peripatetic tone fails to hold viewer attention.
When he takes a position as official royal historian, baby-faced scholar Seo (Ahn Jae-hong) doesn't quite realize that the job description goes considerably beyond chronicling each and every word of the glib King Yejong (Lee Sun-kyun).
Seo's attention to detail and photographic memory comes in handy for the more pressing task at hand — embarking on a caper that will pit them against a giant ghost fish, ominous scarecrows and lethal herbs, among other challenges.
Unfortunately, as choreographed by director Moon Hyun-Sung, the adventure seldom gets sufficiently up to speed, and on the occasions it threatens to come to life, the pedestrian action sequences fail to compensate for that lethargic pace.
Given the intriguing era (the story takes place during the 500-year Joseon Dynasty, which ended with Japan's annexation of Korea) and relaxed comic chemistry between Lee and Ahn, one is left hoping for a case that isn't so mechanically open and shut.
-------------
'The King's Case Note'
In Korean with English subtitles
Rating: Not rated
Running time: 1 hour, 54 minutes
Playing: CGV Cinemas, Los Angeles; CGV Cinemas, Buena Park
See the most-read stories in Entertainment this hour »
---
Get the Indie Focus newsletter, Mark Olsen's weekly guide to the world of cinema.
You may occasionally receive promotional content from the Los Angeles Times.