Review: Long-awaited doc 'Leaving Home, Coming Home' turns a lens on Robert Frank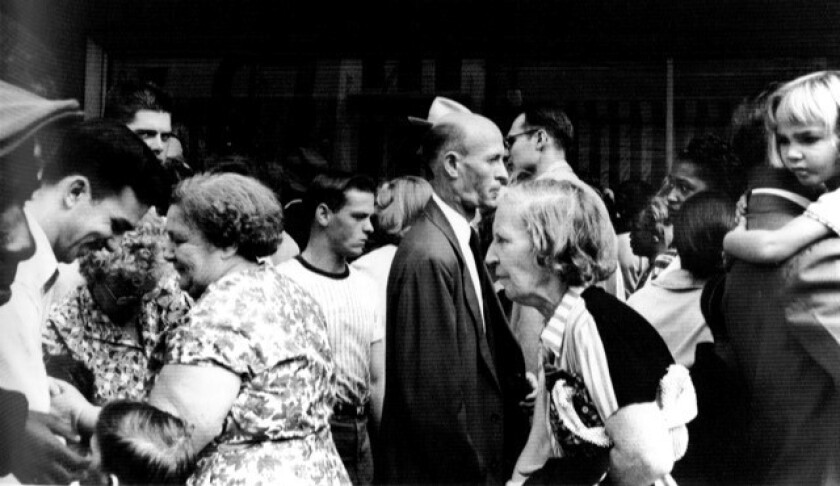 Photographer Robert Frank's seminal 1958 book "The Americans" was, for naysayers, the equivalent of a foreign agent spilling grainy secrets about a nation more unfulfilled than triumphant. But to his champions, he was the unblinking eye needed to relay truths about a tumult-ridden land of promise.
The Swiss-born artist is similarly open about his own life and career in Gerald Fox's up-close-and-personal 2004 documentary "Leaving Home, Coming Home: A Portrait of Robert Frank," which only now, with Frank's consent, is receiving a U.S. theatrical release.
Now 94, Frank occasionally cranky (mostly about modern life and inconveniences) but primarily reflective, and Fox's approach is a shambling verité style — shooting Frank's testimonials on the streets of New York, in his city studio, at Coney Island, or in his Nova Scotia home.
It's the right technique for a man with the unassuming air of a world-weary handyman, until Fox converts color footage to black-and-white as if his own images could easily be transformed into one of Frank's characteristically off-the-cuff, evocative snaps of restless existence.
In this case, though, the man is the movie, and the long stretch of lived road Frank describes as an immigrant grappling with his adopted country's faults is revealing, at times heartbreakingly so, when addressing the tragedy of his grown children's deaths, colorfully so when talking about his shooting style, the Beat poets (Jack Kerouac, Allen Ginsberg) he collaborated with, or his living with artist June Leaf. As filmic visits with cherished masters go, Fox's has been well worth the wait.
------------
'Leaving Home, Coming Home: A Portrait of Robert Frank'
Not rated
Running time: 1 hour, 26 minutes
Playing: Starts Friday, Laemmle Monica Film Center; also Saturday and Sunday, 11 a.m., Laemmle Playhouse 7, Pasadena, 10:40 a.m. Laemmle Claremont
---
Get the Indie Focus newsletter, Mark Olsen's weekly guide to the world of cinema.
You may occasionally receive promotional content from the Los Angeles Times.