Review: Demian Bichir and Eva Longoria are fine in cliché-riddled drama 'Lowriders'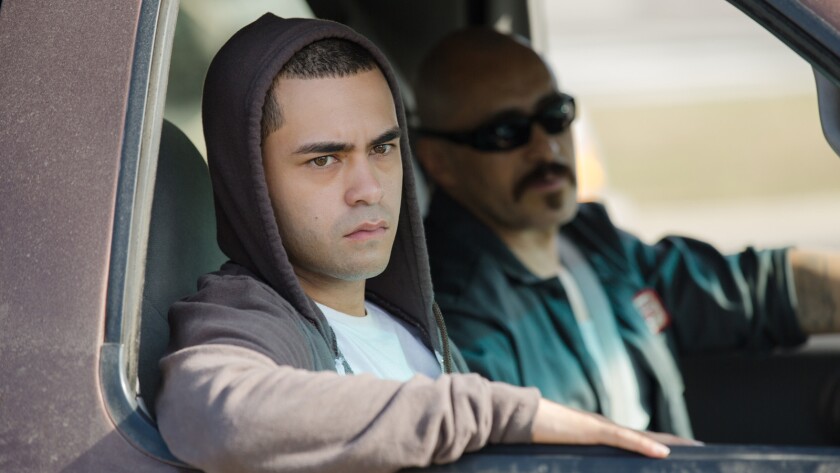 The East L.A.-set coming-of-age melodrama "Lowriders" from director Ricardo de Montreuil is a car-culture saga that stays well within established lanes, to an almost maddening degree. Danny (Gabriel Chavarria) is a brash young graffiti artist at odds with his taciturn mechanic father Miguel (Demian Bichir), whose creative medium is transforming autos into the titular showpieces of Latino pride.
But that generational divide, and the juxtaposition of two outsider art forms with historically political underpinnings, isn't enough of a narrative engine for Elgin James' and Cheo Hodari Coker's clichéd screenplay.
There's also a love triangle for Danny (scholarly neighborhood gal versus hipster white photographer with art-world connections), the return of an imprisoned, embittered older brother (Theo Rossi), an upcoming lowrider competition and the effects of family tragedy, alcoholism and shattering violence.
Thankfully, despite Rossi's excessively cartoony sneer, there are some fine performances, notably Bichir's well-honed way with vulnerable machismo and Eva Longoria's charismatic heart as Danny's sensitive stepmother.
With so much Boyle Heights-to-Elysian Park atmosphere, effectively captured by cinematographer Andres E. Sanchez when De Montreuil isn't manufacturing "edge" with unnecessary camera moves, it's dispiriting to watch "Lowriders" make every predictable move. It clutters an otherwise well-meaning snapshot of a vibrant community underserved by mainstream filmmaking.
-------------
'Lowriders'
Rated: PG-13, for language, some violence, sensuality, thematic elements and brief drug use
Running time: 1 hour, 38 minutes
Playing: In general release
See the most-read stories in Entertainment this hour »
---
Get the Indie Focus newsletter, Mark Olsen's weekly guide to the world of cinema.
You may occasionally receive promotional content from the Los Angeles Times.