Review: The subject's very existence is open to debate in food doc 'In Search of Israeli Cuisine'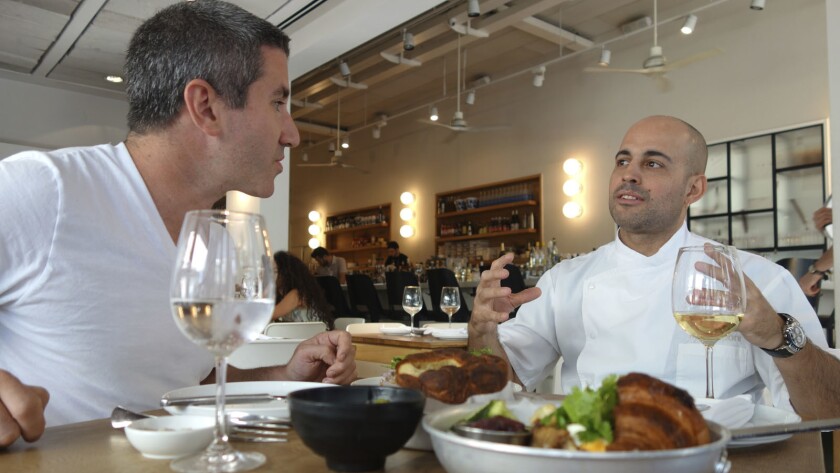 Writer-director Roger Sherman's enjoyable documentary "In Search of Israeli Cuisine" explores the seemingly contradictory question: Is there really such a thing as Israeli food?
What we learn, as award-winning Israeli American chef and restaurateur Michael Solomonov tours Israel, meeting a diverse array of chefs, journalists, food purveyors, farmers and home cooks, is that the country may be too relatively nascent to claim its own official "cuisine."
Instead, what more accurately exists is so-called new Israeli cuisine, which utilizes and blends the land's many cultural and traditional influences — North African, Middle Eastern, French, Italian, Eastern European — to create an eclectic fusion of signature dishes.
Sherman and Solomonov buoyantly capture the art and joy of preparing and savoring Israel's raft of gastronomic choices, largely drawn from localized ingredients with a concentration on lemon, olive oil, vegetables, lamb and fish.
The film, which often evokes a better Food Network offering, also covers how the Israeli-Palestinian divide can, during more fractious times, affect a restaurant's patronage, even if some here posit that "food is not political."
Differences between Ashkenazi and Sephardic Jewish food, where kosher cooking fits in, and the country's evolving wine industry are neatly examined as well.
If the pacing flags a bit en route, enough vivid imagery remains to hold interest, with Solomonov proving a smart, appealing and personally invested guide.
-------------
'In Search of Israeli Cuisine'
No rating
Running time: 1 hour, 38 minutes.
Playing: Laemmle Royal Theatre, West Los Angeles; Laemmle Town Center 5, Encino
See the most-read stories in Entertainment this hour »
---
Get the Indie Focus newsletter, Mark Olsen's weekly guide to the world of cinema.
You may occasionally receive promotional content from the Los Angeles Times.