Review: Holocaust survivor goes home in 'The Last Suit'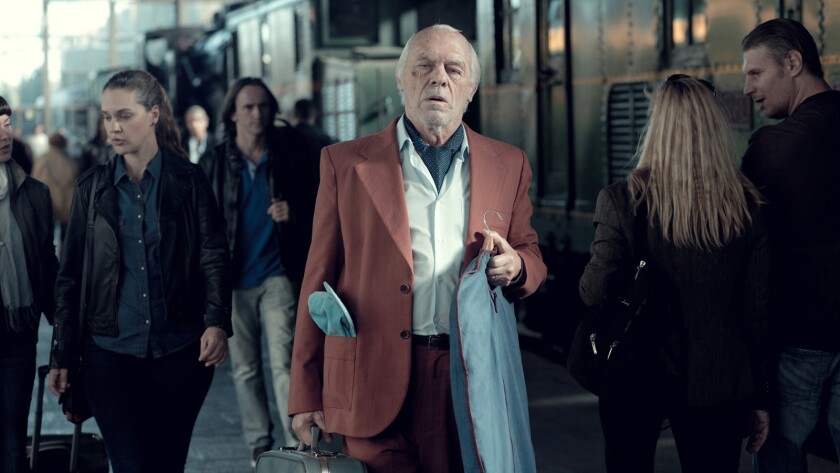 What starts as a dry, suburban "King Lear" comedy segues into a sober Holocaust memory saga in Argentine writer/director Pablo Solarz's fitfully arresting road-trip movie "The Last Suit." We're introduced to 88-year-old Buenos Aires tailor Abraham Bursztein (Miguel Ángel Solá) as an irascible, physically deteriorating Jewish patriarch pushing against his grown daughters' plan to sell his possessions and set him up in a retirement home.
Abraham has got his own final-curtain idea: a one-way trip to Poland — via Madrid and Paris — to make good on a long-unkept promise to once more see the figure from World War II who saved his life when Abraham was a camp escapee on the brink of death. Along the way there are charged vignettes with an estranged daughter (Natalia Verbeke), a regally attractive, no-nonsense inn owner (Ángela Molina), and a smiling fellow train passenger (Julia Beerhold) whose Germanness is the only reason Abraham needs to treat her open kindness with suspicion.
We might also be inclined to look askance at so sentimental a premise, considering how many bad, one-last-quest road movies exist. But Solarz, through Solá's majestically brusque performance, is admirably after something unapologetic and true amidst the light comedy of difficult travel and flashback-driven weightiness: capturing the mindset of a certain kind of tough, impossible survivor for whom every interaction is an exasperating negotiation, because during one never-forgotten time, circumstances didn't allow for it. "The Last Suit" is a bumpy ride tonally, but its stubborn heart is in the right place.
-------------
'The Last Suit'
In Spanish, German, Yiddish and Polish with English subtitles
Not rated
Running time: 1 hour, 32 minutes
Playing: Starts Sept. 28, Laemmle Music Hall, Beverly Hills; Laemmle Town Center, Encino
---
Inside the business of entertainment
The Wide Shot brings you news, analysis and insights on everything from streaming wars to production — and what it all means for the future.
You may occasionally receive promotional content from the Los Angeles Times.