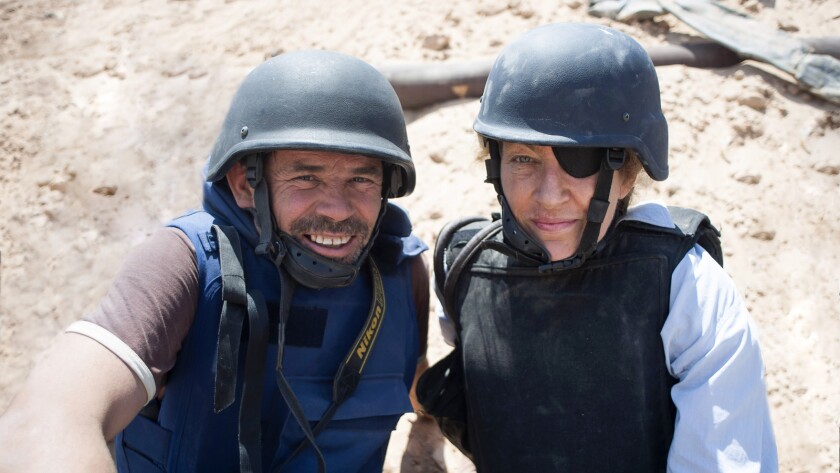 The recent biopic "A Private War" explores the interiority of war correspondent Marie Colvin's life. But the documentary "Under the Wire," featuring Colvin's colleague, photojournalist Paul Conroy, painstakingly details Colvin's final days before her death while reporting from Homs, Syria, in February 2012.
Watching "Under the Wire," directed by Chris Martin from Conroy's memoir of the same name, one has the sense of sitting at the photographer's knee, listening to war stories in his distinct Liverpudlian accent. There's a scant bit of back story as to Conroy's military background and his professional partnership with Colvin. The majority of the film, however, covers their time in Syria, up to Colvin's death, and the days after, when a gravely injured Conroy made his way out of the war-torn country, carrying the burden of Marie's story as well as the stories of the Syrian civilians slaughtered by President Bashar Assad's forces.
The bloody and harrowing tale is rounded out by Sunday Times editors and colleagues, as well as Conroy and Colvin's Syrian comrade Wa'el Al-Omar, and French journalists William Daniels and Edith Bouvier, who was also injured. French photojournalist Rémi Ochlik was also killed in the attack.
"Under the Wire" brings a vivid immediacy to this tragic event. Conroy speaks candidly to the responsibility that he feels to survive and to tell the stories of the others, a task that he will carry with him for the rest of his life.
-------------
'Under the Wire'
Rated: R, for language and disturbing violent images
Running time: 1 hour, 35 minutes
Playing: Starts Nov. 16, Laemmle Playhouse 7, Pasadena
------------
See the most-read stories in Entertainment this hour »
---