'A Ballerina's Tale' documentary raises profile of ABT's Misty Copeland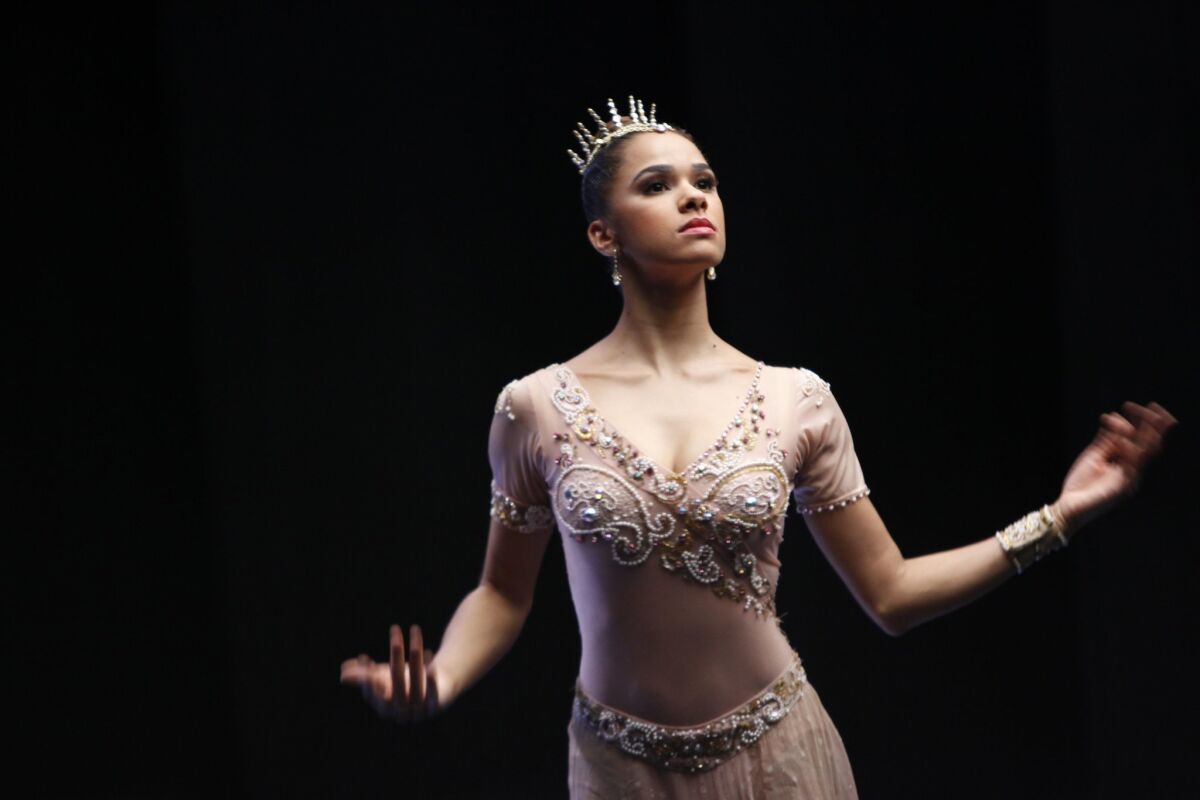 Misty Copeland seems to be everywhere these days.
After 15 years with the American Ballet Theatre, the 33-year-old San Pedro-raised Copeland was promoted from soloist to principal dancer in June, marking the first time an African American woman was made a principal in the New York company's 75-year history.
In the past year, Copeland appeared as Ivy in the Broadway revival of the revered musical "On the Town," got engaged to her attorney boyfriend, Olu Evans, danced on "The Late Show With Stephen Colbert" and earlier this week taught Jimmy Kimmel the art of ballet on "Jimmy Kimmel Live!"
SIGN UP for the free Essential Arts & Culture newsletter >>
Last year, she penned her autobiography, "Life in Motion: An Unlikely Ballerina," and now she's the subject of a new documentary, "A Ballerina's Tale," which opens in Los Angeles on Friday and is available on VOD. And it was just announced she's producing a drama for Fox-TV inspired by her life.
Copeland admitted she has a lot on her plate. "But I am just very passionate about everything I am involved in," she said over the phone from Brooklyn following the "Kimmel" rehearsals. "It's pretty cool to do what you love and have all of these added bonus things going on."
She hasn't been afraid to talk about race and the lack of diversity in the major ballet companies such as ABT and the New York City Ballet, even if some in the dance world would prefer that she not.
"I have been given a platform to speak about diversity," said Copeland, who has been part of the classical ballet universe since she was 13. "I have been seeing a big shift in the types of people who are getting involved in ballet."
She notes that being named a principal dancer with the ABT is "definitely giving people hope that there is a future for them."
She also sees the body image of female dancers changing. At the height of ballet's relevance and popularity in the 1970s and '80s, said Copeland, the ideal female ballerina was whippet slim. "I think we are still trying to get rid of that. There are so many dancers at ABT who have healthy bodies and curves and breasts."
Copeland, who is muscular and curvy, was instructed to lose weight when she began at ABT. Other African American dancers have been told over the years they just didn't have the body to be a dancer in the company.
Misty Copeland says "a thick skin and perseverance" have helped her succeed in the dance world.
(Carolyn Cole / Los Angeles Times)
Prima ballerina Misty Copeland will make history as the first African American woman to dance the lead role of Swanilda in the famous ballet "Coppelia." She will also be a guest judge on "So You Think You Can Dance."
(Carolyn Cole / Los Angeles Times)
Prima ballerina Misty Copeland is photographed at Lincoln Center in New York City.
(Carolyn Cole / Los Angeles Times)
Prima ballerina Misty Copeland will be a guest judge on "So You Think You Can Dance."
(Carolyn Cole / Los Angeles Times)
"To me, it's code for you don't have the right skin color," said Copeland. "That has been a lot of the minority dancers' experience. They are told they don't have the right body."
When she began filming "A Ballerina's Tale" in 2013, Copeland had no idea she would ever dance again. In 2012 when she was a soloist, Copeland became the ABT's first black ballerina to play the iconic role in Stravinsky's "Firebird." The documentary captures her electrifying performance at the Metropolitan Opera House. But after the performance, Copeland revealed she had been performing in enormous pain. She soon discovered that she had six fractures in her left shin and had to have surgery.
The film's director, Nelson George, who is friends with the ballerina, saw her in "Firebird." "He fell in love with it and said we have to do something together," Copeland said.
"When she was in full recovery mode I approached her about doing a documentary," said George. "She was kind of going through a dark period when she was trying to figure out what her next move was. This was a unique opportunity to document a great artist coming from a high of 'Firebird' to wherever she was going to go to. "
"A Ballerina's Tale," said Copeland, "started with Nelson and his single camera and it slowly evolved. He filmed for a little over two years just waiting for an ending to happen. When I was cast in 'Swan Lake' in Australia, we said that's going to be our ending."
Though ABT's new season doesn't begin until the spring in New York, Copeland's been told she'll be dancing some new roles "but I'm not sure what they are. I will do 'Swan Lake' again."
Performing "On the Town" in late summer for two weeks made Copeland a better dancer and a strong performer "with more of an understanding of taking on a character," she said. "I wanted to challenge myself. Then when I was preparing — I didn't have a lot of time — I was just so freaked out. I haven't really been nervous about being onstage in a long time."
It was the unknown that shook her confidence. "It was not knowing how I was going to do and not feeling completely prepared to sing in front of people and speak. But after the third show, I just fell in love with it. I'm so thankful that I did it."
Note: Copeland will be performing the role of Clara in ABT's production of Tchaikovsky's "The Nutcracker" at Segerstrom Hall on Dec. 16 and 19 and will be conducting a master class on Dec. 21 in a benefit for her alma mater, the San Pedro Ballet School.
---
Get the Indie Focus newsletter, Mark Olsen's weekly guide to the world of cinema.
You may occasionally receive promotional content from the Los Angeles Times.