Q&A: 'You've got to make hay while the sun is shining,' the ever-active Morgan Freeman says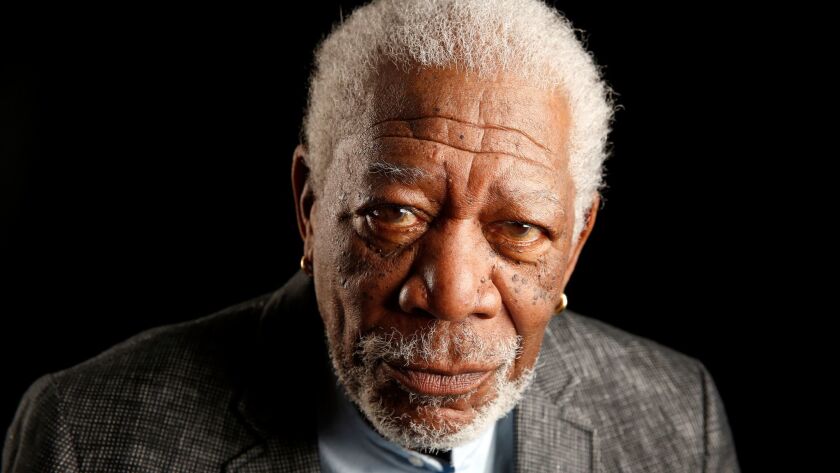 Morgan Freeman isn't the retiring sort — at least when it comes to his acting career.
Slowing down may be the norm for other older actors, whether by choice or from lack of good roles. That's not the pace Freeman prefers — he has more than a dozen film and TV credits in the last two years — and he fully intends to keep at it for as long as he can.
"You don't decide if you're going to take some time off or rest," said the 79-year-old Oscar winning actor. "But for those of us who are able to work, you've got to make hay while the sun is shining."
His latest film, "Going in Style," which opens Friday, follows a trio of older friends who get cheated out of their pension plans. Desperate to pay bills and support family, they stage a heist on the very bank that stole their money. Freeman stars alongside fellow acting titans Michael Caine, 84, and Alan Arkin, 83. (Among them, they have four Academy Award wins and 11 more nominations.) Two-time Oscar nominee Ann-Margret, 75, leads the supporting cast, which includes Keenan Thompson, John Ortiz, Christopher Lloyd and Joey King.
Directed by funnyman Zach Braff from a script written by "Hidden Figures'" director Theodore Melfi, the film is a remake of the 1979 comedy directed by Martin Brest starring George Burns, Art Carney and Lee Strasberg. But this version isn't played just for laughs, according to Caine.
"We're very different than the original because we're much deeper about why they rob the bank," Caine said in a phone interview. "It's a comedy with tremendous social depth. And it's not boring."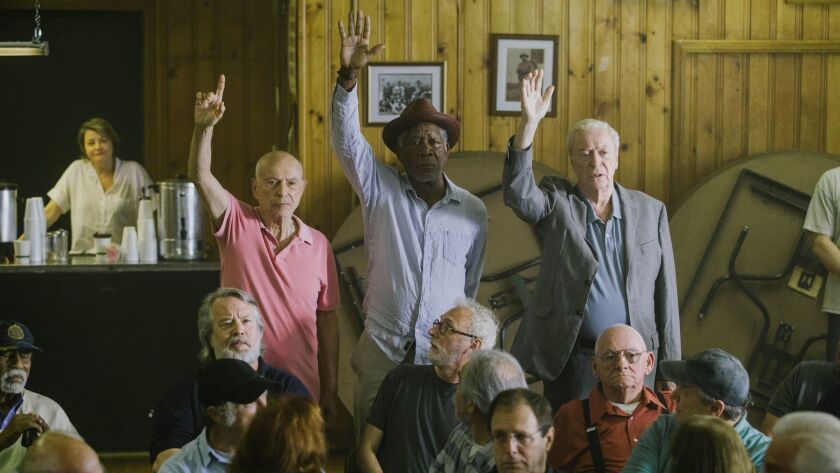 "Going in Style" is the sixth film that Freeman and Caine have made together — most notably the "Dark Knight" trilogy. The two are used to people being surprised that older actors can carry a film — especially a comedy. Caine credits the success of 2012's "The Best Exotic Marigold Hotel," which starred Maggie Smith, Judi Dench and other veteran actors, for their film getting made.
"That grabbed the attention of Hollywood because they found that older people were fed up with watching television and going out more and more," he said. "And speaking personally, I don't want to go see rockets blowing up the moon. I want to see movies about people."
Braff thought about that when he directed "Going in Style" — he wanted to make something his 82-year-old father would want to see.
"I realized that there is this enormous audience of seniors and baby boomers that love going to the movies and there isn't a whole lot of content for them that's put out throughout the year," he said, noting how most movies aimed at older audiences tend to come out during awards season.
Besides, Braff noted, "everyone wants to see these three guys together," and audiences might be particularly tickled at Freeman's performance, a far cry from his roles as president or the voice of God.
"The gravitas that he brings to so many of his roles is what he's known for, but he's got a great sense of humor," said Braff. "I was just a fan before, but he is just a funny, warm, silly person."
The Times spoke with Freeman out of New York, via Skype, about working with Caine and Arkin, ageism in Hollywood and not being "put out to pasture."
You've done a number of films that have been dubbed "geriatric buddy comedies" including 2013's "Last Vegas." Has this been a conscious choice?
It just happens on one hand. But, you know, Hollywood is green oriented. It's not black or white or yellow or red. If it's green, it's Hollywood. So if you think about the industry, think about an ocean, which is in constant flux. That's the same thing with Hollywood. They're constantly trying to keep their ear to the ground looking for what people want to see … and we're called on.
How did you come across the script for "Going in Style" and what attracted you to the role?
I got the script the same way I get all scripts, through my agent, and I liked it. I don't know which came first, the chicken or the egg, and by that i mean if they told me who was going to be in it or if they were contemplating people. But that cast was a big come-on.
Had you seen the original "Going in Style" ?
Yes, and I think if I had read the script for the original, I wouldn't be quite as excited about doing the movie as I was with the script that I did read, which is a re-imagining of that movie. It didn't have the depth that ours turned out to have.
Morgan Freeman, Michael Caine and Alan Arkin star in "Going in Style."
What resonated with you most about the role?
I hate to sound crass but ... it's a job. I'm gonna get paid to do it and it's a worthy script with a number of worthy coactors.
How was it working with fellow veterans Michael Caine and Alan Arkin?
I've known them and their work for many years. I've known Michael personally for a lot of years. Though I didn't know Alan personally, I know his work. So working with them, you're with consummate professionals, and it makes a difference.
Describe for us the feeling of robbing a bank, as your character does in "Going in Style."
Playacting is just playacting. There is nothing exciting about it. If you do a western and you get to ride a horse and herd cows, you're doing something for real and that's exciting, which I've done. But pretending to rob a bank? Nope.
Did you have a sense that the film would be as relevant as it is while filming?
You know that this is a real situation and a lot of people will resonate with it, but we weren't thinking that this was going to be really relevant.
There's a scene in the movie where you three are watching "The Bachelorette." Do you actually watch "The Bachelorette" or "The Bachelor" in real life?
Actually, no. [laughs] That's not my guilty pleasure.
Is there a message that you think audiences should take away from "Going in Style?"
I never can get into that. What I don't want the audience to do is walk out and ask for their money back. But you can't make a painting and then tell people what it's about. They'll tell you what they see. It's like eyewitnesses who might see 14 different concepts of the same thing. So I don't care what they walk away with, as long as they enjoy themselves.
Much like in the film, Hollywood has a tendency to discard its veterans. But you're helping to lead a big studio movie where you're the youngest main character.
[The cast] has been venerated for a lot of years. Michael and I have done five movies together prior. So you know what you're getting into. You know how big the order is. I think of ourselves as actors who are managing to survive as actors, rather than being put out to pasture.
Any words of advice for older actors who say they're struggling to get hired?
I can't speak to that. I don't know anything about the struggle of being an older actor. I know about the struggle of being a younger actor. [laughs]
What does "going in style" look like for you?
Private planes.
Get your life! Follow me on Twitter (@TrevellAnderson) or email me: trevell.anderson@latimes.com.
ALSO:
National Medal of Arts to go to Morgan Freeman, Philip Glass, Luis Valdez
Morgan Freeman trades playing God for exploring 'The Story of God'
Morgan Freeman's biggest role yet? Viral video of an iPad drawing
---
Inside the business of entertainment
The Wide Shot brings you news, analysis and insights on everything from streaming wars to production — and what it all means for the future.
You may occasionally receive promotional content from the Los Angeles Times.