Commentary: Race, privilege and a bad attitude: Why are Nate Parker and Casey Affleck being treated differently?
On the night of the Golden Globes — as he had for many of the awards season trophy ceremonies — actor Casey Affleck bounded onto the stage to accept his award as best lead actor in a drama for his turn in "Manchester by the Sea." Meanwhile, Nate Parker, the multi-hyphenate lead of the Nat Turner slave revolt flick, "The Birth of a Nation," wasn't anywhere to be seen on the show that, 12 months prior, he was considered all but a lock to be a fixture of.
The 2017 awards season was supposed to belong to both Parker and Affleck, as both of their films had stormed out of Sundance a year ago this week to positive reception with glory in their sights.
Casey Affleck wins lead actor Oscar for role in 'Manchester by the Sea' »
But the experiences of these two men have been vastly different. In the time since "Manchester" and "Birth's" Sundance premieres, old cases involving both actors and histories with sexual impropriety came to light.
For Parker, a massive controversy arose surrounding rape allegations from when he was a student at Penn State, nailing his film, and perhaps his entire career, to the moral cross. Affleck, however, remains a projected front-runner for an Oscar nomination on the heels of his Globes win, despite the resurfacing of details of alleged sexual harassment on the set of his 2010 mockumentary, "I'm Still Here."
In an age where sexual assault has received renewed attention, and the likes of Bill Cosby and Roger Ailes are being forced to face their own allegations of sexual misconduct, what has happened to Parker and what hasn't happened to Affleck deserves interrogation, if only as a case study of how race, class, access and one's attitude are inextricably linked. And indeed, the "wrong" combination of these things can spell career suicide.
It must be noted, though, a major difference between the two men's alleged sexual history: The cases against Affleck were filed in civil court, while the accusations against Parker were filed in criminal court. Although both alleged instances of sexual misconduct might draw ire or concern, the degree of said allegations is legally more serious in Parker's case. Additionally, the legal foundation of the allegations against Affleck were contractual, having to do with payment and film credit.
Affleck was accused of sexual misconduct and harassment by two women who worked on "I'm Still Here," producer Amanda White and cinematographer Magdalena Gorka, who cited a number of sexually inappropriate occurrences, both physical and verbal, between them and Affleck. In one instance, Gorka alleged that while she was asleep in a private room Affleck "curled up next to her in the bed wearing only his underwear and a T-shirt. He had his arm around her, was caressing her back, his face was within inches of hers and his breath reeked of alcohol." When she awoke, Gorka said she demanded he leave, which he did, after a slight protest. At another moment, White claimed Affleck instructed a crew member to take off his pants and show White his penis, despite her objections.
In the face of the sexual claims, which normally would result in a criminal case, each woman, represented by the same lawyer, filed a civil lawsuit to the tune more than $2 million, a week apart from each other. Their points of contention were that their employment contracts were not honored and payment was withheld, which they believed to be in retaliation for their rebuffs, complaints and eventual resignation.
Affleck, as reported by the Los Angeles Times and other outlets at the time, denied the claims. The motion submitted by his lawyers, before Gorka filed her complaint, called White's allegations "fabricated" and in response to 15 months' worth of failed attempts to "extort" a better production deal. Affleck, in the motion, doubled down on this assertion, noting that White had accepted the terms of agreement in her employment contract, that he and the production company had complied and, verbally and via email, she expressed "how happy she was to be a part of this project."
Both suits were settled out of court — a move that is not an admission of guilt — with no details of the settlement, if they be financial or otherwise, made public. Each woman is listed in the film's credits. A statement from both Affleck's reps and the women, at the time, said the matter was "resolved to the mutual satisfaction of the parties."
As for Parker, the criminal case against him alleged rape of a female student while he was a wrestler at Penn State University. The 1999 suit, which did go to trial, resulted in his acquittal in 2001. Parker's college roommate, Jean McGianni Celestin, who co-wrote "The Birth of a Nation," was also accused in the assault. Though convicted, Celestin successfully appealed it.
Much ado — mainly in off-the-record industry conversations and the non-mainstream blogosphere — has been made about the reasons for each man's current fortunes. While much blame has been placed at the foot of white male (and upper-class) privilege — with good reason — the issue is much more complicated than that. The media and Hollywood, and Parker himself, are in part to blame for why Parker may not ever work in movies again and Affleck will sail, seemingly unfazed, untouched and unfettered, into a more fruitful phase of his career.
It is no secret that Affleck knows privilege intimately, consciously or otherwise. The brother and family friend of two of the industry's most bankable stars, Ben Affleck and Matt Damon, Affleck can count those in his corner as more than "just a tight circle of people who have had some success," as he told Variety. Invariably, they are part of the reason why, following the poor reception of "I'm Still Here," his career can have a rebound moment. (The film pulled in a paltry $408,983.)
Moreover, he was only cast in "Manchester," a role originally meant for Damon, after Damon convinced writer-director Kenneth Lonergan that Affleck was the best, and only, person he trusted to take his place. (Though, clearly Affleck's Oscar nomination for his supporting role in 2007's "The Assassination of Jesse James by the Coward Robert Ford" didn't hurt. Neither did his award-winning role as a morally challenged Boston detective in "Gone Baby Gone," directed by his brother.)
Contrarily, to most people, Parker was simply a working actor, notable only for roles in 2007's "The Great Debaters" or 2012's "Red Tails." Once word spread at Sundance that he had put his acting career on hold after 2014's "Beyond the Lights" to raise the money to produce and direct the script he had been writing since 2009, Parker and his film were seen as an antidote to the then-fresh #OscarsSoWhite campaign.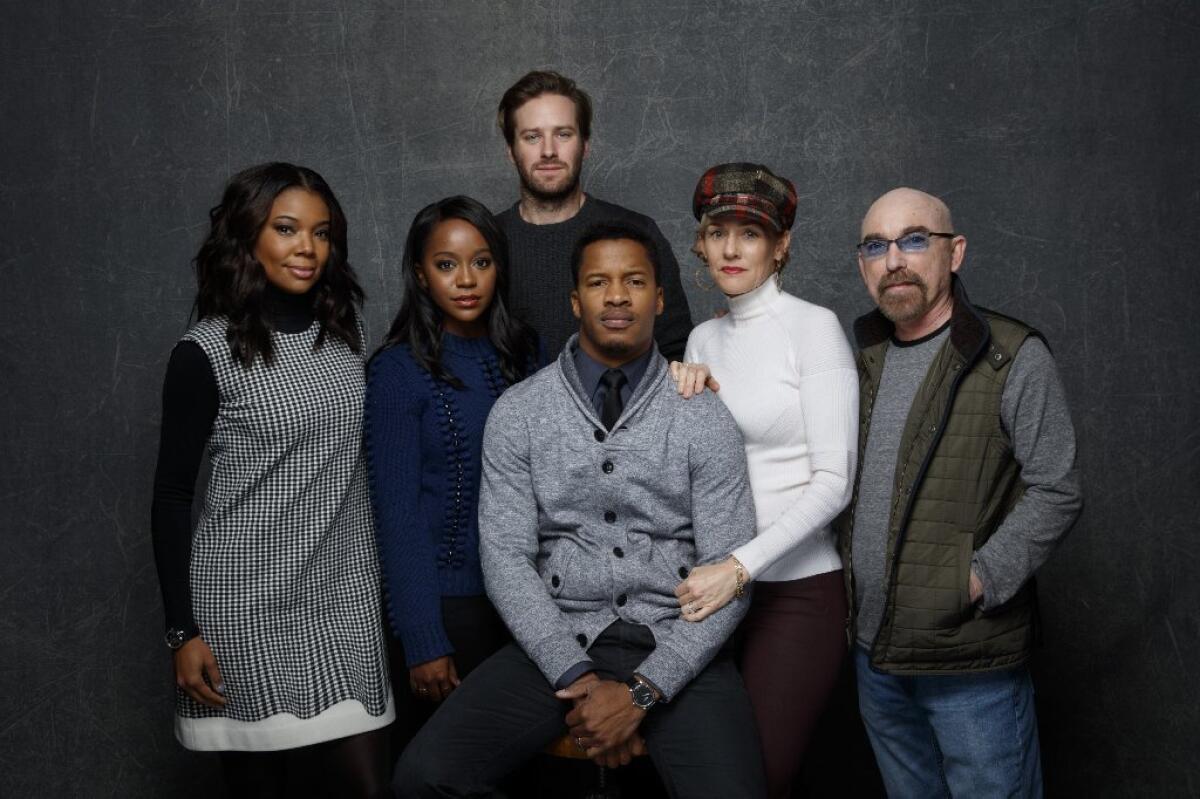 But when renewed attention was paid to Parker's past, he handled it poorly. While Affleck was in the financial position — through birth, circumstance and, yes, talent and hard work — to hire two of the most undaunted legal and public relations representatives in the business to settle his case, Parker did not initially have the same access. And though he had spoken about the allegations in the past, Parker was, perhaps understandably, angrily on the defense when asked to address them in multiple interviews and Q&As — events Parker, as the film's sole auteur, couldn't avoid.
That brings us to another major difference between Affleck and Parker. While the "Manchester" lead has been rather on-brand — a humble, attention-adverse family man — in the few times he's directly (yet indirectly) addressed the allegations, Parker, on the other hand, has vehemently maintained his innocence, that a jury agreed and that his life was upended. In fact, he seemingly had no regard for the alleged victim until after news broke that she had committed suicide, a long-term result, her family said, of the alleged assault.
Perhaps if Parker had the same kind of powerhouse PR in his corner, as Affleck does, a better, more effective way of quelling the controversy might have worked. But if reports that Parker declined media assistance from the influential Oprah Winfrey are true, "Birth's" demise might have been inevitable.
Additionally, according to the Hollywood Reporter, Fox Searchlight, the studio that purchased "Birth" for a record $17.5 million, even hired D.C.-based Glover Park Consulting and former NFL pro and anti-sexual violence activist Don McPherson to devise a plan to salvage the film, and Parker's career. He ultimately refused: "They gave him talking points and he just didn't execute," an industry veteran with knowledge of the events said.
While the accusations against Affleck might be easily disregarded by non-Black America, we have never been able to afford doing the same for Nate Parker.
— Elizabeth Adetiba, The Black Youth Project
If true, if Parker behaved like a drowning man who refused a life preserver, then the fate of "Birth of a Nation" rests on his shoulders. The picture has made only $15.9 million since its Oct. 7 opening, never getting a worldwide release. All major award season prospects — save six NAACP Image Award nominations and a DGA first filmmaker nod — have been shot.
Even though news of Affleck's past surfaced months after Parker's, critiques of him have largely not stuck. Save notable stories by Mashable, the Daily Beast and ThinkProgress, most mainstream outlets, including The Times, have consciously or unconsciously avoided raising the issue in their interviews with the star. As Buzzfeed's Anne Helen Petersen proffered, some outlets might be concerned that addressing it will limit their access to those in Affleck's orbit. When members of the press have inquired, as stated prior, Affleck smartly answered, ultimately deflecting.
Affleck has also benefited from a lack of community responsibility that undoubtedly contributed to the fall of "Birth." Some within the black community — many who also lead in the fight against sexual violence — wanted to see, at minimum, an expression of remorse on Parker's behalf. As the Black Youth Project's Elizabeth Adetiba said, "'community' revolves around the belief that we are all responsible for one another, and can only be sustained through love, justice and respect, especially for those who are further marginalized due to gender, sexual orientation, ability and/or socioeconomic status." And though Parker's alleged victim was white, she noted, "black women experience sexual violence at disproportionate rates in comparison to women of other races. And yes, most of the perpetrators are in fact black men.
"So while the accusations against Affleck might be easily disregarded by non-black America, we cannot and have never been able to afford doing the same for Nate Parker," she said.
Considering the complex conversation that is how Hollywood, and others, have responded to both Affleck and Parker, what holds true are the facts. The age-old idea of separating the artist from their art will continue be debated. But history tells us one thing: Affleck is the latest in a long line of wealthy, white Hollywood notables of direct or associated influence with questionable sex-related histories, including Mel Gibson, Roman Polanski, Woody Allen and countless others. When Parker is added to this list, suddenly one of these things is unlike the others.
Polanski won an Oscar while in exile. Gibson was in the crowd at this year's Globes, himself a nominee, as Affleck delivered his acceptance speech. The career rebound is possible … for some.
Will Parker similarly have the chance, or is he forever a pariah? Only time will tell. In the meantime, he may want to, finally, check his attitude.
Get your life! Follow me on Twitter: @TrevellAnderson.
ALSO
Films that look back at post-war America like 'Fences' and 'Hidden Figures' are digging deeper this year
'Birth of a Nation' actress Gabrielle Union: I cannot take Nate Parker rape allegations lightly
Hollywood's culture of sexual harassment is finally making headlines
Get our L.A. Goes Out newsletter, with the week's best events, to help you explore and experience our city.
You may occasionally receive promotional content from the Los Angeles Times.