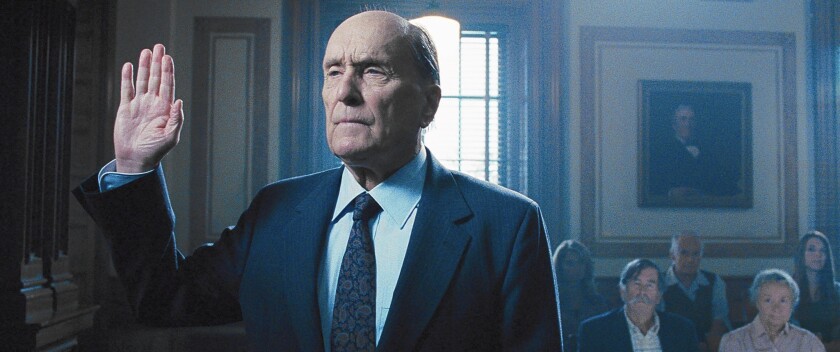 Fury
Sony, $30.99; Blu-ray, $34.99
Available on VOD on Tuesday
Brad Pitt plays a steely tank commander in writer-director David Ayer's World War II thriller, which is a departure from the "Training Day" / "End of Watch" screenwriter's usual Los Angeles crime stories. Though no less violent and macho than Ayer's previous work, "Fury" is a lot less cynical, focusing on small acts of heroism in the waning days of the war without denying the dehumanizing brutality of combat. Aside from its 134-minute length, the movie is a throwback to the tough, lean war pictures of Sam Peckinpah that looked to tell a good story with colorful characters rather than make some grand statement. The DVD and Blu-ray get into some of the real stories behind tank units, via a set of featurettes that deal with how tough it is to fight (and to film) inside a lumbering armored vehicle.
The Judge
Warner Bros., $28.98; Blu-ray, $35.99
Available on VOD on Tuesday
Robert Duvall was just nominated for a supporting actor Oscar for his work in director David Dobkin's film, in which he plays an ailing small-town judge on trial for striking and killing an ex-con with his car. But the movie is really a showcase for Robert Downey Jr., who plays the judge's black-sheep defense attorney son, trying to win back the old man's love by getting an acquittal. The biggest problem is the use of a contrived plot — culminating in one of the most preposterous cross-examination scenes ever filmed — to get through what should be a simpler story of overdue reconciliation. The film is well-meaning but overwrought. The DVD and Blu-ray contain a Dobkin commentary and a pair of breezy featurettes.
The Book of Life
20th Century Fox, $29.98; Blu-ray, $39.99
Guillermo del Toro produced Jorge R. Gutierrez's colorful, 3-D animated feature about a bullfighter (voiced by Diego Luna) who competes with his best friend (Channing Tatum) for the heart of a woman (Zoe Saldana). The romantic one-upmanship leads the hero toward a series of supernatural challenges, venturing into worlds that look like a Day of the Dead puppet show come to life. The comic elements are too clamorous, but Gutierrez — the co-creator of Nickelodeon's "El Tigre: The Adventures of Manny Rivera" — brings a deep understanding of the culture and some stunning character and set design. He also provides a commentary track to the DVD and Blu-ray, which add a healthy set of behind-the-scenes featurettes.
La Ciénaga
Criterion, $29.95; Blu-ray, $39.95
Argentine writer-director Lucrecia Martel made an audacious feature-filmmaking debut with her 2001 family drama, which comments on how social position creeps even into the relationships among blood relatives. Graciela Borges and Mercedes Morán play middle-age cousins being driven to distraction — in different ways — by a hot summer, clueless husbands and bratty kids. Martel turns everyday annoyances into dark comedy, using artful close-ups and ingenious sound-design to accentuate the exhausting, existential terror of an ordinary life. The Criterion Collection's DVD and Blu-ray sets include helpfully explanatory interviews.
And…
Before I Go to Sleep
20th Century Fox, $19.98; Blu-ray, $29.99
Downton Abbey: Season 5
PBS, $49.99; Blu-ray, $54.99
My Old Lady
Universal, $19.98; Blu-ray, $26.98
Open Windows
Cinedigm, $14.93; Blu-ray, $19.97
The Remaining
Sony, $26.99; Blu-ray, $30.99
---