Q&A: How Jordana Spiro and Angelica Nwandu achieved 'Night Comes On's' authenticity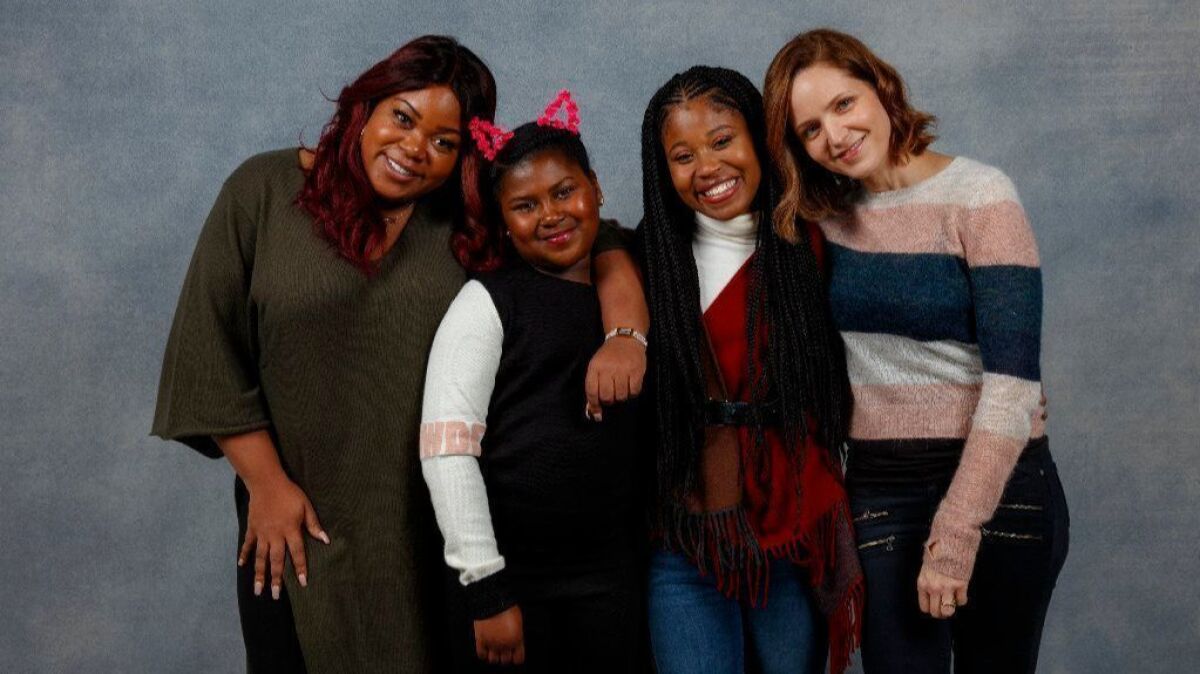 When director Jordana Spiro was introduced after the Sundance Film Festival's premiere of "Night Comes On" earlier this year, some in the audience were surprised. The film is emotionally poignant and appropriately authentic to a black teen's experience transitioning out of the foster care system, and Spiro is a white woman.
Then Spiro introduced her co-writer, Angelica Nwandu, the child of Nigerian immigrants who herself was a foster child.
"Because that was not my own background, and it so often is misrepresented, it was imperative to me to work with somebody who could explore this journey with me and share some really honest feelings and portray the nuance of what that's actually like," Spiro recently told The Times.
"Night Comes On" follows Angel (Dominique Fishback of "The Deuce"), who is released from juvenile detention on the eve of her 18th birthday. Haunted by a troubled past, she embarks on a journey with her 10-year-old sister (Tatum Marilyn Hall) who is still in the foster care system.
It's certainly a departure for Spiro, who makes her feature directorial debut on the project and is best known as an actress with a wide range of TV credits including "My Boys," "The Mob Doctor" and "Ozark." Her film tied — with Jeremiah Zagar's "We the Animals" — for this year's Next Innovator Award at Sundance which was decided by a jury of one, entertainer RuPaul.
The Times spoke with Spiro and Nwandu ahead of the film's simultaneous on demand and limited theatrical release about finding each other, authenticity in storytelling and what they hope audiences get from their work.
How did you two come together to co-write this film?
Spiro: I wanted to make a movie about a young woman who is typically cast aside. I wanted the chance to explore the inside of her journey, the beauty and complexity and difficulty of what's going on with her. At the same time, I was working with this organization that supports foster care youth in Los Angeles called Peace4Kids. I was learning so much about the age-out process and just felt compelled to set a story within those circumstances because there was so much to admire and learn about what that experience is like.… The director of Peace4Kids recommended I meet with Angelica, who at the time was, and still is, writing a lot of poetry and working as an advocate.
I shared with her the story where it was at and there was some resonance to what her experience was like, so we met and hit it off.
Were you always interested in being a screenwriter?
Nwandu: I was always interested in writing and I had taken one screenwriting class and tried it. I always aspired to be a writer but I didn't think it would come so soon, or that I would be able to work on a script with someone who has all of her experience as an actress and who went to school for this.
What efforts did you go through to ensure the film would resonate with people who see themselves on the screen?
Spiro: I think that comes from trying to create as open, honest and candid an environment in our writers room as possible. We're both opinionated people and I think that we did a pretty good job of allowing ourselves to argue with each other, mull things over, teach each other things and really hear what the other is saying. I also had to allow myself to be educated and keeping that partnership alive through the entire process of the film.
Angelica very generously came to the editing room, because as they say, there are three movies you make when making a movie: the one you write, the one you shoot and the one you edit. You can be as well-intentioned as you want to be, but if something is not your background, you can't fully appreciate the subtleties or subtext of something. It was important and I'm grateful that Angelica was part of every step of the process. That was a key component.
Nwandu: I think it also helped that Jordana volunteered at Peace4Kids so she already had a working knowledge and was around a number of foster kids. She knew some kids, so it was easy to work with her. We also had a lot of talks and went deep on the script. Some of the things that you see on screen are actually real things that happens to foster kids, stuff I pulled from real experiences. I think that's where a lot of that authenticity comes from.
How was it being part of the entire process, beyond just the script?
Nwandu: At the end of the day, a lot of screenwriters don't get to go into the editing room so I was just grateful to be included. She even invited me out to set and asked questions about music. I was very happy and proud that I was able to contribute what I could. Not only did it give me more experience, but I felt so included in the process from start to finish. I was heard and my voice was respected.
What kind of takeaway do you hope audiences have from "Night Comes On"?
Nwandu: At one of the Sundance screenings, a girl came up to us afterwards and said she watched the film and saw herself in it.… I want foster youth to be able to see themselves on that screen. If they can see themselves, then we've done it right. If they can see their experience connect with this character, we're good. But also, there's a theme of sisterhood and that bond between our sisters is so strong. It would be great if audiences take away the transformative effects of love and sisterhood which ultimately changes Angel's life in this film.
Spiro: All of that would be powerful and moving for me as well. My hope is that people watch this film objectively and recognize [themselves] in Angel, that the film allows us to garner more respect for foster youth who are surmounting the incredible mountains of obstacles in front of them as they transition out of foster care. And also that it gives each one of us time to work through our own personal fears and remind us of the power that comes from honest connection to another human being.
---
Get our L.A. Goes Out newsletter, with the week's best events, to help you explore and experience our city.
You may occasionally receive promotional content from the Los Angeles Times.