Review: Melissa Leo dominates 'Novitiate,' a sensitive and revealing portrayal of young women's faith
Film Critic
They're not made very often, and audiences don't always applaud (Audrey Hepburn in "The Nun's Story" is the notable exception) but films dealing with what goes on behind convent or monastery walls have what it takes to involve.
As those who've seen Michael Powell's classic "Black Narcissus" or the more recent French films "The Innocents" and "Of Gods and Men" can testify, questions of faith may sound dry but they often make for intensely dramatic, even pulse-pounding cinema. "Novitiate" is the latest case in point.
A debut narrative feature for writer-director Maggie Betts, a hit at Sundance and already nominated for a Gotham breakthrough director award, "Novitiate" sure-handedly takes us inside the world of belief with care, concern and a piercing, discerning eye.
Not a Catholic, let alone a practicing one, Betts was drawn to the emotional content of nuns' lives in the mid-1960s, the years when Vatican II began to change the nature of how these women lived.
By telling the intertwined stories of doe-eyed young novice Cathleen (a luminous Margaret Qualley in a star-making role) and a disciplinarian mother superior (a startling Melissa Leo), "Novitiate" conveys a keen sense of the powerful lure of a religious vocation, of what that way of life was like, why people wholeheartedly embraced it and what its pitfalls might be.
And, as beautifully photographed by Kat Westergaard in a former Methodist college in Nashville doubling for the fictional Order of the Sisters of Blessed Rose, "Novitiate's" elegant imagery conveys the outward tranquility and order of this cloistered world.
Westergaard's camera also loves the eager, yearning faces of young women like Sister Evelyn (Morgan Saylor) and Sister Sissy (Maddie Hasson), who come to the convent with such high hopes, and we come to feel the same.
What "Novitiate" makes clear, however, is that women welcomed this life not to escape the outside world but to embrace a different, more satisfying interior one, to undertake an existence given over to God in a very particular way.
"So many people settle for a love that really doesn't ask anything of them, a love they don't have to make any sacrifices for," a young woman says in the voice-over that begins the film. "I wanted an ideal love, a love I have to give everything to."
The speaker is Cathleen, and she is talking about a feature of the sisterhood of the day, that nuns considered themselves to be quite literally brides of Christ, determined to love absolutely and, if they are worthy, to feel God's love in return.
"Novitiate's" main action is carefully located in 1964, as those Vatican II reforms were slowly taking effect. What their impact would be on cloistered communities isn't fully revealed until the close, but the effects will be powerful and long-lasting.
Brought to unsettling life by [Melissa] Leo, the reverend mother ... does not hesitate to tell the girls to treat everything she says as the word of God.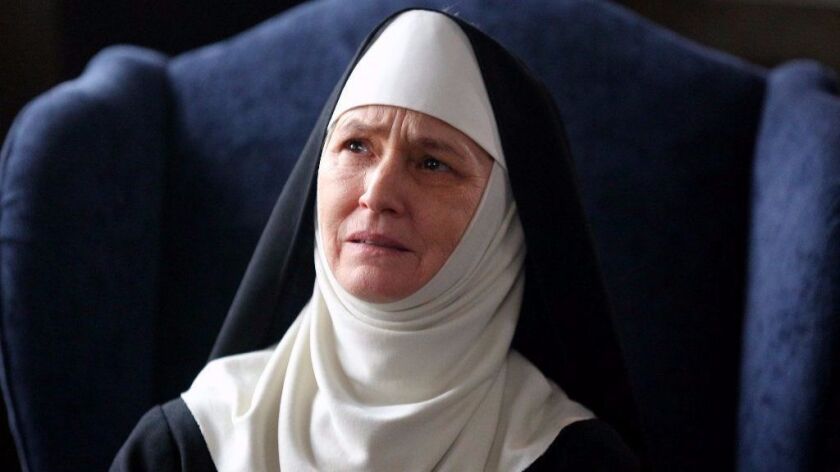 The film begins with a flashback to 10 years earlier, when Nora Harris (Julianne Nicholson), a nonreligious wife and mother in rural Tennessee, takes young daughter Cathleen to a Sunday Catholic service almost on a whim.
Attracted to the peacefulness of the experience, especially compared with her parents' habitual arguments, Cathleen ends up going to Our Lady of Blessed Sorrows parochial school when her mother learns the tuition is free.
And though a disbelieving Nora tries to convince her there is more to life than God, church, and praying, Cathleen becomes determined to enter the convent at age 17. "We were women in love," she says in voice-over about herself and her fellow postulants, and so it proves to be.
Though the newcomers are overseen by the empathetic Sister Mary Grace (Dianna Agron), it is the convent's mother superior, addressed as reverend mother, who is very much the sister in charge.
Brought to unsettling life in an unnerving portrayal by Leo, the reverend mother has been behind these walls for 40 years and does not hesitate to tell the girls to treat everything she says as the literal word of God.
After six months as postulants, the young women spend a year and a half in the novitiate, an intentionally grueling period meant to test the strength of their vocation, to determine if they are suited for a life where the comfort of human touch is all but forbidden.
Central to this process, in the reverend mother's view, are the harsh self-criticism group sessions known as the Chapter of Faults.
Someone who insists that "God is my motivation" and believes completely that "our savior deserves no less than perfection," the reverend mother unsparingly turns these sessions into the kind of experience the novices never imagined they'd have to survive.
Though Leo's expert performance in a role that might have seemed overly familiar dominates at times, this film's focus, as its title indicates, is on its young women, filled as they are with heartbreaking doubts and worries about their relationships to one another and to Christ. What is lost and what is gained in their poignant quest is what "Novitiate" is all about.
------------
'Novitiate'
Rating: R, for language, some sexuality and nudity
Running time: 2 hours, 3 minutes
Playing: Landmark, West Los Angeles
See the most-read stories in Entertainment this hour »
ALSO
Review: 'Wonderstruck' spins a visually captivating and fully engrossing tale of wonder for movie fans of all ages
Why this film critic gave up on horror movies
Review: Nothing has prepared you for Adam Sandler's heartfelt performance in the finely observed 'The Meyerowitz Stories (New and Selected)'
---
The complete guide to home viewing
Get Screen Gab for weekly recommendations, analysis, interviews and irreverent discussion of the TV and streaming movies everyone's talking about.
You may occasionally receive promotional content from the Los Angeles Times.