Review: Animated Japanese ghost story 'Okko's Inn' offers uplift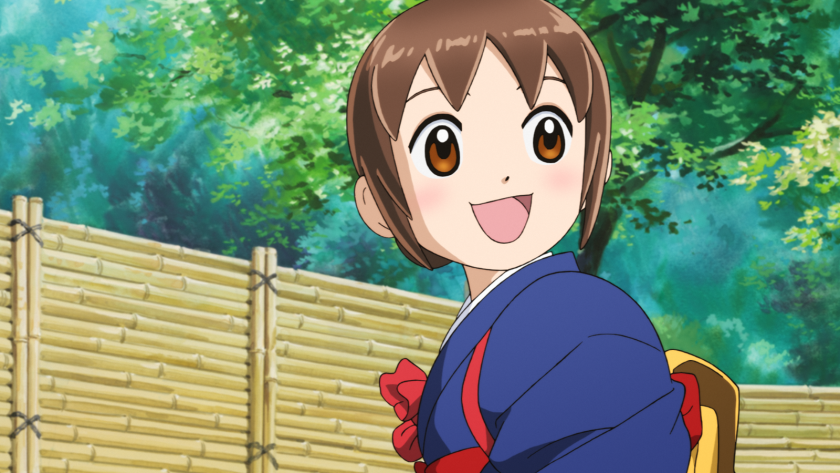 The touching animated feature "Okko's Inn" offers an unusual ghost story that follows Japanese traditions, and feels very different from its American counterparts.
Based on a popular series of children's books, "Okko's Inn" follows Oriko "Okko" Seki, a good-natured little girl who must find her place in the world after her loving parents are killed in a traffic accident. She moves to the Harunoya, a ryokan (traditional Japanese inn) at a hot springs in a small country town, run by her stiffly proper grandmother Mineko.
Okko grew up in a modern apartment: She's not used to old-fashioned sliding screens and tatami mats. She screams the first time she sees the huge spiders and small lizards that inhabit the old inn and its gardens.
Okko is even more upset to learn the ryokan is haunted. She meets the ghost of Uribo, a rambunctious boy who loved her grandmother when they were children. He begs Okko to help out at the inn, as Mineko is overtaxed. Just as she's starting to accept Uribo's presence, Miyo, the spirit of the older sister of Okko's snooty classmate Matsuki, shows up.
Comic complications ensue when Okko unpacks an antique bell, inadvertently awakening Suzuki, a tiny demon who steals desserts from the kitchen. Only Okko can see and hear these spirits; the adults dismiss the very notion of their existence. But Uribo offers the lonely girl a much-needed friend: He tells her stories about the childhood he shared with her grandmother — and explains how the inn should function.
Okko does her best as assistant inn keeper, and struggles to learn the traditional Shinto dances that draw visitors to the town. Matsuki, whose family runs an expensive modern inn, mocks her. But when she learns about Okko's connection to the sister she never knew, Matsuki befriends the new girl.
Okko's resolve to become "the young innkeeper of Harunoya" is put to its severest test when she discovers that the gentle guest she's looked after was involved in the accident that killed her parents. His family apologizes and tries to leave, but Okko insists they remain. She realizes that hatred will not bring her mother and father back; kindness and forgiveness will make life better for everyone. After the simplistic let's-all-be-friends-and-sing-a-song inanities in many recent American animated features, Okko's empathy feels doubly welcome.
Ryokans have long been used in Japan to escape the demands of daily life and commune with nature. And ghost stories have been popular there for centuries, appearing in folk tales, court literature and Kabuki plays. Some ghosts are angry and vengeful; others are lonely and sad. Director Kitarô Kôsaka makes it clear that Uribo still loves Mineko, and that Miyo watches over her little sister.
In a divisive era, "Okko's Inn" carries a welcome message of acceptance and inclusion. The soothing waters of the hot springs are a gift from the gods: They welcome and heal everyone who visits. And "the young innkeeper of Harunoya" makes sure every guest feels welcome.
-------------
'Okko's Inn'
In Japanese with English subtitles
Rated: PG for thematic material
Running time: 1 hour, 34 minutes
Playing: 7 p.m. April 23, Fathom Events; starts April 26, Laemmle Glendale
------------
---
Get the Indie Focus newsletter, Mark Olsen's weekly guide to the world of cinema.
You may occasionally receive promotional content from the Los Angeles Times.