For Greta Gerwig, Oscar nominations mean 'excitedly yelling and not making any sense'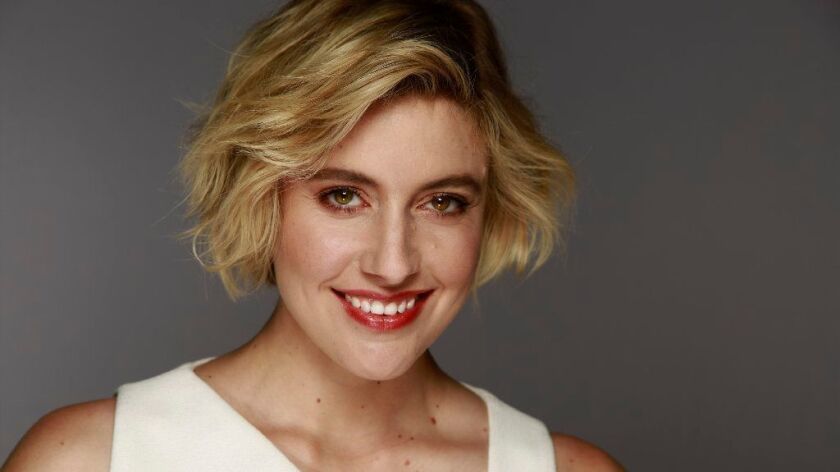 Reporting from Park City, Utah —
Greta Gerwig is celebrating her Oscar nominations by yelling on the phone.
The "Lady Bird" writer and director, who was snubbed in the directing category at the Golden Globes earlier this year, but was later nominated for a DGA Award when they were announced a few days later, was recognized by the Academy of Motion Picture Arts and Sciences on Tuesday in the directing and writing categories. "Lady Bird" was also nominated for best picture, a prize awarded to a film's producers.
When reached by the Los Angeles Times after the announcement, Gerwig was still coming to terms with her achievements: She is only the fifth woman ever to be nominated in the academy's directing category and that honor was not lost on her.
Here's what she had to say:
Hi, Mark Olsen! Hold on, sorry, wait, aggghh, I can't, OK. My parents just sent me a video from the local news, and they were like, "you have to watch it right now." They're so excited. It just started playing but I turned it off, don't worry. It's a big morning news item for Sacramento, which I couldn't be more happy about.
Live updates: The 2018 Oscar nominees react to their nods »
Where were you when the nominations were announced?
I'm in Los Angeles right now because I've been here working, and I was here for the SAG Awards last night, or two nights ago. I can't remember nights anymore. But so I'm in L.A. and I forced myself to sleep until I was done sleeping and I woke up at 3:30 and I was like, "Is it time?" Nope, not time, go back to sleep. So I went back to sleep and then I was like, make coffee, take a shower and then look. And I couldn't believe it. The first thing I saw was a video, Saoirse [Ronan] sent a WhatsApp video of her crying and I thought, "Oh, that's good." And then I saw everything. And I've just been yelling on the phone for the last three hours, so that's all I've been doing, excitedly yelling and not making any sense. And you're part of this now.
WINNER: Gary Oldman -- performance by an actor in a leading role; makeup and hairstyling | NOMINATED: Cinematography; costume design; best picture; and production design.
(Jack English / Focus Features via AP)
WINNER: Costume design | NOMINATED: Daniel Day-Lewis -- performance by an actor in a leading role; Lesley Manville -- performance by an actress in a supporting role; directing; original score; and best picture.
(Laurie Sparham / Focus Features via AP)
Mark Hamill as Luke Skywalker in "Star Wars: The Last Jedi." The film got four Oscar nominations: original score, sound editing, sound mixing and visual effects.
(John Wilson / Lucasfilm via AP)
You've spoken about how you've been in the industry now for 10 years. When you had some of those early projects emerge, the Oscars, I would imagine, were the last thing you were thinking about at that time. So to have seen the way your career has grown and grown must feel especially exciting.
Filmmaking, going back to when I was a kid, it seemed so far away to me. I knew no one who made movies, at all, and they seemed as if they were handed down from God. I remember when I worked with Mike Mills and I was on his set and I was looking at Annette Bening, and I thought, "What in the world did I do right in a past life to get this moment?" This is already extraordinary, and to have this happen in this way, it's unbelievable.
And the Oscars seemed so far away, but I have to say every single year I've always had an Oscar party and everybody'd come over and watched it. And I put on a fancy dress, and I've never been. I've never been to the Oscars.
I think they have tickets for you this year.
Yeah, I think I got some tickets. I think I've got some ability to go and it's amazing.
People obviously are talking a lot about your directing nomination and the fact that you're only the fifth woman ever to be recognized in that category. What does that mean to you?
First of all, it means the world to me. It means so much because it's something that – I remember when Kathryn Bigelow won for best director, and I remember I was at my Oscar-watching party and I remember crying and feeling so excited and feeling like she did it ... and so much more feels possible.
And I hope that, honestly, I hope that girls or women who want to be filmmakers — sorry, I'm going to start crying again — look at this and they feel like, "Yeah, I'm going to go make my movie." And I hope that it does that. Because I selfishly want to see those movies … I couldn't be more excited for the next generation of women who want to make movies. And I hope that they can see me up there and feel like, "Hey, I can do that too." Sorry I'm getting emotional.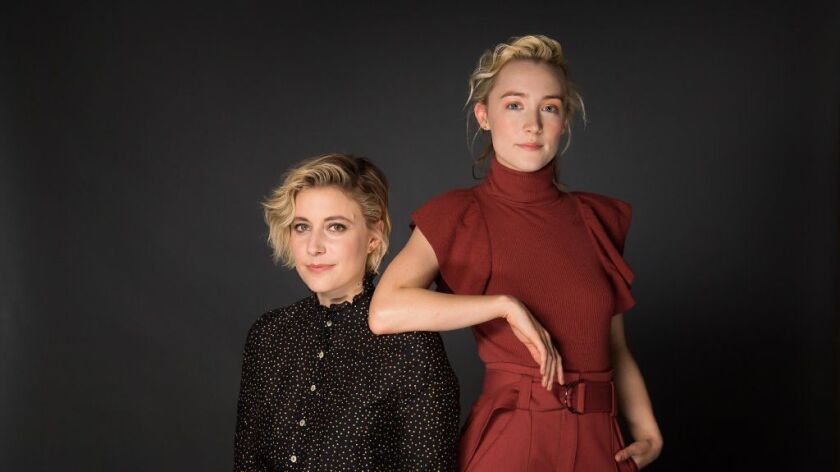 The complete list of 2018 Academy Award nominees »
Do you feel that with "Lady Bird" — a movie written and directed by a woman, focused on a female-centered story about a mother and a daughter — this year in particular has had extra power?
I knew how much care everyone put into every moment, and with Saoirse and Laurie [Metcalf], I always wanted it to feel like this is a movie about life as it's lived for these women, that it has something that's epic even though it is quotidian.
You always hope you make something that connects with people, but you never know if it's going to. There's all kinds of reasons why some things connect and some things don't. But the response of people, men and women of all ages who saw themselves and their hometowns and their families in it, it's very emotional for me and very meaningful for me.
I just keep going back to my cast and the crew. Movies are not a solo endeavor; they are the most collaborative art form, and everybody not only brought their heart and soul to it. They brought the most detailed level of craft and art and that in itself is an act of love.
Times staff writer Nardine Saad contributed to this report.
---
Get the Indie Focus newsletter, Mark Olsen's weekly guide to the world of cinema.
You may occasionally receive promotional content from the Los Angeles Times.