#OscarsSoWhite might not be solved after all
Did the 2017 Oscars signal the beginning of a more diverse Hollywood?
By many accounts, yes. "Moonlight" won best picture and the film academy rewarded more African American actors and filmmakers in more categories than it ever had in a single year.
But just two months before 2018's Oscar nominations are announced, the projected representation of diversity on film's biggest night is complicated, at best. The talk around Hollywood is that the 20 acting nominees could be all white once more.
"It looks like there is a lot more work to be done," says April Reign, #OscarsSoWhite creator. "But I always knew that it would not be solved in one year, or two or three."
Since 2015, when the hashtag first became a rallying cry for inclusion, most, if not all, of the big studios have reinvigorated or created diversity initiatives, agencies have taken a more active role in supporting their clients and film festivals have continued to be entrees into Hollywood for traditionally marginalized folks.
We need to celebrate overcoming every single hurdle but we're nowhere near the finish line.
— April Reign
The film academy, for two straight years, has also invited its largest, most diverse classes into membership. And after two years of back-to-back all-white acting nominees, the 2017 Oscar nominations were a far different story. Not only did "Moonlight's" Mahershala Ali and "Fences'" Viola Davis earn Oscars for their supporting roles — the first time two African American actors won in both supporting categories in the same year — Ruth Negga was nominated for her lead role in "Loving" and Denzel Washington earned his seventh acting nomination plus a shot at best picture as one of the producers of "Fences." In addition, Pharrell Williams was one of the "Hidden Figures" producers nominated for best picture; Kimberly Steward, one of the producers of "Manchester by the Sea," was also nominated for best picture, and Ezra Edelman, director and producer of "O.J.: Made in America," won the Oscar for documentary feature.
Then there's the fact that an independent movie by a black director — a black queer story filtered through something other than the white gaze — rose to win the industry's most coveted prize (not to mention the adapted screenplay Oscar won by the film's writers, Tarell Alvin McCraney and director Barry Jenkins). More than the icing on the cake, the best picture prize for "Moonlight" felt like a smoke signal of sorts giving way to something more tangible, more inclusive for the future of Hollywood.
The potential slate for 2018 Academy Award nominations, however, says otherwise.
"It appears back to business as usual, unfortunately," says Gil Robertson, president of the African American Film Critics Assn. "And I hate to sound cynical but we've seen these cycles and periods before where [Hollywood] says they're going to change and there will be a shift and then…."
Films frequently mentioned in the best picture mix starring people of color include "The Big Sick," "Get Out," "Detroit" and "Mudbound." Nominations for their stars, writers and directors are considered varying degrees of possible. It's a formidable group that includes "Mudbound" director and co-writer Dee Rees, "Big Sick" co-writer and star Kumail Nanjiani, "Get Out" director and writer Jordan Peele, and actors Daniel Kaluuya of "Get Out," John Boyega and Algee Smith of "Detroit," and "Mudbound" stars Jason Mitchell and Mary J. Blige.
And yet the closest to a slam-dunk is Peele's bid for an original screenplay nomination for "Get Out," with a directing nod seemingly more possible after his recent Independent Spirit Award nominations and his wins for breakthrough director and screenplay at the Gotham Awards.
Mexican filmmaker Guillermo del Toro is an early favorite in the directing and screenplay races for his romantic fantasy tale "The Shape of Water."
Still, the only performers of color to rank in the top five in any acting category this year on awards prediction site GoldDerby.com are supporting actress contenders Octavia Spencer for "The Shape of Water" and "Mudbound's" Blige.
Beyond those titles, Dan Gilroy's "Roman J. Israel, Esq.," starring Denzel Washington, is in the conversation for best actor. Other performers of diverse background whose work could garner notice throughout awards season include Tiffany Haddish ("Girls Trip"), Salma Hayek ("Beatriz at Dinner"), Hong Chau ("Downsizing"), Lakeith Stanfield ("Crown Heights") and Laurence Fishburne ("Last Flag Flying"). "Marshall's" Chadwick Boseman and Sterling K. Brown should also be in the mix.
But with competition from Oscar perennials, including Meryl Streep and Tom Hanks ("The Post"), Frances McDormand ("Three Billboards Outside Ebbing, Missouri"), Saoirse Ronan ("Lady Bird"), Daniel Day-Lewis ("Phantom Thread") and Gary Oldman ("Darkest Hour") — plus the lack of persistent buzz enjoyed by last year's diverse nominees including "Lion," "Fences" and "Hidden Figures" — it's going to be a struggle for most of these pictures and performances to simply score a nomination.
Another outsider with a shot at a nomination is deaf actress Millicent Simmonds, who received praise for her performance in "Wonderstruck" when it premiered at Cannes, but has gotten less attention in the onslaught of the season's awards contenders opening at theaters.
When it comes to LGBTQ representation, the films with the best chance for nabbing some academy recognition are "Battle of the Sexes," in which tennis and lesbian icon Billie Jean King is played by reigning Oscar champ Emma Stone, and Luca Guadagnino's "Call Me by Your Name," in which Timothée Chalamet delivers a breakthrough performance as a 17-year-old boy who falls in love for the first time.
Two other pictures with notable LGBTQ themes that might make some noise in the foreign-language category are "BPM" and "A Fantastic Woman," France and Chile's official Oscar submissions, respectively. "A Fantastic Woman" star Daniela Vega will also receive a best actress push, which if successful would make her the first openly trans woman to earn such an honor.
Among filmmakers, Guadagnino, who is gay, is considered a strong contender for a director nomination. As is Rees, who is lesbian.
Granted, as Zeke Stokes, who oversees GLAAD's annual media awards that honor LGBTQ representation across all media, says, the importance of diversity and inclusion on and behind the screen is not just about golden statues. Last year, only two films qualified for the group's top award for the best film with a wide release, "Moonlight" and "Star Trek Beyond" — a first for the group.
"What it said to us was that out of all the content created for a wide audience, we were either the punchline, punching bag or simply invisible all together," says Stokes, GLAAD's vice president of programs. "Obviously 'Moonlight' was an incredibly bright spot, but in a year that was incredibly dim."
Unfortunately, 'Moonlight' historically has been the exception and not the rule.
— Zeke Stokes
By contrast, potential nominees for the same award this coming year demonstrate both a broader range and higher-profile productions. In addition to "Battle of the Sexes" and "Call Me by Your Name," they include the blockbusters "Beauty and the Beast" and "Power Rangers."
Still, as Stokes points out, the LGBTQ media advocacy organization's most recent Studio Responsibility Index notes that of the 125 releases from major studios in 2016, only 23 of them, or 18.4%, included characters identified as LGBTQ.
"We are far from where we need to be ultimately," Stokes says. "Unfortunately, 'Moonlight' historically has been the exception and not the rule."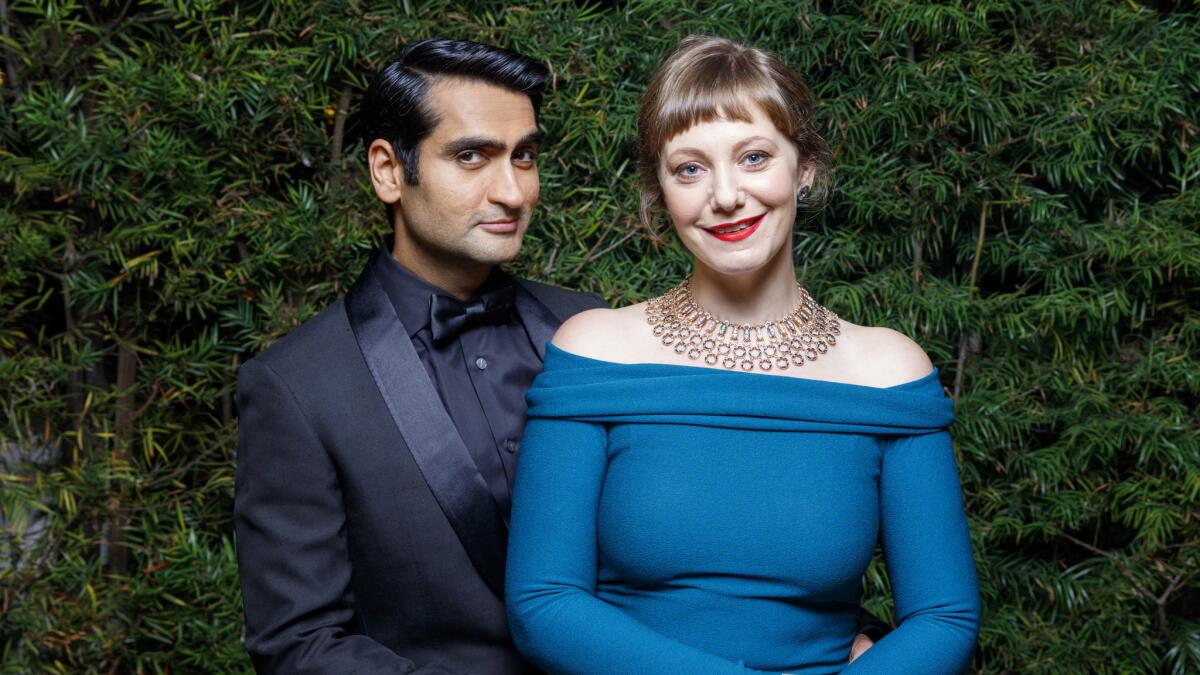 Even if it turns out that LGBTQ and racial and ethnic diversity is limited at the Oscars this year, Robertson notes there is some reason to celebrate. In addition to AAFCA dubbing 2017 the "Year of the Woman in Cinema" — for women helming a number of critically and commercially successful pictures — this year, he says, also saw the largest output of film content by African American directors in history.
But few of those films, which include J.D. Dillard's "Sleight," Stella Meghie's "Everything, Everything," Benny Boom's "All Eyez on Me" and Sabaah Folayan and Damon Davis' "Whose Streets?", find themselves in the awards conversation.
"More than lip service and platitudes, Hollywood must put more muscle behind it if diversity is going to be something we're actually going to live with," says Robertson, "instead of something that pops up every now and again."
And inclusion, Reign adds, is not just about increasing representation of black people as the predominant conversation tends to focus on.
"In this age of superheroes with Marvel and DC Comics putting out something yearly, why have we never had a disabled person playing a superhero?" she asks. "Why has there not been a LGBTQ rom-com? I am very happy to see that the Asian American community has become more vocal with respect to the lack of inclusion and I'm hoping it continues, but there's another problem with representation of the Latinx community."
Still, she says she remains "hopeful because we have seen incremental progress."
"We need to celebrate overcoming every single hurdle but we're nowhere near the finish line," she said. "I've attempted to be very consistent in saying that this is not going to be a sprint. This is going to be a marathon."
Get your life! Follow me on Twitter (@TrevellAnderson) or email me: trevell.anderson@latimes.com.
ALSO
How Denzel Washington and Dan Gilroy created an unforgettable idealist for 'Roman J. Israel, Esq.'
Denzel Washington's remarkable performance in 'Roman J. Israel, Esq.' isn't helped by plot
Get the Indie Focus newsletter, Mark Olsen's weekly guide to the world of cinema.
You may occasionally receive promotional content from the Los Angeles Times.