How Denzel Washington and Dan Gilroy created an unforgettable idealist for 'Roman J. Israel, Esq.'
Filmmaker Dan Gilroy was standing on the corner of 9th and Broadway in downtown Los Angeles on a recent sunny afternoon, looking north at the canyon of marquees and buildings stretching out in front of him.
This particular strip of Broadway provided the location for a key climactic sequence in Gilroy's latest movie, "Roman J. Israel, Esq.," a character study and legal drama starring Denzel Washington. Gilroy recalled how he and his cinematographer Robert Elswit walked the street many times in preparation for shooting, getting the timing right for the pace of the dialogue.
"It's funny, I never really came down here during the day. It's very different," Gilroy said. "We only location scouted at night."
Taking in the pedestrians and traffic bustling around him, he added, "But you get the sense of being in an urban landscape here. This is a city here."
In the film, Washington plays the title role, a veteran activist attorney who is forced to grapple with new challenges when his long-time law partner suddenly dies.
Rather than dealing with his own ethics and idealism in the abstract from the isolation of the back room of an office, he is confronted by realities of the modern legal system, contemporary ideas of activism and the temptation of money. Carmen Ejogo plays a younger legal activist and Colin Farrell a high-priced private practice attorney. (Imagine those two as the angel and devil on your shoulder.)
"Roman J. Israel, Esq." is Gilroy's second movie as writer-director. A longtime screenwriter, his directing debut was the 2014 film "Nightcrawler," which starred Jake Gyllenhaal as a freelance news videographer who roamed the dark streets of Los Angeles. "Nightcrawler" earned Gilroy an Oscar nomination for best original screenplay and a sense that for his next film he could capitalize on its acclaim and success to do what he wanted.
And what he wanted was to write a script for Denzel Washington.
"I had never met Denzel before, never talked to Denzel before," said Gilroy. "I decided early on if Denzel was not going to do it, I was not going to do it. It was too tailor-made for him, there was nobody else I'd want."
Birth of a character
Gilroy sent Washington the script and once the actor had read it they met for a long lunch in New York as Washington was preparing to direct and star in the adaptation of August Wilson's "Fences," which earned Viola Davis the supporting actress Oscar and nominations for best picture, adapted screenplay and actor for Washington.
After a handshake, Gilroy and Washington set off on a close collaboration on the character.
"I like Roman," Washington said, sitting recently with Gilroy for an interview in an L.A. hotel room. The character's eccentric look, with outdated clothes, hair and glasses, a heavy briefcase and a pair of headphones wherever he goes — even the music he listens to — were all products of their collaboration.
Noting that he purposefully wore shoes two sizes too big to change the way he walked, Washington said with a smile, "I'm a slob anyway, so I embraced that, my inner slob. He was right up my alley.
'You don't get parts like this, they're further and fewer between," said Washington. Pressed as to what exactly he responded to in the character, he added, "I don't know, I don't analyze it too much. I just do it."
Gilroy added, "I wrote the character, but Denzel very much authored the character."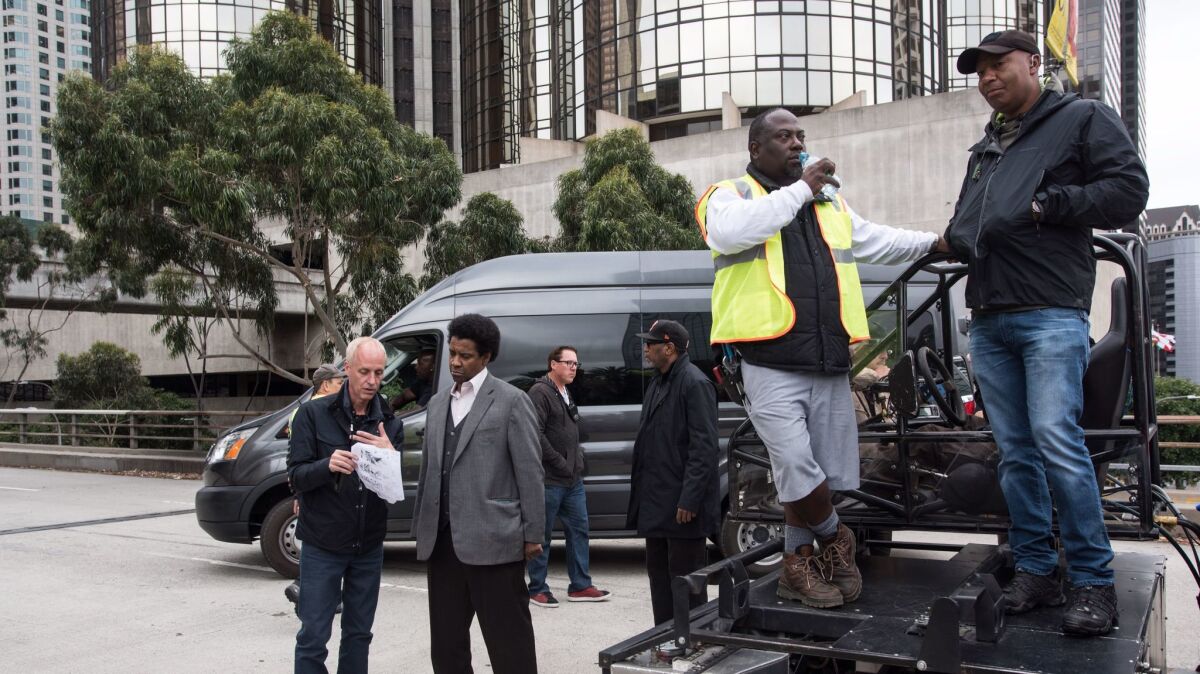 In preparation, Washington did research on people on the autism spectrum with Asperger's syndrome. It was a way of considering the character's remarkable legal knowledge and capacity as well as his hesitancy with social interactions.
Nevertheless, despite their open collaboration, Gilroy said Washington was often ahead of him in regard to the character, his motivations and behavior.
"His process is a still mystery to me. He keeps his own counsel," Gilroy said of Washington. "There are many things he wants to talk about, but talking about the intricacies of creation is not something he'll go into great detail on. It's very private to him. I think it's his way of protecting the creation of a real moment."
Two views of Los Angeles
Almost as important to the film as Washington's acting is Gilroy's depiction of Los Angeles.
For "Nightcrawler," Gilroy had purposefully avoided downtown, preferring instead to feature the various other landscapes Los Angeles has to offer, presenting the city as if part of a nature documentary with Gyllenhaal a coyote on the prowl. For "Roman J. Israel, Esq.," he wanted to present yet another view of the city.
"This film, Denzel's character works in the heart of the criminal justice system; he is a criminal justice attorney in downtown Los Angeles," Gilroy said. "He lives here, he works here, he moves around here. So we were going to shoot the majority of the film in downtown and we embraced it."
Although the construction site seen happening right next to Roman's old downtown apartment building had to be done via visual effects, it was while scouting locations that Gilroy realized the intense amount of major work happening throughout the city. So all through the movie, cranes and construction can be seen in the background.
"It really worked to our advantage because you got the sense that not only was Denzel's character going through a transformation, but the city was going through a transformation," Gilroy said. "There is a new era now coming to pass. And that's part of the film. Denzel's character is out of touch with his time. It became a physical manifestation for us to see this massive urban project going on down here, this change."
Having finished shooting only in mid-summer, the film premiered as a late addition to the Toronto International Film Festival in September. After a lukewarm response, Gilroy, his editor (and brother) John Gilroy plus Washington immediately went back into the editing room. They ultimately cut 13 minutes from the film and moved a key scene between Washington and Farrell further up in the movie.
"The film wasn't finished," Washington said of showing the movie at the festival. "It told us what we needed to know. And that was a necessary part of the process."
"The most people we showed it to before Toronto was I think 27 people. And that was wrong of me to think it was utterly representative," said Gilroy. "Denzel's right, the film was not finished. And I needed to be hit upside the head by a crowd that I looked at as one I could relate to."
Just as the character of Roman Israel in the movie itself is forced to take a stock of who he is and how he wants to respond to the world, so too did Gilroy and Washington find themselves confronted by a new, unexpected reality.
"I say it all the time, a film will tell you what it doesn't want," said Washington. "It's one thing to say it, it's another thing to really do something."
SIGN UP for the free Indie Focus movies newsletter »
Follow on Twitter: @IndieFocus
ALSO
Not even Nicole Kidman and Colin Farrell can answer the mysteries of 'The Killing of a Sacred Deer'
Guillermo del Toro's 'The Shape of Water' is a genre-blending movie about loving 'otherness'
Dan Gilroy on bringing 'Roman J. Israel, Esq.' to life with Denzel Washington
Denzel Washington's remarkable performance in 'Roman J. Israel, Esq.' isn't helped by plot
---
Get our L.A. Goes Out newsletter, with the week's best events, to help you explore and experience our city.
You may occasionally receive promotional content from the Los Angeles Times.