Jordan Peele on his Oscar dreams: 'I didn't really believe there was a place for very many black directors'
From his days spoofing President Obama on the Comedy Central sketch series "Key & Peele" to writing and directing one of the most talked about movies of 2017 — the smash horror/social satire hybrid "Get Out" — Jordan Peele seems to have his finger on the pulse of America.
And now he has three Oscar nominations to prove it (becoming only the third person in history to earn nominations for best picture, director and screenplay for his directorial debut). The Times spoke with Peele on Oscar nominations morning to catch up and discuss the enduring appeal of "Get Out."
Congratulations! How are you feeling right now?
I'm overwhelmed, in a very good way. I feel very at peace right now.
That's a lovely way of putting it. You tweeted about having a very emotional exchange with Daniel [Kaluuya] upon hearing the news. What was that phone call like?
It was very emotional; whenever I talk to him about this stuff I just break down. He's got a little bit more composure than I do. But we both went from knowing we were taking this huge risk and that we could very well be hated for the risk, to being here and getting the acknowledgment of our peers — peers who, by the way, we didn't even feel like we could call them our peers a year ago. There's a camaraderie there that I don't have with many people.
LIVE UPDATES: Oscar nominations 2018 »
He's spoken very frankly in the past about his frustrations with the business, opportunities afforded to him in Hollywood, and the real pain underneath the story you all wanted to tell in "Get Out" — so it's nice to hear him so joyful today.
You know, lead roles for a black person are so few and far between. And I feel like Daniel is probably somebody who believed he could be a lead but would have been unsure whether or not he would ever be trusted with something like that. Perhaps he would be, as many people of color are, relegated to great supporting roles. I remember getting to call him and essentially telling him, "You're a star. You're going to be a movie star. You're going to be my movie star, and you're going to play a protagonist and nothing can ever take that away from you." And that he came and delivered the performance that he delivered just shows you that sometimes all people need is a chance.
Do you have that same feeling about yourself in terms of opportunities to direct, people taking chances on you behind the camera, and with stories like this one that take risks?
I left my dream of being a director behind long ago, and I think that was because, while I have a great respect for film, I didn't really believe there was a place for very many black directors. I thought it would be harder for me as a person of color to convince someone to let me use their money to make a movie. Many years later after an odyssey through acting and comedy, I came back to my original dream. And the fact that it's been received the way it has been received teaches me a lot about how I internalized the system.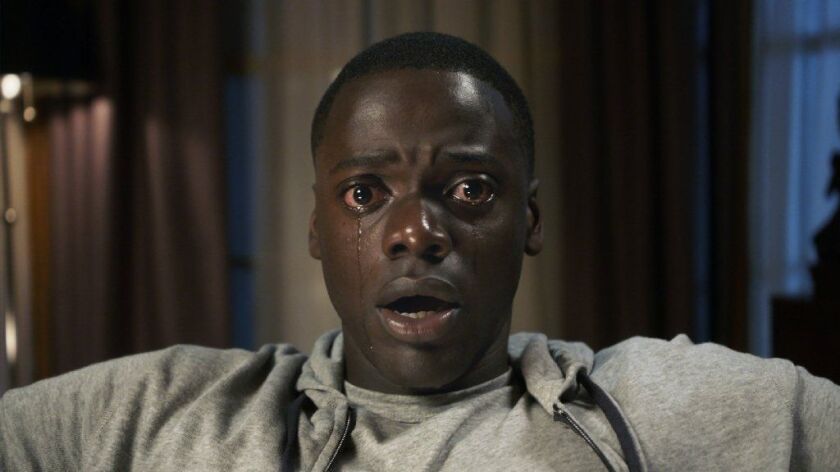 The phrase "the sunken place" has become so widely adopted this year, and with such instant familiarity to so many people. It's one of the most relatable concepts to come out of the movies in a long time. Does this moment feel like stepping out of Hollywood's sunken place, that you're able to transcend that unseen space?
The sunken place to me is the silencing of voices, and the silencing of expression, and the cries for help and the cries for justice. And this is an instance in which I feel like my cry for justice has been heard, is magnified, and is being acknowledged by my peers and the world. Right now, today, I feel like I'm in the opposite of the sunken place. But the important thing to note is that many people in America, as we've seen in this past year, have been in and remain in the sunken place. There are so many ways in which the system silences voices. You look at how the president treated Colin Kaepernick, how the network treated Jemele Hill for speaking her mind, and there are so many checkpoints at which art and expression are silenced and muffled. So yes, this feeling shows me that there is an opposite to the sunken place, but there's so much more work to do before this country is out of it.
"Get Out" director Jordan Peele says, "The sunken place is this metaphor for the system that is suppressing the freedom of black people."
Along with your nominations came a notable statistic — that you're only the fifth black director to be nominated in 90 years.
It's such a cool honor, but to be part of the great African American artists acknowledged in this way means a ton because John Singleton, the Spike Lees of the world, are the people who gave me hope. I feel like I'm standing on the shoulders of them, I feel like I'm standing on the shoulders of Ava DuVernay and Ryan Coogler and F. Gary Gray and Dee Rees, who are all just as deserving of this honor, and I know that they'll receive it.
Where were you this morning when the nominations were announced? Did you have a plan in place for the moment?
No, you try to downplay it so you can get to sleep at night. I woke up to find my phone blowing up and I knew that was good news, and I think the big one for me was Daniel's. It's a whole different thing when you feel like a member of your family is achieving his dream alongside you.
I know it's a team effort, but if you could shout out one person who was an unsung hero in the making of "Get Out," who would it be?
It would be my A.D. Gerard DiNardi. He is a guy who is so good at what he does and he and I worked so closely to figure out how to make this film work on this budget, along with the producers and line producers. But the A.D., for a director, is really the right hand man. I'm going to continue to work with him and he deserves as much of this honor as I do.
---
The complete guide to home viewing
Get Screen Gab for weekly recommendations, analysis, interviews and irreverent discussion of the TV and streaming movies everyone's talking about.
You may occasionally receive promotional content from the Los Angeles Times.