How Yance Ford's historic 'Strong Island' Oscar nomination is a victory for more than trans filmmakers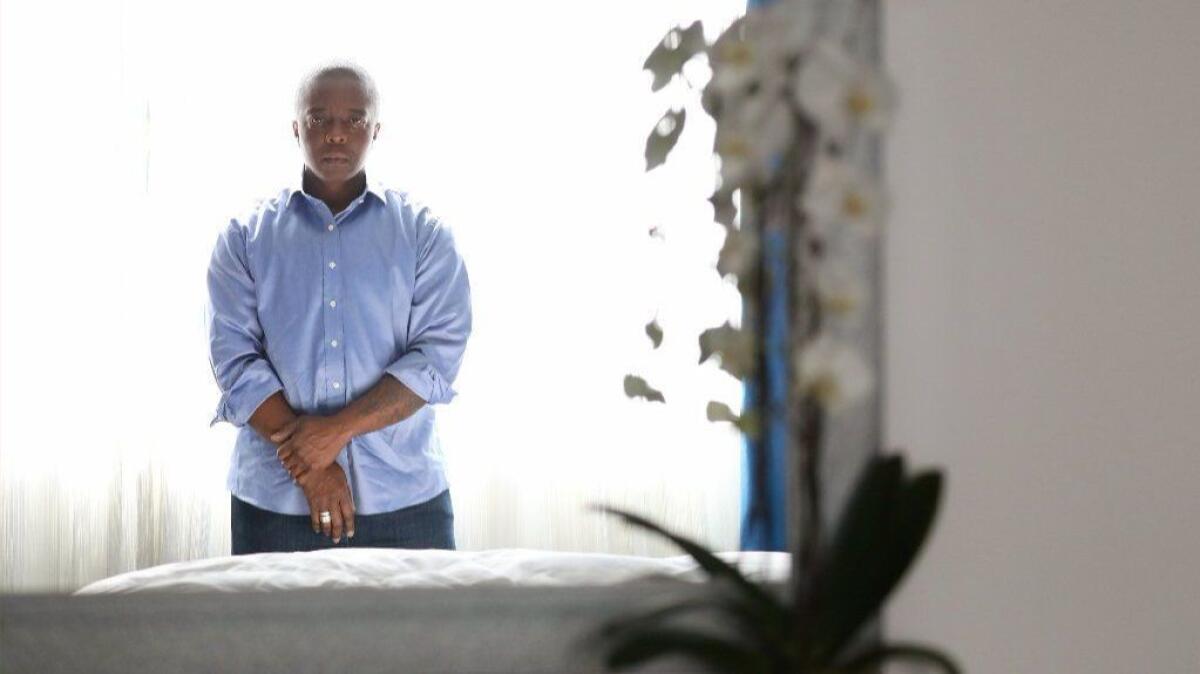 On Oscar nominations morning, Yance Ford sat on his couch with his partner, Amanda, watching the telecast. One hundred seventy documentary features had qualified for consideration last year, and Ford's "Strong Island" had already made it to a pre-nominations shortlist of 15.
As announcement hosts Andy Serkis and Tiffany Haddish made their way to the documentary feature category, Ford, at the insistence of his social media manager, set up his phone to record what they hoped would be a memorable reaction if the film landed one of the five nomination slots. And then it actually happened.
Ford jumps back in excitement and disbelief while Amanda squeals with joy. Both of their hands cup their mouths as gleeful chuckles become audible.
"I just went completely blank and my mind never goes blank," he joked in a recent interview with The Times, thinking back to that early morning. "I always have a comment, always have a response. It was just remarkable."
The video ends seconds later as he and Amanda lock eyes following the announcement and high-five each other. It's a tangible moment of euphoria and gratitude to the film academy and to the friends and family who've supported Ford through the 10 years of making the film.
On that morning Ford made history as the first openly transgender filmmaker to have a film nominated, an honor he doesn't take lightly as a member "of the generation that took back 'queer,'" he said.
"If my making history makes it easier for a trans kid at home somewhere to feel more at home in their skin, then I'm so excited about that," he said. "If I can use this moment to remind folks that trans people are subject to violence at greater rates than any other group in this country, I'm happy about that. If I can help one family embrace their child and not displace them and throw them out, I'm happy about that."
"Strong Island," which won a special jury prize at Sundance last year where it premiered, tells the story of how Ford's family was affected by the April 1992 killing of his brother William, then a 24-year-old teacher, by a white 19-year-old mechanic. William was unarmed. The film charts Ford's journey to reconnect with the Long Island, N.Y., officers and prosecutors involved in his brother's case and discover how the grand jury could deem the shooting justifiable.
Watching his documentary land an Oscar nomination helped solidify "a transformation in the way that I feel about the death of my brother over 25 years," Ford said.
He was a 360-degree multidimensional person and all I wanted to do was show his dimensionality.
— Yance Ford
This response "has shown me that the film can actually do the work. It can do the heavy lifting for me."
Featuring emotional interviews with Ford's mother and sister and William's friends, it's an intimate meditation of how a family's personal tragedy is situated in an institutionalized fear of blackness and how a loved one's unexplainable death has enduring impact decades later. But the picture audiences have been engaging with on Netflix and at post-screening discussions isn't what Ford initially envisioned a decade ago.
"The original film and original path of inquiry was about my mother's grief and how she was emblematic of the effect of my brother's murder on the entire family," he said. But then, "I began to question some of the rules that I had put in place."
One of those rules involved not including his sister in the documentary because he "wanted to protect her, but I realized that would be silencing her for a second time," he said.
A second rule involved not having white people in the film, which in retrospect removed a level of complexity that illustrates some of the differences in how white people and black people are treated by authorities.
"And what dawned on me was that there was not enough anger in the movie and that I had kept it focused on my mom's grief because, in some sense, I was afraid to be — and let the characters be — angry," he said. "And not because I'm afraid of my own anger, but because I didn't accept at the time that my brother's murder was also something that happened to me."
Ford set to work reshaping the film, but around the end of 2012 faced another personal tragedy when his mother passed away. Her death prompted him to take a break. It was then that Joslyn Barnes, who had previously been an executive producer, became more hands-on, taking production responsibilities off Ford's shoulders.
"It became clear to me that he wasn't making the film he wanted to make," she said, after which she suggested they restart the editing process and give Ford the opportunity to focus specifically on the creative.
Barnes introduced Ford to Janus Billeskov Jansen, an editor in Copenhagen, where they eventually landed on the final cut of the film. Getting out of America was a benefit, Ford said, as it allowed him to disconnect from the barrage of black deaths at the hands of white folks that cellphone video and national news seemed to have on repeat.
"The circumstances were all so similar, and they were all reminiscent of what my family went through with my brother," he recalled. Leaving the United States "alienated me from American culture and that helped me focus specifically on the violence done to me and my family and how it was emblematic of a larger problem with our criminal justice system."
This is why Barnes cautions people who've labeled "Strong Island" as "a deeply personal film," she said.
"I think that is true, but I hope that we don't reduce it to that because this is the experience of many people and many families for hundreds years since slavery ended," she said. These deaths "become state-sanctioned murder and violence if there is no structural way to address this [inequality]. The personal becomes the language of the dispossessed because what else can you do?"
While many have been celebrating Ford's Oscar nomination for its historic nature, he notes that what the film does for his brother's history is equally important.
"What I wanted to do with 'Strong Island' and the portrayal of my brother was to add back the dimensionality to him and his life that had been compressed into almost nothing during the investigation," he said, noting the historical narrative about black people being dangerous.
"We have William sliding right into the narrative of the dangerous black man. I wanted to take that narrative, point the film at it and fire all of the information about William that was complex, relatable, humane and universal so that I could blow it apart and ask the question, 'Was it reasonable to kill William?'
"He was a 360-degree multidimensional person, and all I wanted to do was show his dimensionality."
Get your life! Follow me on Twitter (@TrevellAnderson) or email me: trevell.anderson@latimes.com.
Get the Indie Focus newsletter, Mark Olsen's weekly guide to the world of cinema.
You may occasionally receive promotional content from the Los Angeles Times.