Ben Whishaw on whether 'Paddington 2' sends a message about immigration and Brexit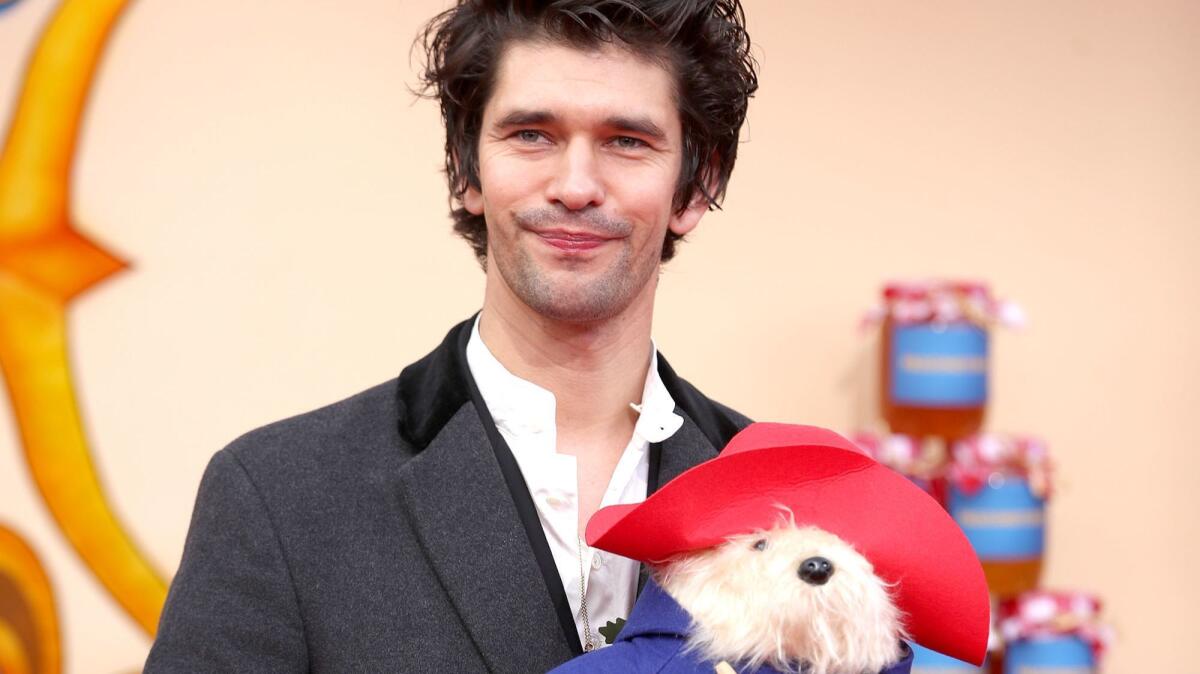 Reporting from London —
It may seem surprising now, but Ben Whishaw wasn't supposed to play Paddington.
The adorably furry bear, who returns to his good-natured hijinks in this weekend's "Paddington 2," was actually first voiced by Colin Firth. In fact, Whishaw didn't come onboard the 2014 "Paddington" movie until filming and partial animation had been completed and director Paul King decided he wanted a more youthful voice.
"I was called in to audition, and they were all in a bit of a panic because there was about five months to go before it was due out in the cinemas," says Whishaw, who is in London rehearsing a production of "Julius Caesar," which opens Jan. 20 at the Bridge Theatre.
"I didn't really know much about Paddington. I didn't really grow up with it," he says. "I didn't really want to go in for it because I'd auditioned for voiceover work before and I never really thought I was very good at it. But then it seemed to work. It was all quite rushed, the first one."
Of course, now Whishaw is deeply grateful for the opportunity, which allowed him to imbue author Michael Bond's iconic character with a sense of whimsical goodness. And this time around, on "Paddington 2," Whishaw was part of the process from day one, collaborating with King — who is back as director — throughout the production.
The actor was able to join several of his live-action co-stars, including Sally Hawkins and Hugh Bonneville (who play Paddington's adopted parents, Mr. and Mrs. Brown), for rehearsals ahead of filming, and he was fully invested in a year of post-production work.
"It was a much more satisfying experience to get to collaborate with Paul from the get-go," Whishaw notes.
If you told me Ben had been raised in the jungle by a faun and a unicorn, I'd believe you — and it makes him the perfect Paddington.
— Paul King, director
Paddington doesn't exist during the on-set filming: King used stand-in actors or a tennis ball on a stick as the bear, and Whishaw never visited the set. The character only came alive later, during the lengthy animation process, which required Whishaw to lay down hours and hours of voiceover takes as the animation was created. The actor sometimes did more than 100 takes for one line, subtly revising to ensure each moment in the film feels as grounded and real as possible.
"I've said some of those lines so many times," the actor says. "You just keep going and going and going. It sounds ridiculous, but when it's not right it's so obviously not right and so painfully not right that you keep going. It's the tiniest little nuance. It's really fine. You can keep fiddling and trying to perfect it. You can become obsessive. And perhaps you have to become obsessive."
For King, who shared all those hours with the actor in the recording booth, Whishaw now seems like the only guy who could voice Paddington.
"Ben has the most wonderful voice and uses it to astonishing effect in the film," the director says. "Somehow his bear is young and naive without being childish, well-mannered and sincere without being an irritating goody-goody. But most wonderfully of all, he has an extraordinarily other-worldly quality. If you told me Ben had been raised in the jungle by a faun and a unicorn, I'd believe you — and it makes him the perfect Paddington."
In the new film, Paddington has created a life for himself in London with the Brown family. When he hopes to earn enough money to buy a vintage pop-up book for his Aunt Lucy (who still lives back in Peru), Paddington finds himself mixed up in a heist perpetrated by washed-up actor Phoenix Buchanan, gamely played by Hugh Grant (who also happens to star with Whishaw in the upcoming Stephen Frears-directed miniseries "A Very English Scandal" for BBC One). The bear gets locked up in prison, where he, of course, teaches the inmates about kindness and marmalade.
The film is very much about that latter trait and about how good intentions are always the best intentions. The first "Paddington" movie, which brought the little bear to London as a refugee of sorts, where he was eventually welcomed in, felt like a clear commentary on immigration. When the sequel was released in the U.K. last fall, nearly every reviewer made a connection to Brexit, suggesting that "Paddington 2" should remind us to accept outsiders into our community because they only make it that much richer. The message wasn't blatantly intended, but Whishaw certainly sees the relevance of the story's themes.
"Obviously there is a discussion going on about how strong a role the issue of immigration had in that vote," the actor says. "The first film, especially, was about a little immigrant bear and about a community that welcomes him in and accepts outsiders. That's floating around in [this film] too. But it's definitely not what Paul was thinking about. I know it wasn't. I think he just wanted to make something delightful for people."
Whishaw adds, "But it doesn't matter whether it was on our minds or not. It's hard to watch it now and not have [Brexit] in your head."
Last year was a busy year for Whishaw, who regularly cycles between theater, TV and film. In the midst of recording sessions for "Paddington 2," Whishaw starred in a London production of "Against" at the Almeida Theatre, shot "A Very English Scandal" alongside Grant and embodied an adult Michael Banks for December's "Mary Poppins Returns." For a few months, Whishaw was shuttling between the two family flicks.
"That was very odd," he says, laughing. "I was, for a while, in children's film land, which I never imagined I'd be in. It was a happy time, maybe a little bit too happy. I was obsessed with 'Mary Poppins' as a child. It was the first film I ever saw. I adored it. I couldn't quite resist when I was asked to do the sequel, even though I know it's a big pair of footprints to follow in."
Whishaw doesn't find much difference as an actor making something cheery like "Mary Poppins Returns" or something notably heavy like "London Spy." He approaches everything with equal sincerity, which may be why Paddington feels so real as a character.
"I don't want to sound overly serious, but you can't work any less hard because it's a film for young people," he notes. "You have to honor it. They're little people, and you have to be as honest as you'd be working on anything."
Despite the success of the franchise, there are no concrete plans for a third Paddington film, and Whishaw would only want to be involved if King returned as director.
"Two seems to me to be plenty of films," Whishaw says. "It's a shame when something starts to diminish. If someone had a great idea for a third one that would be one thing. I suppose it's about the idea."
Right now, the actor is looking at a blank slate. And he prefers it that way. Although "Mary Poppins Returns" and "A Very English Scandal" will emerge later this year, Whishaw doesn't have anything on his schedule once "Julius Caesar" wraps in mid-April. He's contracted to play Q in one more Bond film, which he assumes may begin production late this year or early next, but there's no definitive word on that yet.
"I love the empty space waiting to be filled," Whishaw says. "And maybe nothing will come and that will be as interesting in itself. But often I love being surprised by what blows in, because it's always unexpected."
ALSO
Lebanon's Oscar contender 'The Insult' wages an absorbing but overblown war of words
Unanimous love for 'Lady Bird' unites the Golden Globes and the National Society of Film Critics as awards season takes shape
Ridley Scott's 'All the Money in the World' and Steven Spielberg's 'The Post' offer a revealing study in directorial contrasts
Matt Damon gets small in Alexander Payne's fascinatingly muddled sci-fi satire 'Downsizing'
Get the Indie Focus newsletter, Mark Olsen's weekly guide to the world of cinema.
You may occasionally receive promotional content from the Los Angeles Times.