Review: Jennifer Lawrence and Chris Pratt are lost in space in the predictable sci-fi thriller 'Passengers'
Jennifer Lawrence and Chris Pratt are two of Hollywood's most charming on-screen presences, and they trade on that star quality for as long as they can in "Passengers." Unfortunately, that turns out to be not long enough.
Sweet but inconsequential at its best, overly contrived at most other times, "Passengers" takes too long to get to its too inevitable plot points to truly entertain.

For the record:
4:34 a.m. Nov. 30, 2023An earlier version of this review incorrectly identified Michael Sheen as Martin Sheen.
All that is especially frustrating because not only does "Passengers" have those two appealing performers, it has a fine director in Morten Tyldum, an engaging visual look and a premise that seems to offer potential audience enjoyment.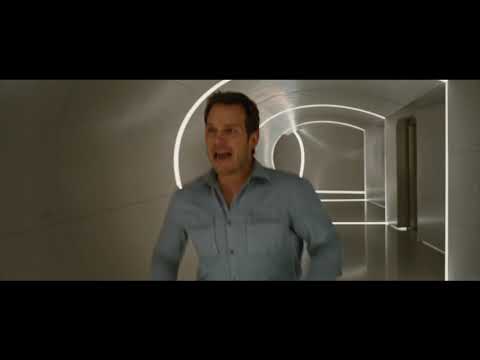 Chris Pratt and Jennifer Lawrence star in "Passengers," a film about two people on a journey through space to a new home, awakened from suspended animation 90 years too early when their ship malfunctions.
But even Tyldum, responsible for the excellent "The Imitation Game" as well as "Headhunters" in his native Norway, has been unable to genuinely ignite a science fiction story that sounds better in outline than it plays out in detail.
Basically a "Dating Game" version of Robinson Crusoe with some unsurprising outer space jeopardy thrown in, "Passengers" wonders what would happen if two attractive people found themselves the only folks unfortunately awake and active on a spaceship hurtling into the future.
That ship would be the Avalon, headed for the outer space colony called Homestead II with 5,000-plus passengers and crew. Everyone is supposed to be in big-time suspended animation for the 120 years the journey will take, but, with 90 years left to go, first Jim Preston (Pratt) and then Aurora Lane (Lawrence) find themselves suddenly open-eyed on the ship with only chatty holograms and robots to keep them company.
Given that the key element of Jon Spaihts' script is the interaction of these two (their eyes even share billing on the film's poster), it is a drag to realize that it is a full 40 minutes before Lawrence's Aurora fully joins the proceedings.
In the interim, we learn a lot about Jim and about the enormous space vehicle Avalon, some of which involves us and some which feels like marking time, especially compared to how genuinely involving the man alone in space proceedings of something like "The Martian" proved to be.
As played by Pratt, whose best feature role remains Peter Quill in "Guardians of the Galaxy," Jim is supposed to be a futuristic everyman, a mechanical engineer who is emigrating to Homestead II because he is good at doing things and wants to be useful.
All Jim's practical skills count for naught, however, when he finds himself unaccountably awake, and because it's a given that nothing is going to put him back to sleep, no matter how hard he tries, watching at length how hard he does try starts to get tedious.
Fortunately, "Passengers" has two nonhuman elements that help to pass the time in these initial stages, starting with the impressive production design by Guy Hendrix Dyas ("Inception") that makes the massive Avalon, mostly built for real on huge sound stages, seem like a real place.
Better still, and in fact the best thing in "Passengers," is Arthur, the ship's android bartender brilliantly brought to life by the protean Michael Sheen, who has appeared in everything from "Frost/Nixon" to "Twilight: Breaking Dawn."
Perhaps inspired by "The Shining's" unflappable barman Lloyd, and aided by a gliding movement rig worked up by the special effects team coordinated by Daniel Sudick, Sheen's Arthur hits the exact half human/half machine sweet spot essential for android work. When his only customer turns to him with a particularly knotty problem, Arthur's "Jim, these are not robot questions" reply is priceless.
Finally, though, it is a relief once Lawrence's Aurora, a writer looking for a once-in-a-lifetime journalistic opportunity, appears on the scene, even though the reason she arrives feels on the gimmicky side.
But appealing as Aurora, who seems to have packed nothing but figure-flattering outfits for the voyage, turns out to be, we once again have to mark time as she tries many of the same things Jim did in an attempt to make things right.
Though "Passengers'" visuals can be stunning (a swimming pool at zero gravity is especially effective) and the actors easy on the eyes, it never overcomes the problem of predictability.
While every plot move the film makes is defensible in theory, so many of them, like the Jim/Aurora attraction, are so obvious it's frustrating to have to wait long stretches of time for them to happen. Part outer-space romantic comedy, part science-fiction thriller, "Passengers" leave us feeling we've been taken for a ride.
===
MPAA rating: PG-13 for sexuality, nudity and action/peril.
Running time: 1 hour, 56 minutes.
In general release.
See the most-read stories in Entertainment this hour »
ALSO
'Patriots Day' finds Mark Wahlberg and Peter Berg at their best in a fine tribute to the people of Boston
Everything you need to know about 'Rogue One's' new 'Star Wars' space cape
'Friends' producer Kevin Bright's very non-Central Perk post-show journey
Get the Indie Focus newsletter, Mark Olsen's weekly guide to the world of cinema.
You may occasionally receive promotional content from the Los Angeles Times.