'Peanuts' movie to bring back Charles M. Schulz's beloved characters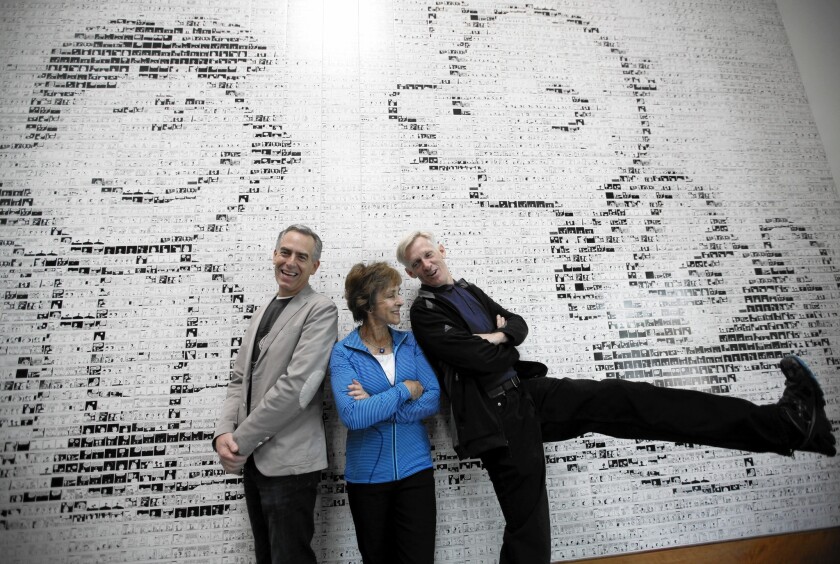 SANTA ROSA — Charles M. Schulz's beloved cartoon "Peanuts," with its artfully minimalist design and simple, good-hearted characters, would seem out of step with the modern pop culture mantra of more is more.
It's been 15 years since Schulz died, 35 years since Hollywood made the last feature film with his beloved cartoon strip characters, and — good grief! — times have changed. Now, nearly all animation is created on computers, few people under age 40 read the funny pages anymore, and family movie audiences have come to expect elaborate visual effects, fast-paced action and recognizable stars at the box office.
Which makes it all the more surprising that a new movie version of "Peanuts," due in November, has gone back to the drawing board to capture the ethos and art of its creator.
Nearly 75% of the animation on "The Peanuts Movie" is complete; some of the film's footage will screen this week at CinemaCon, the annual conference of movie exhibitors in Las Vegas.
In a recent interview steps from the drawing table in the wood-paneled studio where Schulz crafted his comic strip every day with India ink and an Esterbrook pen nib, members of the Schulz family discussed why, after years of resistance, they have decided to make a new, computer-animated "Peanuts" film, directed by Steve Martino at 20th Century Fox-owned Blue Sky Studios.
As with so many "Peanuts"-related decisions that Schulz made in his lifetime, the film's inspiration was part family dynamics, part business and part philosophical.
"We always had things that brought parents and children together when the children were young, before they could read," said Schulz's widow, Jeannie. "But we had lost that. We realized that we missed an era.... Things happen so fast, and every year they begin happening faster and faster and people are onto the newest thing."
About eight years ago, Craig Schulz, the fourth of Charles Schulz's five children, began discussing an idea he had for a script involving Snoopy and his World War I flying ace nemesis Red Baron with his son, Bryan, a recent film school grad, and Bryan's writing partner, Cornelius Uliano. The story has since expanded and evolved to focus on Charlie Brown's affections for the Little Red-Haired Girl, a character based on a romantic disappointment from Schulz's youth, with Snoopy's active fantasy life providing the movie's action set pieces.
Snoopy and his friends are still a potent global force, earning more than $100 million a year for the branding company Iconix, which formed a joint venture with the Schulz heirs in 2010. In the U.S., ABC's airing of the 50-year-old "A Charlie Brown Christmas" special has drawn bigger audiences in the 18-to-49 demographic than contemporary shows like "The X Factor" and "Survivor," and the characters appear everywhere from MetLife insurance ads to Hallmark greeting cards.
The exuberant beagle, in particular, gets around: There are Snoopy cookies in Latin America, Snoopy toothpaste in China, high-end Snoopy silk scarves in Germany, hip Snoopy sportswear in England and a flying Snoopy ride at Universal Studios in Japan.
The characters have a solid fan base in Hollywood as well — "Peanuts" devotee Paul Feig, the director of "Bridesmaids" and a forthcoming "Ghostbusters" movie, is aboard the film as a producer, "Frozen" composer Christophe Beck is writing the score and Martino said he has his pick of contemporary musical artists interested in writing a song for the film.
"The brand is amazing over 30," said Iconix Chief Executive Neil Cole. "But I have a 9-year-old daughter. If we don't get her to love us, it's not gonna look good five years from now."
A computer-animated "Peanuts" feature film would seem an irresistible business proposition, but the Schulz family, which retains a 20% stake in the brand and sole right to make a movie, rejected the idea for years.
"We always felt like the risk of doing a film and having it be done poorly was not worth the potential gain," Craig said. "But all the studios were knocking on our door."
The Schulzes had good reason to be nervous, as many updates of older cartoons have been disappointments, with moviegoers and critics rejecting attempts to contemporize their favorite characters. Audiences passed on a 2000 animated and live-action update of "Rocky and Bullwinkle," and critics called a 2004 CG "Garfield" movie soulless.
But it was Martino, leading a team at Connecticut-based Blue Sky, the company behind the successful "Ice Age" franchise, who ultimately won over the family, bolstered by Fox Animation executive Ralph Millero, who has a Snoopy-like enthusiasm for the property. Martino had worked on another beloved, family-owned property for Blue Sky, "Dr. Seuss' Horton Hears a Who," and had experience navigating the sometimes-competing aims of modern relevance and faithfulness to creative past.
"It's about preserving a legacy that has tremendous history and not screwing it up," Martino said. "We see that kids meet characters today in feature films in the movie theater, so that's the opportunity. The responsibility is to deliver the experience so that these characters don't change, so that they become a new presentation of what's been wonderful about them for 50 years."
Blue Sky's chief challenge has been an aesthetic one — re-creating the warm, human quality of Schulz's work using digital tools. Martino said he and his animators came to Santa Rosa to examine Schulz's original strips and watch video of him drawing. Martino visited Schulz's childhood home of St. Paul, Minn., noting the birch trees and homes with three-step concrete stoops that created the visual world of the cartoon strips.
"It's a little retro in a way, but in today's world of animation it feels completely fresh," Martino said. "We're not trying for photorealism or movement where you believe the characters are human. It's a different palette. This is the most complicated creation, to put something up on the screen that looks so simple. I wanted to find that pen line, the wiggle in Charlie Brown's smile."
There are still typewriters and rotary phones in the new "Peanuts" film, and the psychiatrist booth still costs a nickel. As in the old animated TV specials, the kids are still voiced by real kids — not celebrity adults, Snoopy and Woodstock's squeaks and giggles come from archival recordings of Bill Melendez, the animator who created them for the TV specials, and adults still are represented by the wah-wah sound of a trombone. As with the orientation of the comic strip, the camera angles are from a 3 1/2-foot kid's-eye view.
"It boils down to a thing my sister [Jill] said," Craig said. "She was talking to my dad a couple days before he died, and he mentioned to her, 'I hope they remember me.' He always felt something wasn't great unless it could last 100 years."
---
Inside the business of entertainment
The Wide Shot brings you news, analysis and insights on everything from streaming wars to production — and what it all means for the future.
You may occasionally receive promotional content from the Los Angeles Times.