'A Wolf at the Door' a disturbing noir tale of obsession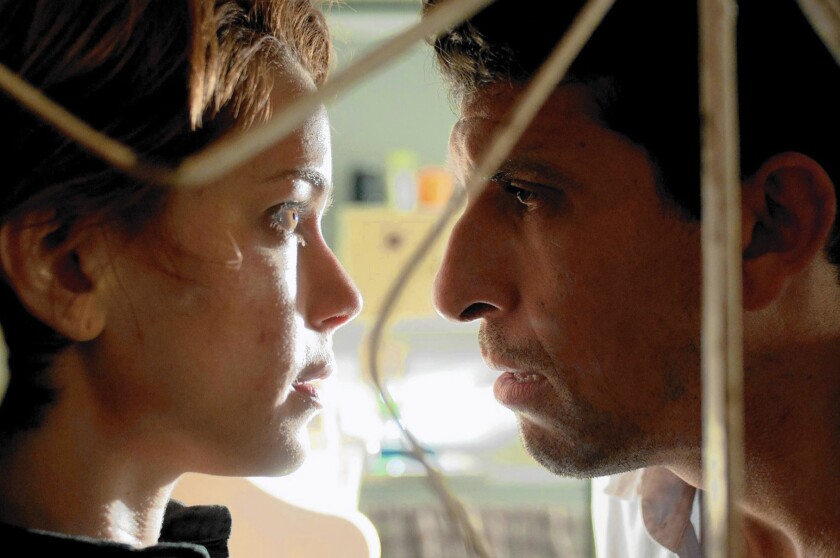 Los Angeles Times Film Critic
Potent sexual attraction can be a wonderful thing, but it can also bring out the absolute worst in the people involved, as the bleak, disturbing Latin American noir "A Wolf at the Door" convincingly demonstrates.
"Wolf" is the debut feature for Brazilian writer-director Fernando Coimbra. He talks in a director's statement about his film being "a suburban Medea," but, in fact, a better reference point than lofty Greek tragedy would be the down-to-earth novels of James M. Cain.
The author of books such as "The Postman Always Rings Twice" and "Double Indemnity" (both made into excellent films), Cain was the poet laureate of individuals caught in tangled webs of passion, led almost like sleepwalkers into actions their rational minds would completely disown if given the chance.
Set in the suburbs of Rio de Janeiro, this sun-lit noir starts with the most ordinary of events, a mother named Sylvia (Fabiula Nascimento) arrives at a school to pick up her 6-year-old daughter, Clara.
But, in every parents' nightmare, Sylvia is told that her daughter is not there. Worse than that, she has been picked up by another woman whom Clara obviously knew. "It wasn't a stranger," the woman in charge reports. "The child jumped into her arms."
The police are called in to investigate, and Sylvia's husband, Bernardo (Milhem Cortaz of the Brazilian hit "Elite Squad"), is brought in for questioning.
He reveals, under pressure, that unknown to his wife, he has been having an intense affair with a beautiful young woman named Rosa (Leandra Leal). She too is brought in for questioning and, like everyone else, denies all responsibility for what happened.
But the Brazilian police, though they complain a lot ("I'm turning into some kind of marriage counselor," the lead investigator grouses), know what they're doing, and gradually a more complete portrait of what took place emerges. It is not a pretty picture.
We see how Bernardo, a bus safety inspector, and the footloose Rosa met and became involved. "A Wolf at the Door" spends a lot of its time focusing on the intensity of the exclusively sexual relationship between these two people who never meet outside of the apartment used for their assignations.
To amp up the intensity, director Coimbra decided, in his own words, "to shoot much of the film in long sequence shots. ... The fact that we do not cut to different camera positions in a scene makes the spectators' task a bit more arduous."
Also adding to the intensity is that at any given point in the story, one if not more of its protagonists is trying to put something over on the others, as devious plans are formed only to get increasingly out of hand.
"A Wolf at the Door" is undoubtedly effective and well-crafted, but its tale of reckless obsession and its inevitably unhappy ending are finally too unsavory for its own good. As the different characters try to avoid being played for fools, it gets increasingly hard to stay involved.
------------
'A Wolf at the Door'
No MPAA rating.
Running time: 1 hour, 40 minutes
Playing: Laemmle's Music Hall, Beverly Hills
---
Inside the business of entertainment
The Wide Shot brings you news, analysis and insights on everything from streaming wars to production — and what it all means for the future.
You may occasionally receive promotional content from the Los Angeles Times.