Robert Klein returns to a late-night world that helped create him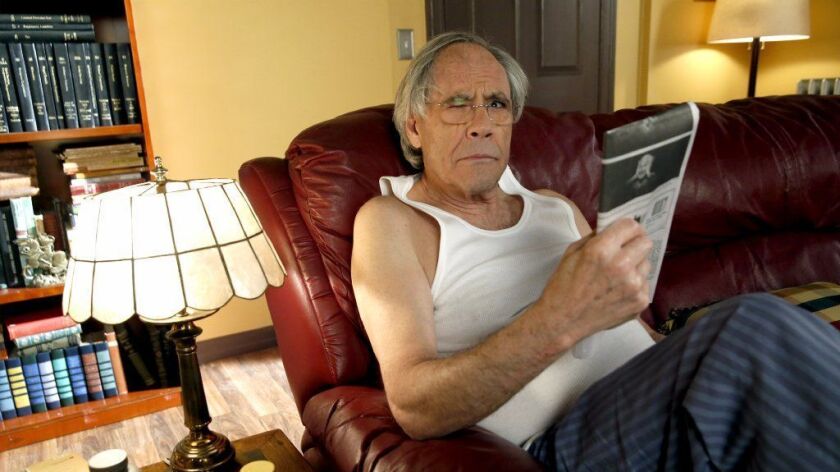 Reporting from NEW YORK —
The comedian Robert Klein had some memories from the Ed Sullivan Theater he was eager to share.
"I was here doing Letterman. I did it 42 times." His ad hoc audience, a trio of twentysomething hair-and-makeup people, nodded and smiled politely, then asked him to shift in his chair.
"I mean, but this is much nicer, what Stephen has done, this whole renovation. All I remember were the rats. It was nothing but rats down here. Can you cover the ear a little more?"
Klein, 75, was in the basement of the landmark New York studio, preparing for a March 31 appearance on "The Late Show With Stephen Colbert." It was his first time on the program. He'd come to promote "Robert Klein Still Can't Stop His Leg," a documentary by the journalist Marshall Fine that premiered on Starz in April and has been re-airing regularly ever since. (The title is an homage to a classic musical bit in which Klein parodies a blues singer.)
"Leg," which premiered at Toronto in 2015 and underwent a distributor shuffle involving the Weinstein Company, is a look at the appeal and influence of the New York comedian who was a long-time late-night fixture (his first of many appearances on "The Tonight Show Starring Johnny Carson" came in 1968) and cable regular (his first HBO special was in 1975).
In the decades since, Klein has pioneered and remained a gold standard of observational comedy. As the Second City veteran shows in the movie via impromptu bits walking around his suburban New York neighborhood — and as many of his acolytes make clear in cutaways — Klein was combining a comic's wit and a novelist's eye before any of today's whippersnappers.
"He changed what it meant to be a comic — this idea of the craft of deconstructing your experience," Jon Stewart says in the film.
In person, Klein gives a shrug at the idea. "I didn't necessarily want to do it. But Marshall said, 'People need to see your charm.' I don't know that they do, but 'OK,' I said."
On the way into the Ed Sullivan Theater, he'd showcased that appeal, which can come with a dose of avuncular hamminess. "Let's do this," he said, as some camera-wielding fans asked for selfies.
"You know you're putting photographers out of business," he said as iPhones flashed. Someone pushed to the front with an actual camera. "You're old school," he said and then slipped in a product plug.
"I've got a documentary," he said. "It premieres tomorrow night. On Starz." .
He sidled down to another picture-taker. "Disposable camera! You're really old school."
Inside, Klein got situated in a green room and cracked open a beer. His son Allie, a comic in his own right, sat across from him. "Colbert has to explain why he maybe supported Trump," said Allie Klein, 33, while, on the monitor, the host began welcoming earlier guests.
"No no, Comedy Central was an act," Robert Klein said.
The elder comic noticed a guest on the monitor. "Who is that?' he said of a waxen face in a teal jacket.
"Joey McIntyre, from New Kids on the Block," Allie Klein replied.
"Who is Joey McIntyre and what is New Kids on the Block?" Klein asked, then shifted gears quickly. "Did you read Maureen Dowd? She's getting good again."
Klein says he has no great desire to go political in his material. He still does stand-up in various American locales — the next day he was to appear at a venue in Rhode island — and is concerned too many anti-Trump jokes could be off-brand.
"Right now I'm not inclined to do a bunch of stuff that can feel too edgy for people in the audience who voted for him," Klein said. Then he went into a set of barbed musings about the South, tolerance and Civil War nostalgia, coming out the other end with "Charleston. Exceptional city. Maybe that's America — the same state can produce Strom Thurmond and a Stephen Colbert." He would repeat it on the show as a kind of punch line.
Indeed, his material on the telecast would mix in the surreal: in just a few minutes of couch banter with Colbert he sneaked in not only Thurmond, but shtick about sanitized "Sopranos" dialogue, a Trump crack and a bit about sex-starved paramecia. The appearance was reminiscent of his Dadaist turn at the New York Film Critics Circle awards earlier this year that went viral. In a short intro as an award presenter he managed to slip in bits about lobster monogamy, the technological progress of colonoscopy cameras, Trump's position on immigrants, anthropomorphic Disney animals and Joan Rivers' home-shopping career
The Film Critics Circle appearance was so starkly different from the packaged comedy of most award shows it caused Klein briefly to trend on Twitter. "I don't know if I liked that. I started getting calls. 'Are you OK?' Because when you're 75 and you trend, people think you're dead."
"There's a generation that doesn't realize how important Robert Klein was — he was speaking to the baby boom generation in a way nobody else had," documentarian Fine said. "But I also don't think that kind of comedy ever goes out of style. One after another today you see comedians who think they're pushing the envelope. And they're all deeply indebted to what Robert Klein was doing 50 years ago."
Comic legends are a funny breed; to carry yourself like one is to negate the crackup persona that made you a legend in the first place. Klein gets around this problem by telling war stories of his achievements and sprinkling it with what might be called a confident self-deprecation — a manner that touts his achievement even as it questions others.
"I did Johnny so many times. And all those TV pilots," he said, launching into descriptions of failed pick-ups from past decades. "But I really should write another book." His memoir of his early days, "The Amorous Busboy of Decatur Avenue," came out 12 years ago.
Klein looked at the television. "Late-night is a skill," he said. "You have to look like the same story you've told six times you're telling for the first time because the audience is hearing it for the first time."
He ran through hosts he liked and why he liked them. Fallon: "Nice kid, pure talent." Carson: "Johnny was the greatest of all time." Letterman: "He did jokes, not political satire." Colbert and Samantha Bee: "It's political satire. That's never been more important. If you do what they do in China or Russia you'd be in the clink or dead. The proof is in the pudding."
Though he talks about them with the remove of a retiree, Klein is currently writing bits for a National Geographic series meant to accompany its portraits of well-known scientists and thinkers. He began work-shopping material, using his trademark delivery, a kind of demonstrativeness punctuated by a bellow-ish burst. "You know, Einstein … around; he was unfaithful. So he comes home: 'Albert, I know you know algebra but I smell that [woman] all over you,'" he exclaimed. "Working on it, I'm working on it."
A pair of producers walked into the room.
"So how are we doing this?" Klein said to them. They gave him some options. He mulled the possibilities. "I could do a South Carolina bit — Strom Thurmond and Stephen. I've got 'The Sopranos.'"
He interrupted himself. "You know, I used to come down here all the time. For 'Letterman,' which I did many times. Forty-two times. The place used to be nothing like this. It was filled with rats."
See the most-read stories in Entertainment this hour »
'Robert Klein Still Can't Stop His Leg'
Where: STARZ On Demand
When: Anytime
Rating: TV-14 (may be unsuitable for children under the age of 14)
Twitter: @ZeitchikLAT
ALSO
Comedian Chris Gethard finds light in dark subjects
Perspective: With Laura Poitras' re-cut 'Risk,' a director controversially changes her mind about Julian Assange
Witty and bleak, director Terence Davies on his work and the Emily Dickinson film we call 'masterful'
---
Inside the business of entertainment
The Wide Shot brings you news, analysis and insights on everything from streaming wars to production — and what it all means for the future.
You may occasionally receive promotional content from the Los Angeles Times.