'Scotty and the Secret History of Hollywood' spills the tea on sexuality and movie stars, like it or not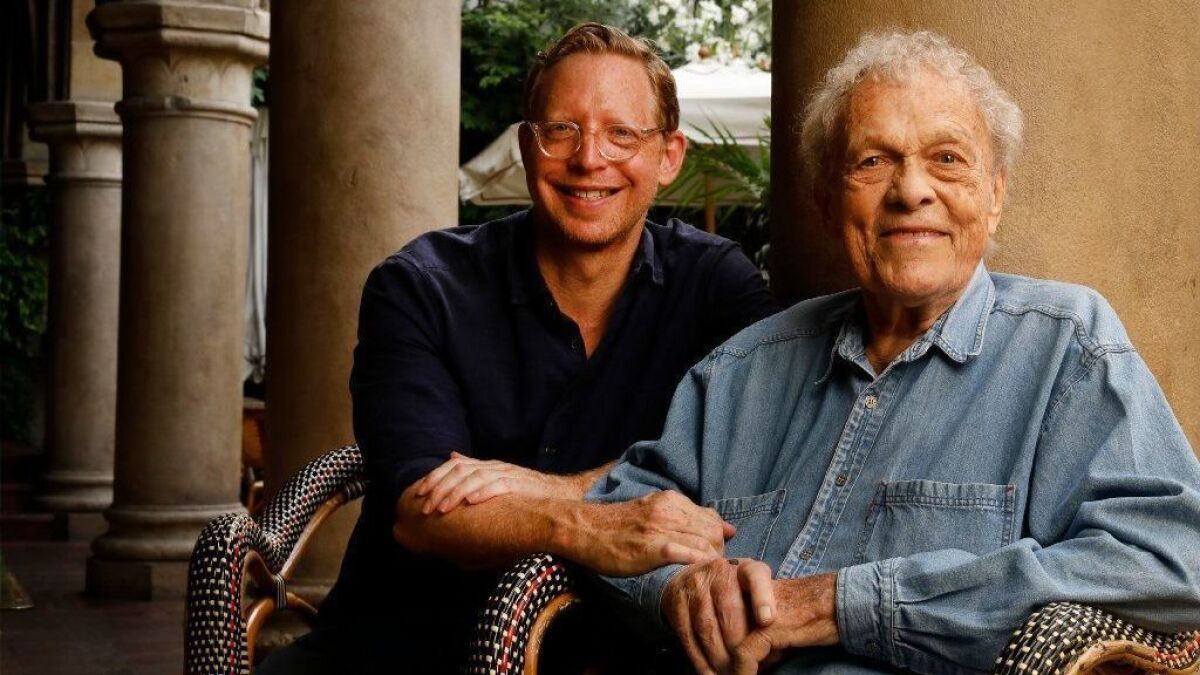 Though Hollywood is now seen (sometimes unfavorably) as a liberal bastion, it wasn't always that way. For lesbian, gay, bisexual and transgender people, life in Hollywood up until the early 1990s — and perhaps, in some ways, still today — was a game of smoke and mirrors, hiding parts of themselves in public for fear of losing their jobs, being harassed by the police or worse. It's a time period that Scotty Bowers remembers quite vividly.
"I never did think it was a good thing," the 95-year-old said about people being forced to hide their sexuality. "But people had to do it. It was dangerous not to."
That's where Bowers came in — serving as a pimp for young men and women and catering to the sexual desires of some of the industry's biggest names. He publicly shared and confirmed many of his then-rumored exploits in "Full Service: My Adventures in Hollywood and the Secret Sex Lives of the Stars," his 2012 memoir, which became a New York Times bestseller. Six years later, his story gets the big screen treatment with Matt Tyrnauer's feature-length doc, "Scotty and the Secret History of Hollywood," now playing in limited release.
From the 1940s to the 1980s, Bowers ran a brothel of sorts out of a gas station in the shadow of industry studios on Hollywood Boulevard. He says he'd set up himself and others with some of Hollywood's biggest players whom he says were in the closet — towering icons from the Golden Age including Cary Grant, Katharine Hepburn, Spencer Tracy, Lana Turner and Ava Gardner.
Tyrnauer first learned of Bowers long before the book, when he was a correspondent for Vanity Fair covering classic Hollywood personalities. People such as television host and media mogul Merv Griffin spoke to him about the gas station where "you would go to get in trouble," he said, using a euphemism of the time. And as Tyrnauer's relationship grew with writer Gore Vidal, who had made him his literary executor, Vidal mentioned he wanted to "find his pimp, Scotty."
Through Vidal, Tyrnauer met Bowers, who was at the time working on the manuscript for "Full Service."
"The story was so interesting to me, these secret histories of Hollywood," said the director known for docs "Studio 54" and "Valentino: The Last Emperor." "It seemed like the great unwritten tale."
After finally deciding to write his memoir — "People begged me for a long time to do a book, but these were friends and they were living and you just don't do it then," Bowers said — he agreed to let Tyrnauer make a film because of the shared relationship with Vidal.
Tyrnauer looks at the documentary as a "victory lap" for Bowers. While it includes shots of him at book signings and other memoir-related happenings, the film is very much "about a forgotten history and time very different than our own."
"When you're making a movie about someone in the main period of their lives and the profession they identify with... it's different than doing a film about someone who's retired," he said. "And I don't think [Bowers] ever fully retired. So I thought it was better to tell the historical tale."
Bowers' unique professional life, which involved being a confidant for notable men and women who were gay and lesbian only behind closed doors, was more than necessary back in the day when "the studio system and the image factory was so powerful and effective," said Tyrnauer.
"I find it remarkable that the sanitized images that Hollywood put out were bought hook line and sinker by the public at large," he said. "It was a really alluring myth machine, the studio system. But at the time, in order to make popular images, the thought was that everyone had to live behind a white picket fence with a wife, husband and two to three children with a car in the garage. Nothing 'abhorrent' could be portrayed [in film or on television] or implied or thought."
And yet Bowers has more than his share of naysayers, who still call into question his experiences. "Even though people are in showbusiness and well known for that, you must remember they are still people," Bowers said of how his tales conflict with carefully crafted images. "You can't think they're so holy and don't do anything."
As such, "Scotty and the Secret History of Hollywood" is actually more of an "alternate history, and reality, of Hollywood" from the eyes of LGBTQ people, a history that is quite littered with "many blanks, because queer history tends to cover its tracks — it had to be a secretive world," Tyrnauer said.
The documentary team was able to fill in parts of that history by discovering photographic evidence of Bowers' brothel tucked away in one of his many storage units. Bowers also reconnects on camera with some of the men who worked for him.
"He's a sexual outlaw who has lived to see times change. [He went] from sexual outlaw to sexual hero because we view the world and sex and sexuality in a completely different way than we did from the time when he was having to run a covert, mostly gay brothel out of a gas station on Hollywood Boulevard," Tyrnauer said.
The city of West Hollywood seems to agree. They recently honored the "unsung Hollywood legend" with a special proclamation for his role in LGBTQ history.
"It's been said with a wink that Scotty Bowers helped put the 'wood' in Hollywood from the 1940s to the 1980s," West Hollywood Mayor Pro Tempore John D'Amico said in a statement. "What we know for sure is that an interesting piece of the fantasy and ecstasy of the movie industry's LGBT past is present in Matt Tyrnauer's documentary."
Tyrnauer added: "When you understand that system in the city and see he was the lawbreaker — but was actually very much the protector of people trying to live authentic lives — I think it gives this story a dimension that is unexpected and quite heroic."
On going from one extreme to the other in his lifetime, Bowers simply said, "It's very pleasant and nice.
"People are still people. And some people say [the change] is for the better or the worse, but I think it just is," he continued, before adding a reminder that some things now aren't so different from the classic Hollywood era. "Many people are still very square about what they do, where they do it, how they do it, if they do it."
Get your life! Follow me on Twitter (@TrevellAnderson) or email me: trevell.anderson@latimes.com.
Get our L.A. Goes Out newsletter, with the week's best events, to help you explore and experience our city.
You may occasionally receive promotional content from the Los Angeles Times.