Shameik Moore spies another breakthrough by bringing Miles Morales to life in 'Spider-Man: Into the Spider-Verse'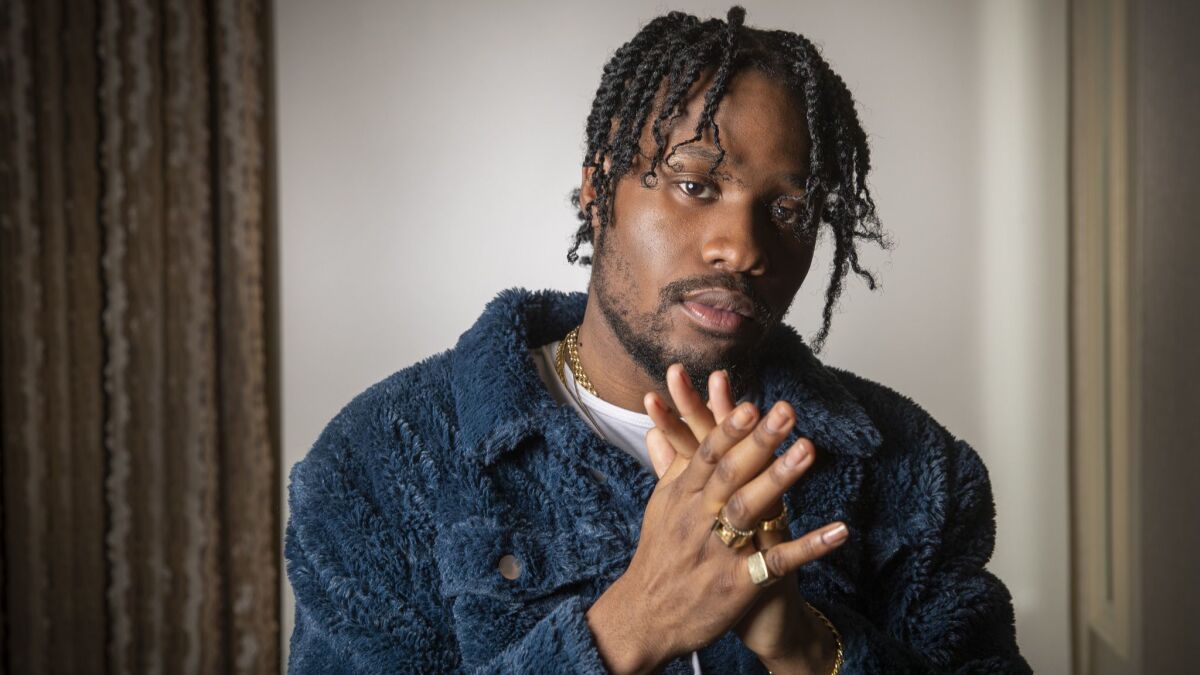 For Shameik Moore, the chance to play webslinger Miles Morales in Sony's animated "Spider-Man: Into the Spider-Verse" wasn't just the opportunity of a lifetime; it was fated.
"While we were filming the movie 'Dope,' I wrote in my journal: 'I am Miles Morales, I am Spider-Man,'" he said over lunch in Beverly Hills.
Moore, who'd go on to give a breakthrough performance in "Dope" — Rick Famuyiwa's coming-of-age comedy about a '90s-obsessed, South L.A. teenager — was onto something. Not long after he spoke it into existence, Sony execs caught wind of the relative newcomer at a 2015 Sundance Film Festival screening of the film.
"He had a really interesting performance [in 'Dope'] and his voice was pretty interesting," said "Spider-Verse" director Bob Persichetti, who co-directed the film, which opens nationwide on Dec. 14, with Peter Ramsey and Rodney Rothman.
The directors sent Moore a few pages of the script and asked him to record himself reading lines. "He sent me back an audio text with a whole scene recorded," Persichetti recalled. "He has such a unique, idiosyncratic, charming voice that both delivers this naiveté but also this really sincere, honest take on the words on the page, and we were blown away."
Despite being sold on Moore's performance, the directors decided to do due diligence by holding "secret" open casting calls in cities including New York, Chicago and Atlanta for six months.
"But we were really pushing hard to cast him," said Persichetti. "Nobody could come close to Shameik's unique quality, and I was very happy to be able to send him a text and say, 'I know you've been waiting a long time but you got it.'"
"I attracted that to me," the 23-year-old Moore now says confidently. "It took a few months to really solidify it, but it ended up working out.
"I feel like I was bitten by that spider," he added. "There's hundreds of people that auditioned to be Spider-Man. The same way that spider found Miles is the same way that Sony found me."
Review: The terrific animated film 'Spider-Man: Into the Spider-Verse' opens a whole new web of intrigue »
Morales was introduced into the Marvel canon in 2011 in "Ultimate Fallout #4," a comic by Brian Michael Bendis and Sara Pichelli. In interviews, Bendis has said the character was created as a reaction to Barack Obama's presidency.
The first black and Latino person to assume the Spider-Man mantle, Morales was written as a reluctant teenager who gets bitten by a radioactive spider but is less than ecstatic about his resultant powers. He is thrust into the responsibility only after the original Spider-Man, Peter Parker, is killed by the Green Goblin.
The character quickly gained popularity, with an online petition circulating in 2014 demanding Donald Glover be cast in a big-screen version of the role. Glover eventually made a brief appearance as Aaron Davis, Morales' supervillain uncle The Prowler, in Sony's live-action "Spider-Man: Homecoming."
That film starred Tom Holland, who followed in the footsteps of Tobey Maguire and Andrew Garfield and formally introduced Peter Parker to the Marvel Cinematic Universe in "Captain America: Civil War." Meanwhile, Sony saw an opportunity to explore other aspects of the vast Spider-Verse that exists in comic book canon — and to do so in a surprising way.
After the success of Warner Bros.' "The Lego Movie" in 2014, the studio enlisted filmmakers Phil Lord and Chris Miller to bring their patented irreverent style to an animated spin on the world's favorite webslinger. And the idea quickly emerged to further distinguish the project by focusing not on Peter Parker, but on Miles Morales.
"I think it's about that time that this myth of Spider-Man, this sort of American story, represented what New York looks like today, and that's a city filled with diversity," said Persichetti of bringing Morales' story to the big screen. "It's a city that is the birth of this nation, it's a melting pot. And Miles is a character that's born out of the 21st century in New York."
For Moore, preparing to play Morales came easy because of a sense of shared identity. "I already knew Miles Morales," he said. "I have so much in common with him that really it was just adapting to how they wanted me to execute my vocal performance."
"He came in and was kind of pitching up his voice a little bit," recalled Persichetti. "And we asked him like, 'No, no, no, no … do your voice, that's the guy we hired. Your voice has the ability to both go low and high naturally, and you embody this character."
After embracing his sound, Moore proved to be a natural.
"He was a bit of a blank canvas in the sense that he had so much exuberance and joy that he would bounce all over the place," said Persichetti. "And out of that came a playful quality that ended up being part of the film. But also there were moments of insecurity in the script that he was really able to tap into. I can't now imagine anyone else being that voice."
While superhero movies have seemed to swallow Hollywood whole in recent years, animation in the genre remains largely relegated to TV, streaming and home video projects. The buzz around "Spider-Verse" just might change that. The film has already been selected as the year's best animated feature by the New York Film Critics Circle and is seen as a leading contender for the animated feature Oscar. Its Rotten Tomatoes score remained a stunning 100% fresh with little over a week to go before release.
Sony is certainly confident: A sequel and plans for spin-offs have already been announced.
"A studio's dream is to have the ability to make a sequel or spin characters off," said Persichetti. "It was really the audience's reaction to this movie and Miles and Gwen [Stacy, aka Spider-Woman] and the other characters in it that gave the studio the freedom to say, 'You know what? We're going to chase this.'
"There are a lot of stories in this multiverse that a lot of people can relate to, and we're going to try to make a bunch of different stories that have all been born out of this first film. And we want them all to be unique to whoever their main character is the way this one was unique to Miles."
Though the film is being lauded for expanding representation and offering much-needed diversity to the predominately white Marvel Cinematic Universe, Moore has mixed feelings about the trend of inclusivity.
"I'm happy that this Spider-Man was made back in 2011, not after the hype of 'Black Panther,'" said the actor, who, though in favor of representation, is strongly against the trend of swapping the traditional race and genders of popular characters for the sake of inclusivity.
"Somebody needs to make the new characters, superheroes, for their culture," he continued. "If we want more black superheroes, let's have some black writers make some black superhero stories. Let's not take the white superheroes we already know and make them all black.
"Representation is important, and I'm glad that we've reached this place, but I don't feel like the community should get lazy. Everything is being remade right now or there's a new version of the same story. But what about the new stories? It's very important that we get back on that."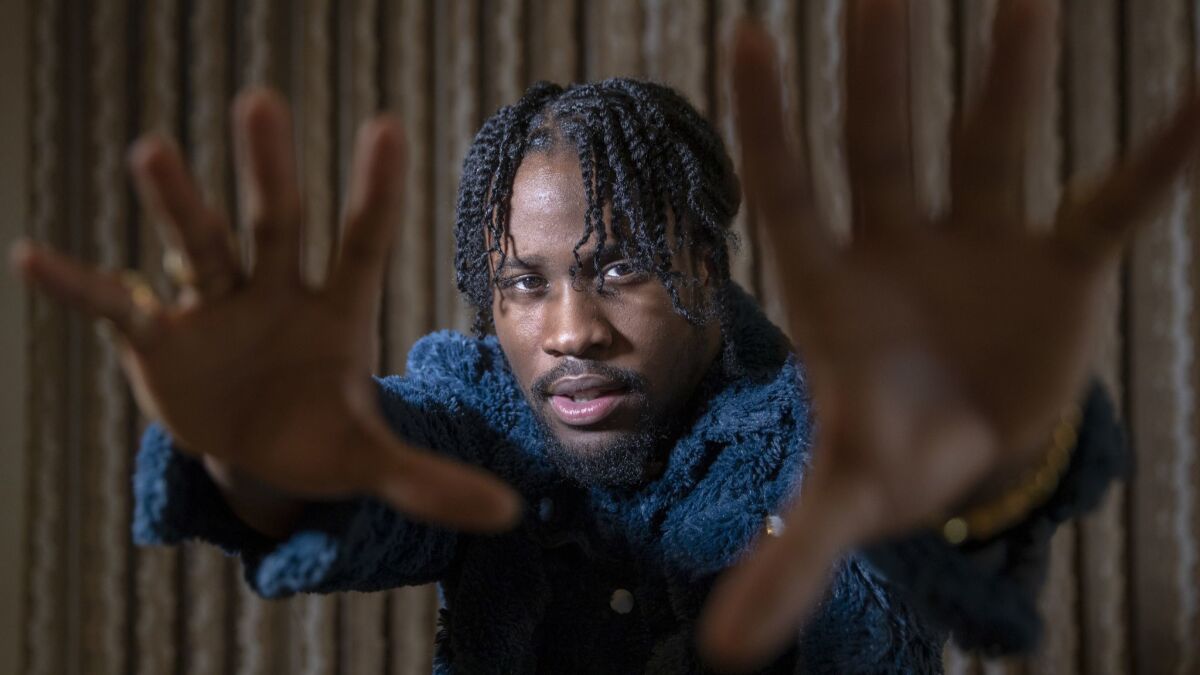 RELATED: There's a friendly neighborhood Spider-Man — or Spider-Woman or Spider-Ham — for everyone »
As a teenager, Moore had his sights set on a career as a dancer when he caught the eye of a casting director and booked a commercial for Cartoon Network.
"When I booked my first job, it was like, 'Oh wow,'" said the actor, who was 13 or 14 at the time. "I didn't really expect to book it. I did it because I'd never been on an audition. And at that time, $1,000 seemed like a whole lot of money."
After landing the spot, he hired an agent and auditioned for Tyler Perry's sit-com "House of Payne," for which he appeared in one episode. "After that, it was just nonstop auditioning until I finally booked 'Dope,'" he said.
After his breakthrough performance in "Dope," Moore was the victim of a series of false starts.
He was cast in Baz Luhrmann's epic hip-hop origin story "The Get Down" for Netflix, which filmed in New York City for two years before being canceled after a single season.
"It was supposed to be six months [of filming], but I learned so much that I can't complain," he said. "I worked with one of the greatest filmmakers of all time. The whole process was a learning experience that most people have to go to college to get and still don't gain that knowledge. I'm extremely thankful and I learned a lot."
He was next cast in an NBC comedy pilot from "black-ish" showrunner Kenya Barris called "Bright Futures" about a group of young professionals, which ultimately wasn't picked up.
"But I got to work with a good friend of mine," Moore said of Barris. "He is really smart. He can pitch anything; he can get anybody to pay for whatever. He's a great guy, very business-oriented, and he leads by example."
While the actor maintains an optimistic perspective despite his delayed launch, he says it's been difficult to reconcile his career ambitions with the limitations he's hit after each "breakthrough" turn.
"When people see me on the street, they see Miles Morales, they see ['The Get Down' character] Shaolin Fantastic, they see ['Dope's'] Malcolm Adekanbi," he said. "It could be millions of people that know my face, but I have less than 300,000 followers right now on Instagram. I think that says a lot about how the roles I take need to be heightening the perception of who I am."
Up next, Moore will appear in "Cut Throat City," a film about a group of boys in New Orleans forced to rob casinos in the wake of Hurricane Katrina. He's completed filming on James Franco's "The Pretenders," a project largely under wraps. He also has plans to release music in the near future.
But for now, the young star is patient, confident in his ability to play the long game, putting in hard work and eventually reaping the fruit of his efforts.
"When you're LeBron James and you know it, or Michael Jordan, or Michael Jackson, it's because you put in the work for it," he said. "So you're happy when you win the championship, but are you surprised? No. You're happy you won an Oscar, but are you surprised? That's kind of where I'm at."
follow me on twitter @sonaiyak
---
Get our L.A. Goes Out newsletter, with the week's best events, to help you explore and experience our city.
You may occasionally receive promotional content from the Los Angeles Times.