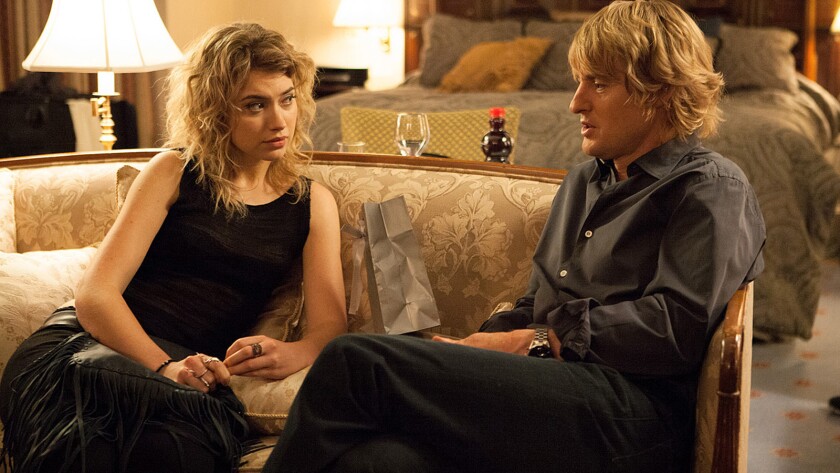 "She's Funny That Way," Peter Bogdanovich's first feature since 2001 ("The Cat's Meow"), is so hopelessly nostalgic about the madcap fizz and fury of screwball pictures, it never works up a head of steam as a funny, in-this-moment comedy on its own.
From the moment Imogen Poots unleashes her Noo Yawk accent as stars-in-her-eyes call girl Izzy Patterson, one gathers that Bogdanovich — who wrote the screenplay with (now ex-wife) Louise Stratten — is out to recapture "What's Up Doc?" glory.
SIGN UP for the free Indie Focus movies newsletter >>
The farce stems from a Broadway director (Owen Wilson) who, charmed by Izzy after a night with her, gives her $30,000 to give up hookerdom, only to see her audition for his next project. She wins over his unsuspecting wife (Kathryn Hahn), the play's leading lady, and the now-smitten playwright (Will Forte).
Sensing a need for one more brassy, fast-talking kook, Bogdanovich gives Forte a bitter psychiatrist girlfriend of dubious competence, played by Jennifer Aniston with almost enough lightning eccentricity to suggest Howard Hawks (and remind you why you loved her on "Friends"). But, boy, is it all forced and regrettably laugh-free, despite the considerable energy the actors put into it, including "Doc" alum Austin Pendleton as an Izzy-obsessed judge.
You can't begrudge Bogdanovich his deep, abiding love for the dreamily wacky, but even the Barbra Streisand and Ryan O'Neal of 1972 would have passed on "She's Funny That Way."
------------
"She's Funny That Way"
MPAA rating: R for language including sexual references.
Running time: 1 hour, 33 minutes. Playing:
Playing: Laemmle's Town Center 5, Encino; Laemmle's Playhouse 7, Pasadena. Also on VOD.
---