'Skate Kitchen' or die: Meet the NYC all-women collective empowering and inspiring with their own big screen skate sesh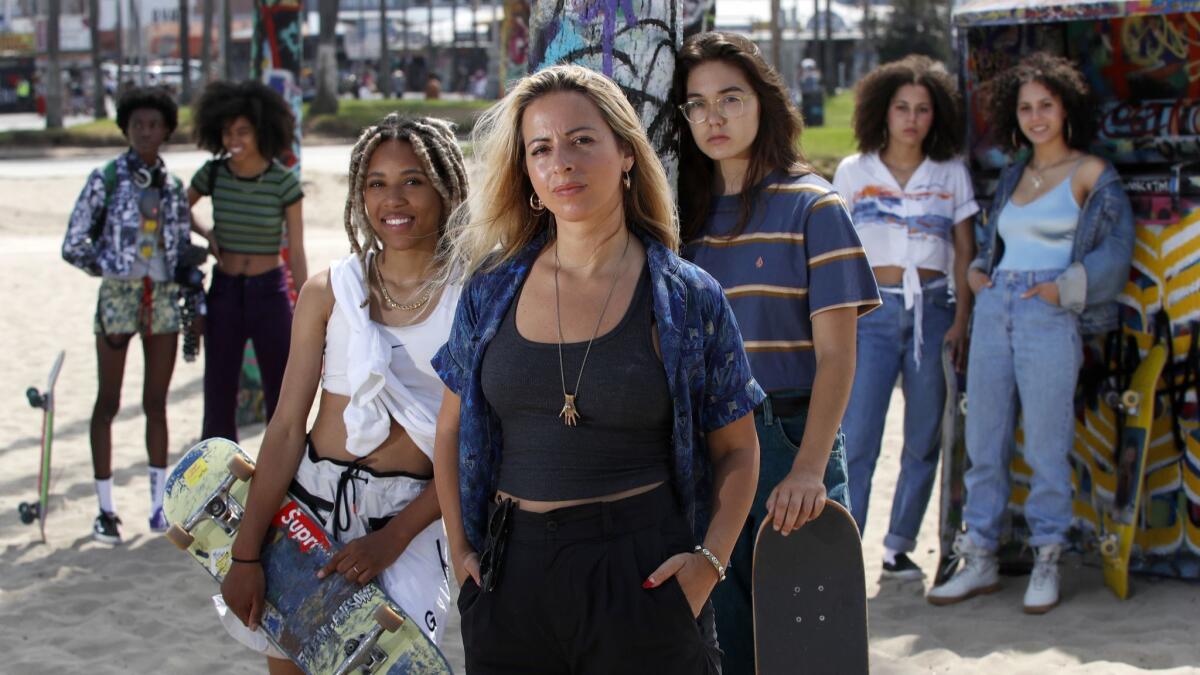 Mid-morning just off the Venice boardwalk, six striking young women arrive, skateboards in tow. The Skate Kitchen tends to roll deep wherever they go, even on this summer day when the New York City-based crew finds themselves soaking up the West Coast sunshine.
A collective of fearless female skateboarders all in or around their early 20s, the members of the Skate Kitchen are now also the stars of their own eponymous indie film, which premiered at this year's Sundance Film Festival and is currently playing in limited release, directed by filmmaker Crystal Moselle ("The Wolfpack").
Loosely inspired by the skaters' own experiences, the film centers on shy Camille (Rachelle Vinberg), a Long Island teen who links up with a welcoming squad of women that dare to be themselves and skate free among the male-dominated streets and skate parks of New York.
Later, they'll try out the iconic ramps and rails of the Venice skate park. But first, they crowd into a nearby cafe, where an innocent question breaks the morning peace before the coffee and acai bowls arrive: When exactly did the Skate Kitchen first assemble?
Kabrina Adams, 24, who goes by the moniker "Moonbear," is in many ways the group's official unofficial documentarian, appearing in the film much like she does in real life — with a video camera glued to her hand, always filming. She answers decisively: "It was on May 23, 2016."
Immediately, to her left, Vinberg, 19, raises an objection: "No it wasn't. It was before that!"
They go back and forth another few minutes, before Dede Lovelace, who stars as welcoming squad member Janay, plays referee, ribbing the others into a bet. "May, April, okay," she smiles. "All right, we're going to check it. How much are we putting down?"
Half of the Skate Kitchen take to their phones to scroll back and check the official history book — Instagram, where they banded together two years ago and amassed 76,300 followers by posting skate videos, skate fails, triumphs, goofs, and images of inclusive, girl power-infused inspiration.
In another minute it's forgotten, anyway. What's more important to know is that the sisterhood of the Skate Kitchen existed before the "Skate Kitchen" movie — not the other way around.
A few years ago, Moselle turned a chance meeting on the street with the Angulo brothers into the acclaimed 2015 documentary "The Wolfpack." This time, she was on the train on her way into Williamsburg for work when she saw Vinberg and fellow Skate Kitchen founder Nina Moran, who'd become friends after seeing each other's skating videos on social media.
"First of all, they're women holding skateboards, which is something that you now see a lot, but two years ago it was very different," Moselle said. "Nina also has this insane voice — you just kind of want to listen to what she's saying. I asked them where they're from, what's happening, and I said, 'Do you want to do some sort of project together?' "
"It was just incredible to see women with skateboards, which reflects women doing things that, when I was young, you didn't see." Her next question to Moran and Vinberg has become the stuff of Skate Kitchen legend: "'Are there more of you?'"
Moselle started spending time with the pair and their friends, learning about their lives and gathering inspiration for what would eventually become the fictional story that drives "Skate Kitchen," her first narrative feature.
"They said, 'We're going to go skate — come hang out with us.' So I just came and hung out," she said a few weeks later, after taking many of her first-time actors on a whirlwind press tour. "I jumped on the board. They were very welcoming right away. I think they liked that somebody was interested in what they were doing."
What they were doing was finding solidarity in what can be a daunting world, particularly when most images of the skate world, both in fiction and reality, are of boys and young men shredding, kick-flipping and grinding on two wheels — and only rarely, until more recently, women.
Lovelace, 20, remembers seeing young men skate after school at a popular local spot at 12th and A in the East Village. "At the time, I didn't really skate because all the dudes had, like, anger issues. I pretty much skated by myself. Then, I met a group of older guys two years later and learned from them, and they really gave me the courage to start skating more."
Brenn Lorenzo and her twin sister, Jules Lorenzo, 19, grew up in Florida, skateboarding from the age of 11, encouraged by parents who built a half-pipe for them in the backyard.
"It was always nice to have another girl with me in the park," said Brenn. "The guys were never really mean about us being in the park, or rude, or told us to get out — it was just a little intimidating at times. A lot of them would be like, 'Wow, it's a girl skating,' and would be supportive. That was nice."
Skating has always had its undersung female heroes — Z-Boys member Peggy Oki, Olympic snowboarder Cara-Beth Burnside, and more recently, figures such as Brazilian street skateboarder Leticia Bufoni, who boasts X-Games titles, a Nike sponsorship and 1.9 million followers on Instagram, have inspired legions of girls and boys alike to take up a board and follow in their wake.
But the world of skating hasn't exactly opened its arms to women. In 2013, one of skateboarding's biggest and best-paid stars, Nyjah Huston, faced backlash, particularly from the growing ranks of female pro skateboarders, for telling Thrasher Magazine that "skateboarding is not for girls." He later publicly apologized for his comments.
The collective power of a multicultural group like Skate Kitchen, says Ajani Russell, gives everyday visibility to women and girls and that can be powerful encouragement for new generations.
"In Skate Kitchen, six of us are women of color," said Russell, 20. "Me and Rachelle are both Hispanic, and we look really different, but we've always bonded over that. When I saw women skating before the Skate Kitchen, it was always blonde beach babes — that trope of 'skater girl.' "
"I was like, 'I can't relate to that,' " she continued. "So it's really about creating your own space, because you can't always be safe in somebody else's space, or you have no examples, no point of reference."
Early in "Skate Kitchen," a drama that unfolds dreamlike amid the NYC summer, Camille defies her mother's wishes and sneaks away to the city, tentatively entering a skate park solo for the first time.
"When a boy first starts skateboarding, nobody cares that he sucks — he just started. When a girl starts skateboarding, she does not even get the chance to try before getting judged by everybody. This is what makes it so intimidating to enter the skate park in the first place," Moran said in a 2017 TEDx Talk.
"I honestly feel a little self-conscious when I go to skate parks. That feeling doesn't go away for me," said Vinberg, who first starred for Moselle in "That One Day," a short for Miu Miu that serves as a spiritual and tonal predecessor to "Skate Kitchen." "It's in the movie and it's in real life too. I feel that way all the time."
From that jumping off point, "Skate Kitchen" weaves a naturalistic path through Camille's eyes as she defies her mother, finds her tribe, forms friendships, tests those friendships, bonds with a boy from a rival crew (Jaden Smith) and skates her way toward a sense of self.
Off screen, many of the vibrant "Skate Kitchen" cast members are artists and aspiring filmmakers in their own right, encouraged by the collaborative experience of working with Moselle.
Jules Lorenzo is currently studying film directing and writing at the New School ("One of my all-time favorite directors is Guillermo del Toro," she says). She just bought a camera with designs on going out and shooting her own movies.
Brenn Lorenzo is working on a solo music project. "I was interested in doing music for a while, but it wasn't until recently that I decided, let me take this seriously."
Adams also DJs and spent much of last year vlogging ("It could be raining, snowing, the camera will be with me"), chronicling the "Skate Kitchen" squad's adventures at Sundance, and is currently "trying to learn how to turn that into another business venture."
Lovelace, also a visual artist and DJ, recently filmed a role in the Facebook series "Strangers."
Vinberg, who turns 20 this month, put it frankly, with no shred of pretense: "I have no idea what I want to do with the rest of my life. It's putting me into an existential crisis."
Russell is currently studying at CalArts, making "weird art films," producing music and VR projects, and exploring themes of "female empowerment, being female in male-dominated spaces, and also being a woman of color and trying to diversify these spaces — [in skating] and everywhere."
She hopes that the Skate Kitchen can continue to empower others. "I want us to do more because now we have the platform to spread more positive messages and help girls — not just through skating, but to follow their dreams," she said. "We can do that now."
Get our L.A. Goes Out newsletter, with the week's best events, to help you explore and experience our city.
You may occasionally receive promotional content from the Los Angeles Times.