Review: 'Slow West,' with Michael Fassbender, a surprisingly sly western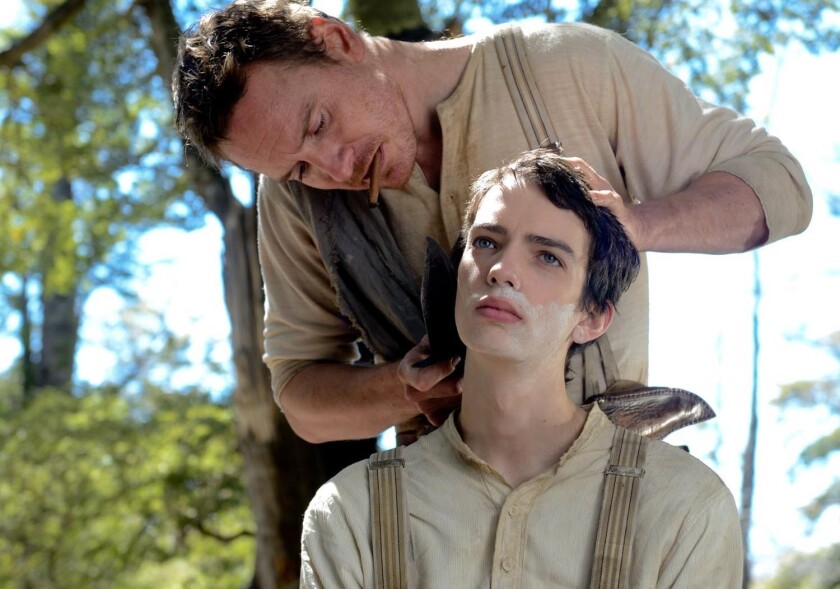 A western fable with an often dreamlike vibe, "Slow West" proves to be a surprisingly sly tale of passion, greed and survival.
John Maclean, a former member of cult Scottish musical group the Beta Band, makes an impressive feature writing and directing debut, aided in no small part by the stunning work of cinematographer Robbie Ryan.
In the late 1800s, 16-year-old Scottish aristocrat Jay Cavendish (Kodi Smit-McPhee) journeys across the American frontier in search of the girl he loves, a farmer's daughter named Rose (Caren Pistorius). Rose and her father (Rory McCann) fled Scotland after a tragic event and settled in remote Colorado, which is where Jay has arrived as the story begins.
It's risky, unforgiving territory that the starry-eyed Jay is ill-equipped to navigate solo. Enter Silas (Michael Fassbender, who acted in two early shorts by Maclean), a wily, brutish outlaw Jay hires to guide him safely to Rose's outpost.
Their trip is filled with several rough-and-tumble, Wild West-style episodes, a few offbeat segues and some unexpected bonding. But it's all complicated by the $2,000 bounty on the heads of Rose and her father. Although Jay is in the dark about this reward, Silas and a host of bandits, particularly the eccentric Payne (Ben Mendelsohn), are keenly aware of it. That Jay is unwittingly leading Silas to this potential payday proves a vital through-line.
The film's pacing could be better in its second act. But between the gorgeous locations (New Zealand subs for Colorado), a credible emotional core, some effectively droll dialogue and a well-staged finale, "Slow West" is worth a look.
------------
"Slow West"
MPAA rating: R for violence, brief language.
Running time: 1 hour, 24 minutes.
Playing: Sundance Sunset, Los Angeles.
---
The complete guide to home viewing
Get Screen Gab for weekly recommendations, analysis, interviews and irreverent discussion of the TV and streaming movies everyone's talking about.
You may occasionally receive promotional content from the Los Angeles Times.