Diversity isn't a plot point in 'Spider-Man: Homecoming.' It's just normal for millennial New Yorkers like Peter Parker
A new sensibility is tingling in "Spider-Man: Homecoming." Present throughout the second big-screen reboot of the beloved Marvel comics superhero, which opened to rave reviews and an estimated $117 million domestic box office, is a change audiences have increasingly demanded from Hollywood — not only in the Marvel Cinematic Universe but in the superhero genre at large: Diversity.
For director Jon Watts it was a no-brainer. The Colorado native and NYU grad lived in New York City for years, knew the textures of the city and its people, and knew that he couldn't put a New York onscreen that didn't look like, well, New York.
"Peter Parker is from Queens, one of the most diverse places in the world," Watts told The Times. As development on the "Spider-Man: Homecoming" script began, that sentiment was baked into the DNA of his vision for the film. He says his Marvel and Sony bosses were receptive from the start.
"Homecoming" offers the most realistically diverse world yet, in a franchise that has been slow to give minorities and women the same degree of complexity and significance to play as the white men who get to drive and dominate these stories.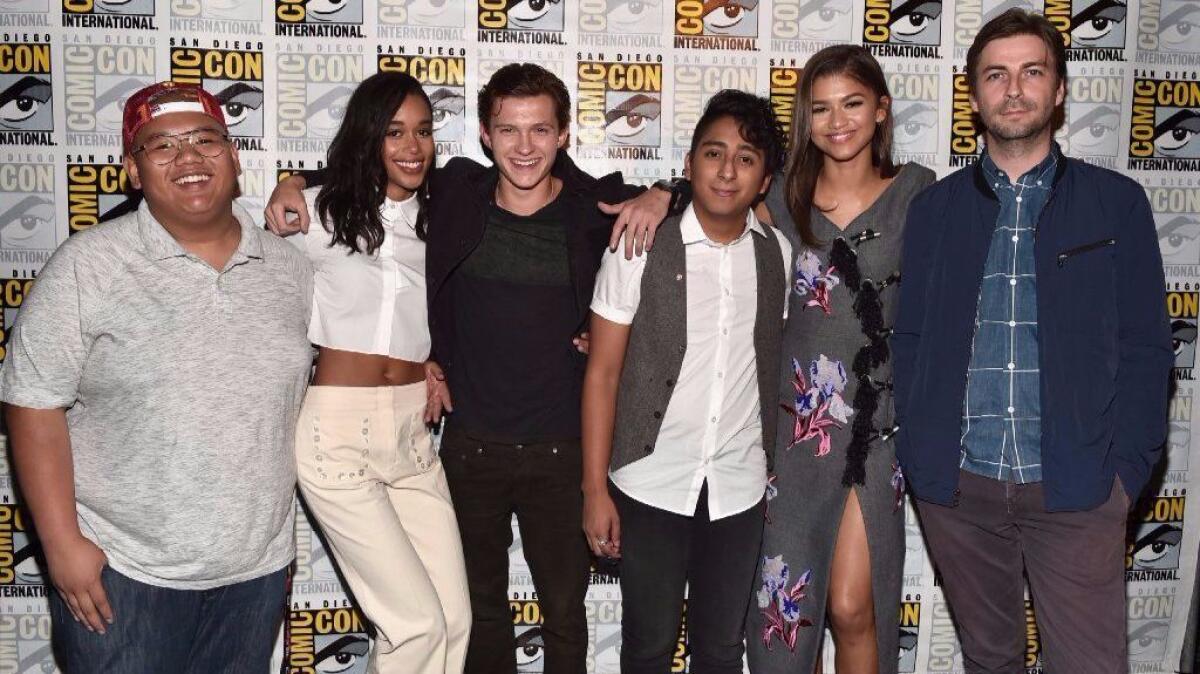 For his initial pitch to Marvel and Sony, Watts created a "look book" to serve as a visual blueprint for what the world of "Spider-Man: Homecoming" should look like, pulling New York Times photographs of real Queens high-schoolers to envision the multicultural milieu Peter Parker would live in as a millennial superhero of today.
"A big part of it was what I thought the cast should look like," he explained. "These are what the nerdy kids would be like, these are the cool kids, and because I was pulling from real life it was this very diverse group. And that was my pitch from the very beginning."
He thought about Brooklyn Technical High School or Stuyvesant High School in Lower Manhattan, two of New York City's nine specialized public schools focused on science, technology, engineering and mathematics (STEM) programming for gifted students.
Those schools became the models for Midtown High, where Peter is often one of the only white kids we see. And yet diversity isn't a plot point in "Spider-Man: Homecoming," where Spidey's nerdy gamer best friend Ned Leeds is played by scene-stealing newcomer Jacob Batalon, an Asian American actor, and his rival Flash Thompson is played with rich-jerk perfection by Tony Revolori, who is of Guatemalan descent.
Actress Laura Harrier, who is biracial, plays Liz, the driven senior captain of the academic decathlon team who Peter has a crush on; Disney star Zendaya, also biracial, brings an Ally Sheedy-in-"The Breakfast Club" energy to the dry, nonconformist Michelle. Indie film fans will also spot 16-year-old Ghanaian "Beasts of No Nation" star Abraham Attah on the Midtown academic decathlon squad.
"It's like a magnet school where all kinds of kids go, they just have to be really smart and test to get in," said Watts. "We thought if we made it that kind of school, then you were going to have a really interesting mix of people." Diversity "is not part of the story," he says, because in the onscreen world of "Spider-Man: Homecoming" — just like in the real one — it is, simply, normal.
"Jon had a specific idea of what he wanted to do: He wanted it to resemble a realistic high school," said Sarah Finn, the casting director of studio blockbusters such as "Godzilla," "Kong: Skull Island," and "The Jungle Book" who's been in charge of casting the Marvel universe ever since "Iron Man."
They cast a wide net to find young talent from all over the world even before the script was done and specific roles had been written. "I thought about how they cast 'Freaks and Geeks' and how they just brought in a bunch of kids, and if someone wasn't exactly the way they imagined for the role, they could adapt the role to that kid," said Watts. "I wanted to apply the same kind of attitude."
Hawaiian-born Batalon, who is of Filipino descent, had no credits on his résumé when he put himself on tape. He landed the role of Peter's best friend Ned, who in the film keeps the comic book surname Leeds, after an audition process that saw young performers of all backgrounds try out for different parts.
Revolori was coming off of memorable turns in Wes Anderson's "Grand Budapest Hotel" and the Sundance darling "Dope" when he auditioned for "Spider-Man." "I saw white kids auditioning for Ned and Flash and Liz and Michelle, so it wasn't about, 'Let's cast this diverse,'" he told The Times. "It was more about, let's let diverse people and people of color have the opportunity."
I want to be treated as equals — not as a special item that we need to add.
— Tony Revolori
As Hollywood executives and filmmakers open up their casting processes to answer the calls for greater inclusiveness onscreen, Revolori notes it's crucial that actors of color not merely be brought in to fulfill a token diversity slot on an audition sheet, but be given actual consideration to play roles outside of traditional lines.
"I don't want to have it any different," said Revolori. "I want to be treated as equals — not as a special item that we need to add."
Finn credits Lin-Manuel Miranda's Tony Award-winning musical "Hamilton" for paving the way for new perspectives on casting by selecting performers of color to play Alexander Hamilton, George Washington and other — Caucasian — founding fathers.
"I do think it opened the door … [both] the casting of that show and the audience embracing it," said Finn, who also casts from the television and theater worlds and says she's constantly going through an ever-stacked pile of DVDs on the lookout for new talent.
Among the familiar faces in the ensemble audiences may also recognize — especially from their work on television — are Garcelle Beauvais, Hannibal Buress, Kenneth Choi, Donald Glover, Selenis Leyva, Michael Mando and Bokeem Woodbine.
Many of the younger cast members in "Spider-Man: Homecoming" were hired off the strength of the smaller independent films they were first given shots at, proof that inclusiveness on the small-budget indie level can have a significantly impactful ripple throughout the ecosphere. "I watch them all," Finn said. "It helps if they have something to point to."
While underrepresented groups have enjoyed more recent victories on the small screen, change has been slow moving when it comes to Hollywood's studio output. Darnell Hunt, who leads research on UCLA's annual Hollywood Diversity Report, says efforts to make inclusion a natural part of "Spider-Man: Homecoming" are increasingly the right move not just socially but financially.
"One of the things we're finding in our study is that diversity sells. It makes economic sense because right now people of color are nearly 40% of the population and that figure is only increasing, by about a half-percent a year," said Hunt, who is also director of the Ralph J. Bunche Center for African American Studies and chair of Sociology at UCLA.
This weekend, diversity, and Sony and Marvel's fresh take on an iconic comic-book property, sold to the tune of $257 million worldwide in 57 international markets, with more global rollout to follow.
But as significant as it is to see faces of all ethnicities presented onscreen in "Spider-Man: Homecoming," it's still Peter Parker's story, and both the hero and villain, played by Michael Keaton, remain white men.
An online campaign to see a Spider-Man of color star in Sony's 2012 reboot "The Amazing Spider-Man" failed, although it did land "Atlanta" star Glover a small role years later in "Homecoming."
"It's not enough just to have the best friend of the protagonist be a person of color or a woman; [audiences] actually want to see the protagonist be a woman or a person of color," said Hunt, whose team issues its next Hollywood Diversity Report in February, tracking inclusiveness in films released in 2016. "It's all about, 'Whose stories are we telling?' This appears to be a step in the right direction."
And Marvel will take even bigger steps soon. "Black Panther," starring Chadwick Boseman as the film division's first leading superhero of color, promises a true watershed moment for representation when it opens next February with a predominantly black cast onscreen and "Creed" director Ryan Coogler, the MCU's first African American helmer, behind the camera.
The following year in 2019, over a decade into the franchise which officially launched with 2008's "Iron Man," "Captain Marvel" will bring its first lead female superhero into the MCU. And Sony, growing its rebooted "Spider-Man" movies apart from "Homecoming" partner Marvel, will make "Silver & Black," a female-led spin-off centered on comics characters Silver Sable and Black Cat, to be directed by Gina Prince-Bythewood this fall.
Finn, who praises the vision Coogler had for his star-studded "Black Panther," is casting the MCU's foreseeable future — and says she reads and listens to everything online, including critiques of how far Hollywood still needs to go.
"There's a lot more work to do," admitted Finn. "We still need to see Latino leads, Asian leads, women, women over a certain age, people with disabilities.… It does matter, and I hope this is just the beginning."
Times staffer Meredith Woerner contributed to this report.
ALSO:
How Donald Glover wound up in 'Spider-Man: Homecoming,' and what it might mean for an inclusive future
The future of 'Spider-Man' rests with indie director Jon Watts
In Hollywood, Asian American actors see few lead roles, and pay discrepancies when they land one
Get the Indie Focus newsletter, Mark Olsen's weekly guide to the world of cinema.
You may occasionally receive promotional content from the Los Angeles Times.