With 'Split,' M. Night Shyamalan hopes to remind people of his sixth sense for crafting taut thrillers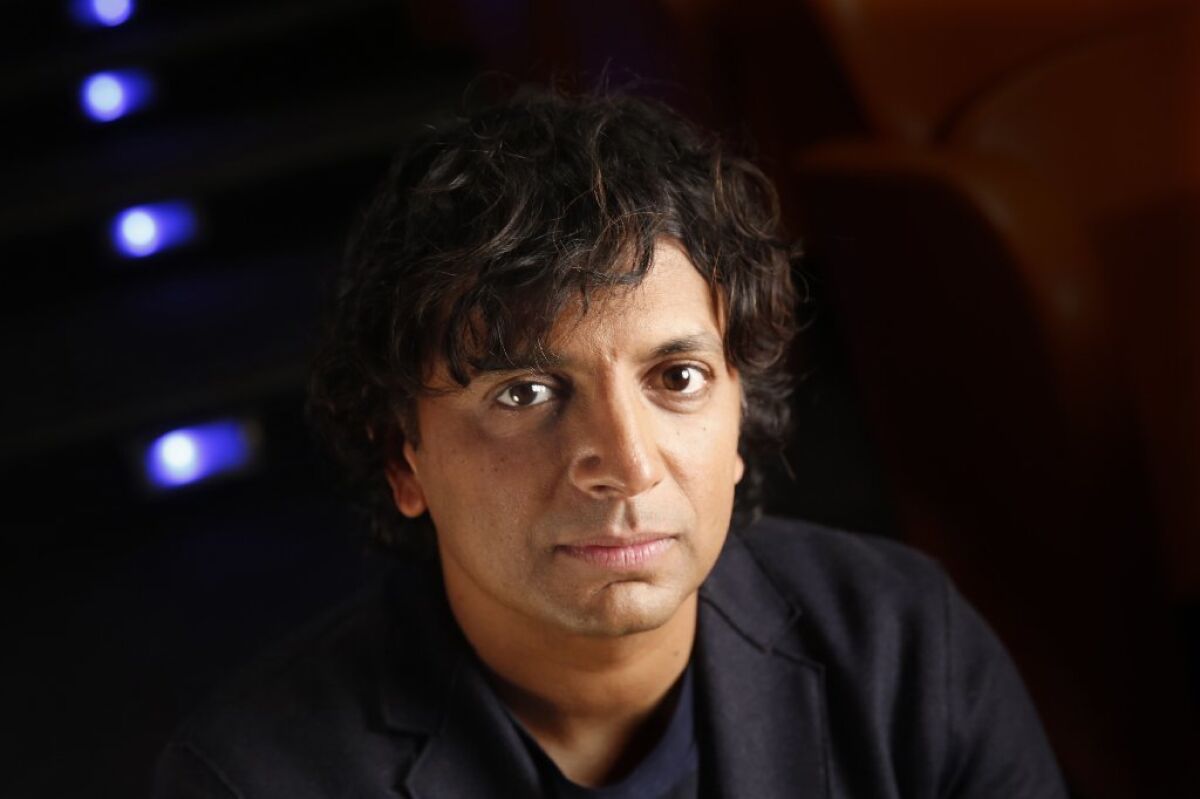 After directing 11 films with a combined global take of $2.4 billion, earning two Oscar nominations, "winning" four Golden Raspberry awards, scoring massive critical accolades, and surviving humbling big budget disappointments, M. Night Shyamalan has learned to unplug over an opening weekend.
"The Sixth Sense" and "Unbreakable" director plans to spend this one like his last, in 2015, when his modestly budgeted horror film "The Visit" opened strong at $25.4 million, on its way to $98.4 million worldwide: Checking his phone for messages and weekend numbers once on Saturday, once on Sunday, and doing his best to preserve his sanity.
"That's the way to be healthy," he told The Times ahead of this weekend's release of the twisty thriller "Split," his 12th feature film, which has been stealthily collecting praise from sneak screenings across the globe. "Because if you give credence to these moments, then you have to give credence to the other moments, and those will inevitably come in your career where they hate you," he said, laughing.
"Opening weekend is not something that I can control, even if it goes my way," he added, matter of factly. "So I don't put any energy into that."
"Split," written and directed by Shyamalan (who also produced and shot the film in his beloved Philadelphia, where all of his original films are set) stars "X-Men: First Class" actor James McAvoy in a tour de force turn as Kevin, a man who kidnaps three teenage girls (led by "The Witch" breakout Anya Taylor-Joy, joined by Haley Lu Richardson and Jessica Sula) and imprisons them in a labyrinthine underground bunker.
The trailer for M. Night Shyamalan's "Split."
As the terrified teens discover, Kevin's not alone: Afflicted with dissociative identity disorder, he shares his body with 22 additional personalities who each want to be heard – including a trio of volatile "alters" whose scheming threatens to unleash an even more powerful, bloodthirsty entity known as the Beast.
Or, as co-star Taylor-Joy quipped: "Fifty Shades of James."
"One of the first things he ever told me was that [McAvoy's Kevin] was his favorite character that he'd ever written," the actress said, recalling her first meeting with Shyamalan. "It was like, 'No pressure!' But Night has created this world and he knows exactly what's going on within it, and because of that you have the freedom to play."
At sneak screenings around the world, Shyamalan has found "Split" audiences embracing his return to a genre that made him a household name in the late 1990s and early 2000s. Like the moviegoers who lost their marbles over his ghostly "Sixth Sense," his eerie fable "Signs" and his superheroic thriller "Unbreakable," audiences from Austin, Texas, (where it premiered as an unannounced screening at Fantastic Fest in September) to Rome, Paris, Madrid and Berlin have responded enthusiastically.
More impressive in the age of the Internet spoiler, they've also kept "Split's" twisty plot turns under wraps. There is, perhaps, something to root for in preserving the exquisite secrets of a classic M. Night Shyamalan movie.
Shyamalan, 46, first dreamed up Kevin Wendell Crumb more than a decade ago, long before McAvoy brought him to life on-screen in "Split" in alternately chilling and empathetic fashion, shifting between multiple personas with varying ages, physicalities, gender identities and ulterior motives. He'd originally written his villain into an entirely different script before plucking him out altogether, saving him for a then-unknown cinematic fate.
The eventual genesis of "Split" coincided with Shyamalan's own career crossroads. A few years ago, after a decade of making studio movies that disappointed either critically, commercially, or both ("Lady in the Water," "The Happening," "The Last Airbender," "After Earth"), the filmmaker was forced to take stock of what was working and what wasn't.
"I believe everything works out when you're putting your energy into the right place. In the wrong place, the universe slaps you," he said. "I think, in a literal way, audiences can tell if I'm in a good place, if I'm in a bad place, if I'm in a lost place. You can just tell. You can feel it.
"I get it! I'm a very sentimental guy," he added. "When I do kids' movies I do them very sentimentally, and wearing your heart on your sleeve on that stuff is dangerous.
"I can't out-CGI people. I can't out-action people. I can't out-spectacle people," he continued. "That's not how I think. What I can offer moviegoers in theaters is something unique, something singular. That's my weapon."
He scaled down considerably from the $130 million-plus budgets of his critically panned fantasy adaptation "The Last Airbender" (which saw the Indian American filmmaker accused of "whitewashing" for casting predominantly white actors as characters created as Asian in the original animated series) and the Will Smith-Jaden Smith sci-fi vehicle "After Earth," back-to-back special-effects spectacles that earned the worst reviews of his career. Caught between the studio machine and his more auteurist leanings, he took a cue from micro-budget horror maven Jason Blum, producer of the hit "Paranormal Activity," "Insidious" and "The Purge" franchises.
"I reached out to him years before 'The Visit' and tried to talk him into low budget filmmaking," said Blum, whose Blumhouse Productions follows a model of producing genre films cheaply and independently with studio distribution partners, to often lucrative results. (Blumhouse currently has a deal with Universal, which is releasing "Split" today.)
"I went to [Shyamalan's] house in Philadelphia and we had lunch and talked about it, and he looked at me a little puzzled then sent me on my way," Blum continued. "I didn't hear from him until there was a rough cut of 'The Visit.' He said, 'I heard what you said – and I just did it myself. I made a low budget movie.'"
Blumhouse signed on to the $5 million film as producers and "The Visit" — about two children sent to their grandparents' house who start to suspect that something's not quite right with Grandma — put Shyamalan back in, as he called it, a good place.
"Sometimes that thing that shatters you is what makes you grow again," he said, the words he used to describe "Split" — which he pinpoints as his "darkest" film to date — also perfectly applicable to his own career. "It's something I think about a lot: The things that happen to us, they certainly change us. But do they make us less? Just because we're not normal doesn't mean that we're not special or can't do different things."
The self-described perfectionist seems to have found his groove again working outside of studio control with nobody but himself and his trusted collaborators to rein him in. He brought Blum back to produce "Split," made for under $10 million. Once again he worked the way he wanted, slotting valuable time for reshoots into the end of his production schedule, thus allowing himself a more malleable creative process.
"This is a format that allows me to really listen to myself, and go whichever way the instinct tells me to go," he said. "It's freeing. I have an idea, I go shoot it." His producers don't have a problem with the way he works, because he is his own producer.
Just don't call "Split" a comeback.
"I have a different narrative, which is that when I make thrillers, it's all good," Shyamalan laughed, dismissing the c-word. "When I'm making kids' movies it's not all good."
For Shyamalan, who's already working up ideas for a "Split" sequel, the film's themes of survivorhood, strength and adaptability echo the turns he's taken to get to a place of re-energized creative autonomy.
"You have to go through something in order to come out on the other side with the things that you need," he said. "There's no other way to do it than by going through the fire."
Get our L.A. Goes Out newsletter, with the week's best events, to help you explore and experience our city.
You may occasionally receive promotional content from the Los Angeles Times.