Reporting from PAGEDALE, MO. —
Billboards along the main road implore residents to "put down the pistol." The unemployment rate is three times the county average. Ferguson, where the clash of police and locals launched the Black Lives Matter movement, sits just a few miles to the north.
But inside this movie theater on a recent Sunday night, the urban challenges quickly dissolve under the spell of "Logan" and "Get Out."
"What did it mean that she was eating the Froot Loops one at a time?" asks one animated patron who has just departed the Jordan Peele genre fable, referring to a touchstone scene.
"That she's crazy?" a woman in his group responds.
The setting is 24:1 Cinema, a theater that serves this city on the northwest outskirts of St. Louis by doing things a little differently.
24:1 shows as many as four of Hollywood's splashiest offerings at any given time. But unlike nearly all first-run theaters, it is operated as a nonprofit — the amenities of a multiplex with the mission of an advocacy group.
On a boulevard past miles of badly run-down homes and boarded-up liquor stores, the bunker-like concrete building offers an unorthodox sliver of hope. Run by a group called Beyond Housing, it's founded on the premise that pop culture can bring something it's not often asked to deliver: a measure of equality. At a time when Hollywood takes a hard look at its diversity efforts, 24:1 Cinema suggests entertainment can be inclusive not only at the level of studio greenlights but locally, one hardscrabble street corner at a time.
It's not the hood — it's a movie theater in a neighborhood.
Dave King, 24:1 Cinema manager
"This place gives people stuff to do that's better than a lot of the other things they could be doing," says Sean James, a tall man in a Warriors cap who has come to see "Logan."
Since it opened the theater a little more than a year ago, Beyond Housing has sought to demonstrate that sleek moviegoing is not just for the nearby upscale white neighborhoods of Clayton and University City, that there are alternatives in regions like this to despair and crime.
The St. Louis metropolitan area has fallen on hard time,s even as larger coastal hubs have seemed to kick many similar problems. The city last year had an alarming crime rate — about 60 homicides per 100,000 residents — and segregation levels are high. The 24:1 — as the legally affiliated collection of two-dozen predominantly black municipalities where the cinema sits is known — has been hit hard. More than 90% of its students are poor enough to qualify for free or reduced lunches. Residents on average live nearly 15 fewer years than those in Clayton just a few miles away. And several years ago the school district of which the towns are a part was deemed to be failing so badly it was stripped of its state accreditation.
Into this fraught situation comes Beyond Housing. The St. Louis nonprofit is a rare ideological blend, combining the left's desire to improve the inner city with a right-leaning skepticism that this can be achieved only through government programs.
Central to its worldview is that other kinds of development are at least as important as housing in solving urban challenges. It started with the successful launch of a bank and grocery store. Then in late 2015, it attempted to bring films into the fold.
"When you have something you never had before there's a different kind of optimism," says Chris Krehmeyer, Beyond Housing's president and CEO. "People have a sense of pride about movies they don't have about anything else."
Essentially, 24:1 Cinema offers a modern twist on the maligned broken-windows theory of criminal justice. If a movie theater can look and feel much like it does in a rich neighborhood, people will not only come but will increase their civic engagement (and outsiders their business investment).
24:1 Cinema suggests entertainment can be inclusive not only at the level of studio greenlights but locally, one hardscrabble street corner at a time.
On this night, the people coming part, at least, was on track. A mix of middle-age couples, teenagers and families pour into one of the theaters.
"We've been waiting for something like this theater for a long time," Aaron Shanks, who works in corrections, says as he sits next to his wife Tonya, a healthcare worker, before the start of "Get Out."
The moviegoing experience at 24:1 Cinema feels similar to a traditional multiplex — sharp modern decor, a scattering of well-placed movie posters — with several exceptions. Snacks are priced a few dollars less than normal. Brochures about Beyond Housing are strategically placed in the lobby. On screen, the usual ads (Pepsi, Taco Bell) and trailers ("Girls Trip") play before the movie, but so does a well meaning, if slightly social-engineering-video-from-"Lost," video explaining the theater's larger mission.
"Our goal is to create a community where you can live safely and prosper," a woman says in voice-over as images of civic engagement flash on the screen.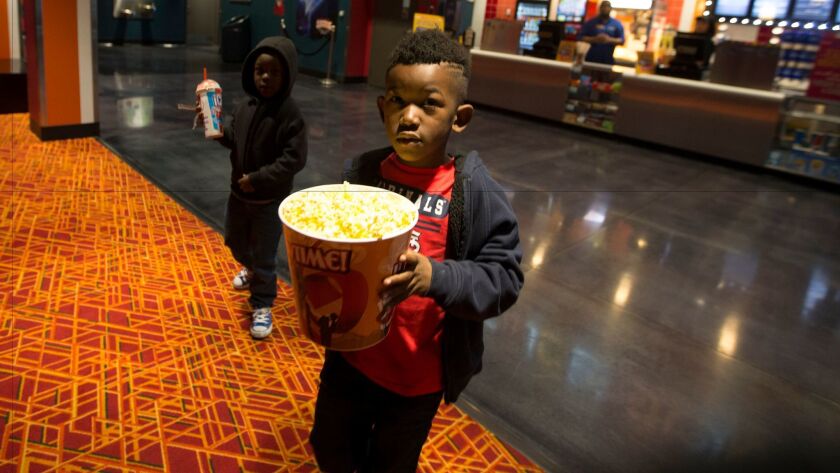 We've been waiting for something like this theater for a long time.
Aaron Shanks, 24:1 Cinema customer
Though founded in 1975, Beyond Housing came to prominence with the creation of the 24:1 Initiative several years ago as northern St. Louis County's Normandy school district plummeted further into disrepair and government efforts proved insufficient to save it. In addition to the businesses it's established, Beyond Housing also is active in a variety of grass-roots ways, from classes for first-time home buyers to dialogues with police.
24:1 Cinema is run financially in conjunction with the rest of Beyond Housing so that any profits, should they come, would be funneled elsewhere into the organization. (The group says it currently has about $100 million in assets.)
"We don't make a big deal of it, but I think it's nice for moviegoers to know that money from their popcorn is going to things like early-childhood programs," says Dave King, who manages the theater.
King, who is white, is a longtime veteran of theater management in St. Louis. He says he encountered skepticism from his old colleagues when he told them he'd taken the job at a startup theater in the 24:1.
"'You're going to work there? In the hood?'" he recalled of their reaction. "And I would say 'it's not the hood — it's a movie theater in a neighborhood.'"
Still, he says, there are sometimes reminders of a larger blight. "When we first opened it was a bit of a shock. We're on the road to a cemetery and we'd see these funeral processions from people killed in gun violence going by. You really couldn't avoid it."
What the theater does hope to avoid is any perception of insecurity inside — while also circumventing, in a place where skepticism for the police runs high, a Big Brother metal-detector kind of feel. There is an armed policeman hired by the theater stationed at the door, but he seeks to chat with patrons and will gently turn people away if a search turns up a gun.
"We know how thin the ice is," King says. "One incident and it can change how people perceive us, it can make families stop coming."
Few first-run theaters have this kind of social mission or are run as nonprofits. The Magic Johnson Theaters, which started in Los Angeles with the 1995 opening of the Magic Johnson Crenshaw 15, was a private-enterprise urban experiment in partnership with major conglomerates that saw mixed results. (After a series of corporate mergers, only an AMC Magic Johnson Harlem 9 remains in the chain, though CineMark currently operates a thriving Rave XD complex in the Baldwin Hills Crenshaw Plaza.)
24:1 Cinema is a more grass-roots proposal. Because it's so tightly focused in one area, it can build awareness with more home-grown techniques such as flyering and Facebook updates.
Not that there haven't been challenges.
"We were a few weeks from opening and there was one studio which was on the phone with us wanting me to personally guarantee the rental. 'It looks from Google Earth like there's a house on the land, not a theater,' they said," notes Krehmeyer, slightly incredulous. "We had to take pictures and send them to the studio."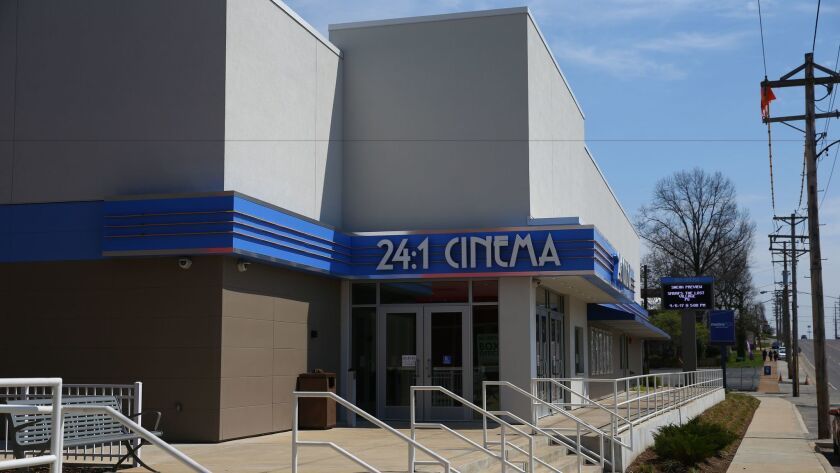 When we first opened it was a bit of a shock. We're on the road to a cemetery and we'd see these funeral processions from people killed in gun violence ..."
Dave King, 24:1 Cinema manager
The theater was not profitable in its first year, but he hopes things will soon turn. Ticket prices were recently raised by a dollar in an attempt to walk the fine line between customer accessibility and profit margin. (Even so, compared with the prices at many theaters, 24:1 Cinema is a bargain, with matinee adult tickets under six dollars.)
Independent theaters everywhere struggle to make a profit. The high cost of running a house (and particularly the high cost of acquiring first-run studio films) means theaters need to be constantly packed with people who will in turn stock up on concessions, the real revenue-driver.
King acknowledges that 24:1 will need to come upon a lot more "Get Outs" for the theater to become profitable. Even in a community-driven place in the center of the country, the dependence on Hollywood is high.
Distribution experts say that studios will work with independent outfits — but they might have to prove themselves a bit more. "It's true in almost every business; if you're a Ford dealer in Los Angeles you'll have access to cooler cars than a tiny dealer in a smaller town," says Paul Dergarabedian, a senior media analyst for comScore. "What I love is how independent theater owners never give up and stay passionate about the movies."
Earlier this year, 24:1 proved its mettle to studios with "Hidden Figures." The theater is the kind of place, rarely noticed in the tent-pole-driven world of big chains, that helped power the Fox movie to one of the biggest grass-roots studio hits in recent memory. The theater began building word of mouth for the movie on weekends, then when those shows began to sell out, on weeknights. Soon school groups were pouring in, and the movie was on its way to blockbuster status.
Even so, social experts acknowledge that people shouldn't get carried away with the idea that a movie theater can confront large social challenges.
"I think when people from the community can see that a business cares about them, or can see a movie like 'Hidden Figures' many wouldn't think to go a half hour to see, it can really help provide inspiration," says Jason Purnell, a professor at Washington University who specializes in urban environments and also sits on the board of Beyond Housing. "But there is a real danger with targeted place-based interventions like this that it doesn't become connected with regional economic engines and actual sources of jobs. We have to figure out ways to make that possible."
But if the limitations are clear, 24:1 Cinema also offers benefits that can be forgotten in grander talk about policy and economics.
As she arrives for a Monday matinee of the faith-based drama "The Shack," Rhonda Williams, a retired healthcare worker, says, "It's nice to have something right in the neighborhood that if my friend says 'check this out' we can go without traveling. That makes a big difference."
Nearby, the theater's deputy manager Walter Hamilton, from the somewhat cruelly named nearby microtown of Beverly Hills, notes that the theater serves a more symbolic purpose.
"St. Louis needs a place like this," he says. "People say 'ghetto'; they see crime. There's so much‎ negativity," he adds. "We need positivity."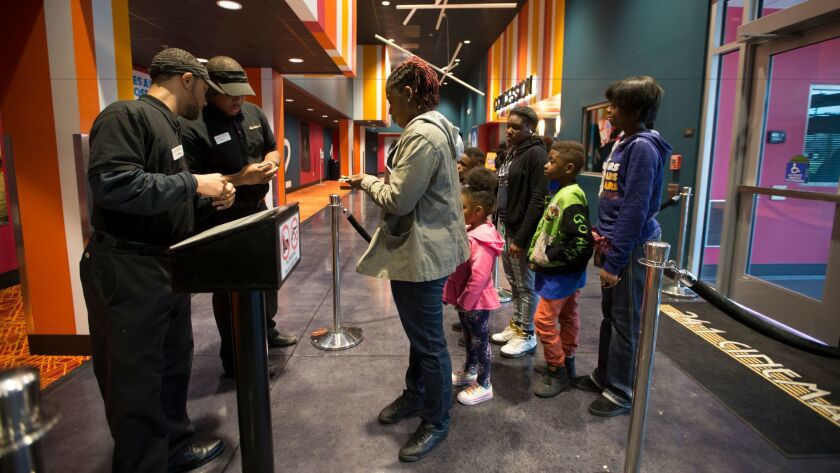 See the most-read stories in Entertainment this hour »
Twitter: @ZeitchikLAT
ALSO
'The Zookeeper's Wife,' a Holocaust movie for a new — and feminist — age
'The Discovery' director Charlie McDowell's latest step: Exploring the afterlife
'Wilson's' Daniel Clowes, patron saint of misfits and curmudgeons
---