Stanley Nelson has had more documentaries play at Sundance than anyone else, and he's back in 2019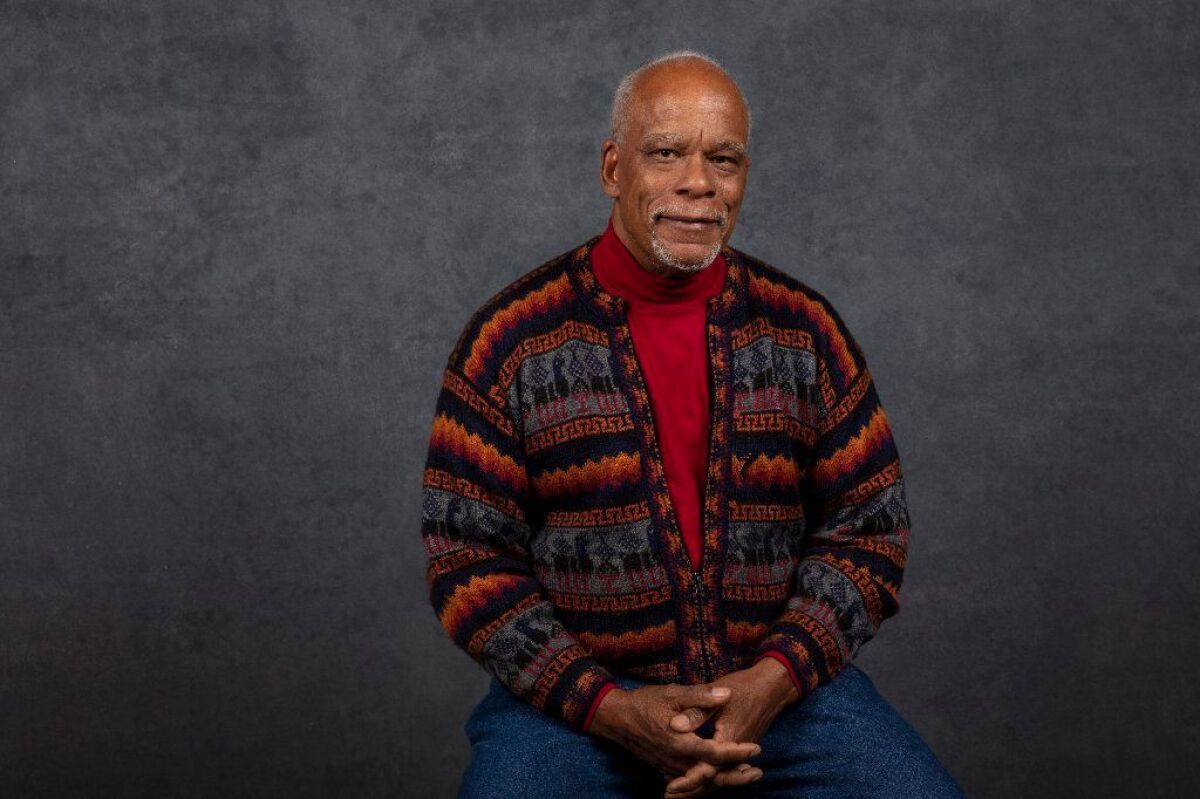 Film Critic
Reporting from Park City, Utah —
He is not a man who has lacked for recognition. He has won a MacArthur "genius" grant and received the National Humanities Medal from President Obama. His new work, "Miles Davis: Birth of the Cool," is his 10th at Sundance, a record for documentary filmmakers.
Yet if you asked the average festival visitor to identify Stanley Nelson, you'd likely draw a blank. Nelson has never been a flavor of the month, never been the focus of a cult of personality. Nothing like that at all.
Rather, working steadily for two decades, he has made a series of exceptional documentaries, films like "Freedom Riders," "The Black Panthers: Vanguard of the Revolution," "The Murder of Emmett Till" and "Tell Them We Are Rising: The Story of Black Colleges & Universities."
Taken as a whole, as the Sundance program accurately states, they make Nelson "one of the foremost chroniclers of the African American experience in nonfiction film today." Not just thoroughly researched, Nelson's films understand both the value of a gripping story and how to create one.
Nelson, 67, shrugs off his somewhat under-the-radar status. He's not in the habit of seeing his films as a body of work, joking that that makes them sound like "they were all tied together, like the Marvel Universe."
"I'm always amazed when people know these films existed, just recently are African American stories starting to be recognized as universal stories," he adds.
"I'm just trying to make films that are challenging to me, stories that are important to me. I put everything I had into them, and I'm happy when I can look back and not cringe at how things turned out."
What makes Nelson especially proud is his Documentary Lab, founded a decade ago with his wife and creative partner, Marcia Smith, to mentor documentary filmmakers of color, a way to formalize and extend something Nelson was already doing.
"People were calling me up out of the blue all the time, and the lab was a way to institutionalize it," Nelson says. "One hundred and forty filmmakers applied at our last open call. Sometimes you have a great sample reel but the proposal is crap, sometimes it's the opposite. If we accept you, we see you through the project."
The Lab has worked with more than 70 filmmakers and this year, to Nelson's delight, two of the Lab's docs, Jacqueline Olive's "Always in Season" and Jeffrey Palmer's "Words From a Bear," are in the festival.
FULL COVERAGE: 2019 Sundance Film Festival »
As to Nelson's own doc this year, it's a thoughtful and involving examination of the tempestuous life and brilliant music of the beyond legendary Davis. The project has been in the works for 15 years, which is when Nelson and representatives of PBS' "American Masters" series first agreed on the man as a subject.
"We had permission from the family and from Sony, which holds the music rights, and then it fell apart, I truly don't know exactly what happened," the director says.
Many years later, at the urging of wife and partner Smith, Nelson got in touch with "American Masters" again and the timing was so perfect that "they said, 'Let's meet next Wednesday at 2'" and the project became real.
"I wanted this to be Miles, warts and all, but that was more complicated than it sounds, because the life can consume everything," says Nelson, who used actor Carl Lumbly to read portions of the musician's autobiography.
"Miles was such a challenging human being. This guy could make such beautiful music and he could be so rough. What I tried to keep remembering is that we're making it because of Miles' music.
"He made beautiful, tender music and we used a lot of it, if you sit there and listen, you understand. If it's just about an abuser and a hard-to-get-along-with guy, what's the point?"
Nelson had the advantage of a variety of archival material that had never been used before, such as 16 mm footage of Davis (including riveting shots of the musician shadow-boxing that open the film) that had been shot by his friend Corky McCoy.
Nelson also had access to Sony's archives, including the tapes that were kept running before and after the actual recordings.
"You can hear his instructions, the cross-talk between musicians," Nelson says. "Miles didn't rehearse those songs at all. When they got it down one time, it was on the record. Miles wanted the mistakes to be on the record. That was jazz to him."
The filmmaker also got to interview musicians who had worked with Davis, including Quincy Jones and Wayne Shorter, and several of the women in his life, especially wife Frances Taylor Davis, the muse and inspiration for some of the musician's key works.
"Frances was a trip," Nelson says, shaking his head. "It was almost like after you talked to her, you weren't sure if she'd been joking with you, putting you on.
"She was smart and funny, and I've never seen a woman who was more beautiful. It was a privilege to be in her presence."
Like his other films, "Miles Davis: Birth of the Cool" comes from Nelson's production company Firelight Films, a name not chosen lightly.
"There had been all this talk about multiple platforms, and we said, 'People have been telling stories by firelight the same way for thousands of years, it's built into our DNA and it's not going to change.'
"But if you want to change the narrative, if you want to change the story, you have to change who tells the story.
"It's really important that people tell their own stories. If you want depth of feeling and richness, you can't be swimming on the top. You have to go deep."
Sundance 2019 Film Festival: See the latest video interviews
On Now
Video: Jake Gyllenhaal exposes the art world's dark side in 'Velvet Buzzsaw'
4:03
On Now
Video: Behind the scenes of the L.A. Times 2019 Sundance photo/video studio
On Now
Video: The 2019 Sundance Film Festival Boomerang Supercut
On Now
Video: The importance of telling the story of the Bobbitts in the documentary 'Lorena'
3:05
On Now
Video: How do you make the most of a small budget?
On Now
Video: Cast and filmmaker discuss trusting each other while shooting 'Premature'
3:12
On Now
Video: 'Brittany Runs a Marathon' breaks conventions and stereotypes
On Now
Video: Jillian Bell is tired of getting scripts about body image issues
On Now
Video: Jillian Bell lost 40 pounds for her role in 'Brittany Runs a Marathon'
On Now
Video: 'Brittany Runs a Marathon' actors break out of their sidekick roles
---
Get the Indie Focus newsletter, Mark Olsen's weekly guide to the world of cinema.
You may occasionally receive promotional content from the Los Angeles Times.