On the other side of 'The Last Jedi,' director Rian Johnson found the 'Star Wars' journey he was looking for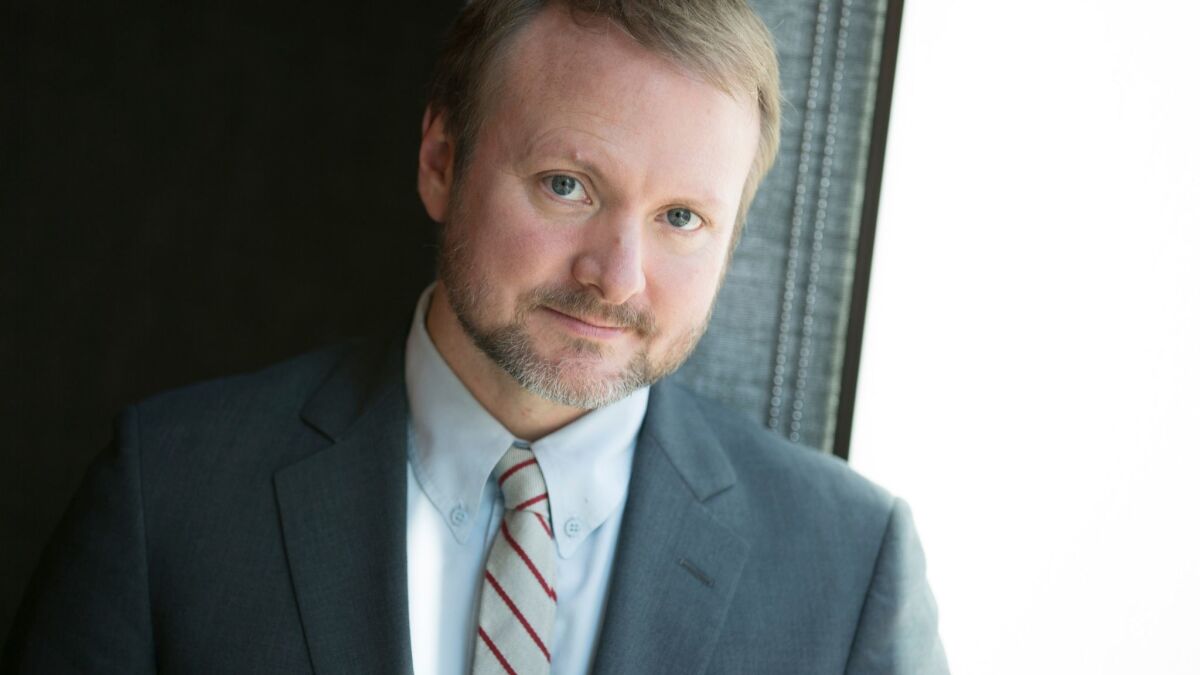 Reporting from Austin, Texas —
Four years ago, he walked into a meeting with Lucasfilm head Kathleen Kennedy, then looking to hire new blood to helm the eighth "Star Wars" film, and embarked on a career-changing journey into a galaxy far, far away.
Now — many, many porgs later — Rian Johnson can finally exhale.
"What could possibly be left to talk about at this point?" quipped the "Last Jedi" writer-director, a playful smile on his face as he and producer Ram Bergman sat for a chat at the South by Southwest Film Festival in Austin, Texas, during the very last leg of their "Last Jedi" press rounds.
It's a bittersweet feeling, said Johnson. "The past month I do find myself waking up with a strange sense of emptiness," he said, with a smile. "I think it's mostly just having had a purpose for the past four years, having this singular goal, and now it's immediate — like, the bus stops, but you don't. It's actually over. It's very strange."
What brought the "Star Wars" bus to Texas was the premiere of the feature-length making-of documentary "The Director and the Jedi," which premiered at the festival and is a bonus feature highlight of the film's recent home video release.
Four months ago, Johnson and Bergman were riding a Kessel Run of emotions as "The Last Jedi" premiered to rapturous acclaim at L.A.'s Shrine Auditorium, only to spark an online backlash from cranky fans over the bold new directions in which Johnson's episode takes the 40-year-old franchise.
Soon enough, Johnson's installment broke records on its way to becoming the ninth-highest grossing film of all time. And there have been smaller, poignant moments along the way that left their mark.
"Hearing that kids were into it, just from friends, especially small kids… I was holding my breath. Are kids just not going to be into this?" Johnson said. "And seeing that kids seem to really react to the movie made me really happy."
"Seeing my 4-year-old and my 7-year-old reenacting the throne room scene, killing Snoke over and over and over for weeks, and Luke throwing the saber — it was worth it just for that," added Bergman, who has collaborated with Johnson since the director's indie noir debut, "Brick."
Of course, helming the $200 million-budgeted eighth "episode" in a beloved pop culture series — across multiple countries, over a sprawling five-month production — was not without its challenges.
Many of them were captured by the crew of "Director and the Jedi" who spent intensive hours chronicling every inch of Johnson's process. A fraction of the resulting footage was then edited into the documentary.
From the first moments Johnson and Bergman begin prep on the biggest production of their careers to the exhausted, elated final days of filming, the documentary shines rare and intimate light on the behind-the-scenes processes that culminate in the creation of "The Last Jedi."
Watch the trailer for "Star Wars: The Last Jedi."
Like kids in a sandbox, Johnson and Bergman delight in introducing new ideas — sometimes with subtle forcefulness, gently urging veteran department heads to think outside the box on costuming, casting and design.
But some of Johnson's radical concepts don't fly so well: for instance, his decision to make Luke Skywalker the reluctant Obi-Wan of the new trilogy, a disillusioned rebel hero who has renounced the Jedi way and only begrudgingly comes to mentor young heroine Rey (Daisy Ridley).
Johnson reflected candidly on the creative frictions he had with Mark Hamill over Luke's fate. "It was definitely a thread throughout the whole [making of the film], and it was a conversation with Mark throughout the whole thing," Johnson said.
"We talked about it, we thought through it, we butted heads about it… we did all the stuff that you always do with an actor with a part — even more so because it's Mark Hamill and it's about Luke Skywalker, and because it was such a big decision — the way that his character went in the movie.
"I feel like it maybe comes across as if that's what our relationship was the whole time, but it wasn't," he added. "Even when we were having conflict about it, it was constructive in terms of me having to articulate why I made the choices I made. I do think that comes across in the doc. It's an aspect of the storyline of the making of this movie."
If "The Director and the Jedi" is like a high school yearbook chronicling the four years Johnson and company spent making "The Last Jedi," its heart belongs to its homecoming princess. Among its most emotional moments are on-set glimpses and interviews with the late Carrie Fisher, who is seen performing her memorable scenes with Hamill as Luke and with Laura Dern as Admiral Holdo.
Watching those moments again in the documentary brought both Johnson and Bergman to tears. "The first time I saw the cut, I said, 'Rian, you need to see this — you're going to cry,'" said Bergman.
In the screening, I lost it. Just seeing the footage that raw, and seeing her… there's a lot there. I'm happy that fans will have it.
— Rian Johnson
Johnson got misty-eyed again watching the film with a crowd at SXSW. "In the screening, I lost it. Just seeing the footage that raw, and seeing her… there's a lot there. I'm happy that fans will have it."
There's more bounty for "Star Wars" lovers in the recently released deleted scenes Johnson selected for "The Last Jedi" home video release, such as the cheeky glimpse at Warwick Davis' costumed alien cameo that was originally part of a much-longer chase sequence on the casino planet Canto Bight.
Another beloved sequence that ended on the cutting room floor still brings a huge smile to Johnson's face.
"Oh, the Caretaker village… it was so much fun!" he said of an elaborate deleted scene in which the droll fish-nun proprietresses of Ahch-To dance with the male counterparts not seen in the theatrical cut. "You can see there's the men from the hunting tribe who come for their once-a-month dance with the nuns. Oh, I love it! I love the idea. It was so cold [during filming]. But it was so much fun. It was a party."
Something didn't quite click in the way the story unfolded with the Caretaker's very own yub nub, which led to a confrontation between Rey and her Jedi mentor, Luke. In cutting it, Johnson explained, he learned a valuable lesson.
"In the context of the movie ... it very obviously felt off," he said. "When I use the word 'pacing' to say why something had to go, it's not even length; it's rhythm. And the Caretakers scene is a good example of something I never in a million years would have imagined would be cut, because it's also what I thought was the resolution of Rey and Luke's journey together.
"When we took it off and ended it on that beat of her saying, 'I won't let you down,' suddenly it clicked together: This was what it needs to be," he said. He paused, cracking a wistful smile at the thought of the scene, now a bonus feature for fans to discover. "I'm glad it's on there."
Johnson said the initial idea of being followed around by cameras as his every creative decision and process was documented was, at first, a little daunting. But he remembered two making-of documentaries in particular that had huge influences on him as a child.
"One was for 'Return of the Jedi' about Jabba's palace and all the creature work, and the other one was about 'Raiders of the Lost Ark,' focusing largely on the truck chase. I remember the impact that had on me. So I thought, 'God, if we're going to get one shot at making a "Star Wars" movie, let's take this step and just lift the curtain.'"
Even more behind the scenes footage has yet to be seen, Bergman says, and the filmmakers hope to eventually release additional material — possibly in miniseries form.
"The truth is there are so many fascinating stories," Johnson said. "Like Kelly [Marie Tran]'s story: The doc crew went back to Los Angeles with her when she was packing up her apartment to come to London and basically had to lie to all of her friends and say she was going to Canada to work. But there are a thousand stories — Peter Mayhew training Joonas [Suotamo] and doing like Wookie school, and the unexpected emotion of that. They got so much good stuff. Hopefully we'll be able to put that together."
It's fun because it's kind of thinking, 'OK, outside of the Skywalker story and outside of the recognizable iconography, what is this? What is "Star Wars"?'
— Rian Johnson
Meanwhile, as their "Last Jedi" tour ends, the duo find themselves back at the beginning: brainstorming ideas for the new "Star Wars" trilogy Johnson is tasked with writing and directing for Lucasfilm.
"It's fun because it's kind of thinking, 'OK, outside of the Skywalker story and outside of the recognizable iconography, what is this? What is "Star Wars"?' Or what do we need to retain from that, to pull forward for it to still be 'Star Wars' — and what can we leave behind?" Johnson explained.
"They're all the big questions that need to be thought of. And even the ones that we don't know the answers to are things we need to figure out if 'Star Wars' is going to be vital and alive moving forward and not just be a waxworks. We're going to have to figure out how to tell vital new stories."
As they were to his "Last Jedi" ideas, Lucasfilm seems open to shaking up the "Star Wars" universe, according to Johnson. "We need some directors who aren't white dudes," he said emphatically, in spite of Lucasfilm's track record to date of hiring only white male directors. "And [Kennedy] knows it too. It just has to happen. I mean, come on. It has to happen."
He's optimistic about the company's willingness to push the established boundaries of its legacy franchise both onscreen and off. "The thing is, I don't feel that the powers that be are pushing back on new or unprecedented stuff," said Johnson. "Quite the contrary. I feel like Disney and Lucasfilm and Kathy are actively looking for filmmakers and voices that are going to push it forward because they know that's the only way it can stay alive.
"When people ask me, 'Don't you think people are going to get sick of 'Star Wars' movies?' to me that question indicates that they're thinking of 'Star Wars' movies as a museum exhibit that is wheeled out once a year so you can say, 'Oh, I loved that thing. Oh, I remember that thing!' And yes, if 'Star Wars' is that, people are going to get sick of it really quickly.
"But if 'Star Wars' are great new movies that are exciting and fresh, and that challenge you and surprise you and make you feel things and engage you the way that those original movies did — but always taking you to new places, both in the galaxy and emotionally — that's never going to get old. That's what it's all about."
---
Get our L.A. Goes Out newsletter, with the week's best events, to help you explore and experience our city.
You may occasionally receive promotional content from the Los Angeles Times.