Stella Meghie and Sasheer Zamata bring the black rom-com to Toronto with 'The Weekend'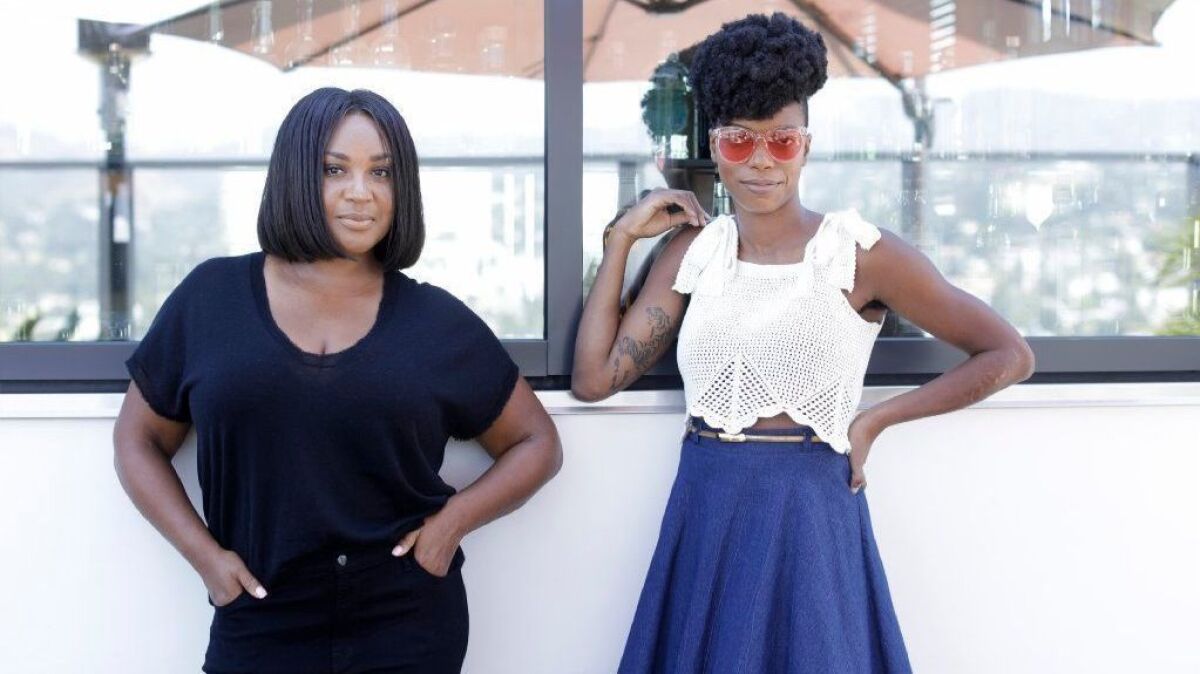 Reporting from Toronto —
Back in the day — think late '90s, early 2000s — romantic comedies and dramas with black ensembles were around every release corner: "Love Jones," "Best Man," "The Wood," "Love & Basketball," "Two Can Play That Game." From this collection of films came a generation of Black Hollywood that would go on to become household names in black homes and beyond: Taye Diggs, Nia Long, Morris Chestnut, Vivica A. Fox, Omar Epps, Sanaa Lathan, Gabrielle Union and more.
But as time went on, the genre fell out of favor and Hollywood lost a ripe training ground for up-and-coming talent looking to sharpen their teeth and build personal audiences in front of and behind the camera.
Stella Meghie's "The Weekend," premiering Tuesday at the Toronto International Film Festival, revives the tradition.
It just always makes me happy to give someone a role like that so people can see the breadth of what they can do.
— Stella Meghie
Starring "Saturday Night Live" alum Sasheer Zamata, "The Weekend" follows a comedian who takes a weekend trip to her parent's bed-and-breakfast with her ex (Tone Bell, "Disjointed") and his new girlfriend (DeWanda Wise, "She's Gotta Have It") in tow. While there, she meets a new potential bae in another guest, played by Y'lan Noel ("Insecure," "The First Purge").
"The cast is that age group that has been missing of young black actors who are all poppin' and all really poised for major breakouts," said Meghie. "That's what was happening back then and it is happening again now. I'm happy to work alongside them and have our careers build at the same time."
Meghie, without a doubt, is a writer-director to watch. Following her well-reviewed 2016 indie debut "Jean of the Joneses," she went on to helm "Everything, Everything" in the studio system, becoming the only black woman to direct a widely released major studio picture in 2017. With her third film, "The Weekend," she's back in the indie space where she thrives.
"I missed directing something I had written," she admits, "but it all came together pretty quickly."
FULL COVERAGE: 2018 Toronto International Film Festival »
A conversation with noted producer Stephanie Allain set it all in motion. She then began casting, immediately thinking of Zamata.
"I read the script, thought it was funny and really liked it, and love black people hanging out. I wanted to be part of that, part of a new movement, a revived movement," said Zamata. "Stella seemed cool and I wanted to work with this person and be around her."
She noted that out of all of the projects she's done, Meghie is the first black female director she's ever worked with. And the role is Zamata's first leading turn, after always playing supporting or secondary roles opposite other, usually white or male, actors.
"Usually when I get offers, it's to be some bit, comic person who just pops in the scene like, 'blah blah blah, joke!' and then I leave," she said. "That's fun, but this is the first romantic thing I've done where you see the multifaceted aspects of this character. That's really exciting and I want to keep doing that.… I hope it inspires more roles like it."
Meghie cast the rest of the film out of her phone, literally.
"I texted DeWanda like, 'What are you doing in December?' She was like, 'I don't know girl, What we doing?' " said Meghie. "And then I thought about Y'lan. We had lunch and he said he'd love to do it. And the same with Tone. I'd been following him for some time."
I was emotional when [TIFF artistic director] Cameron [Bailey] hit me up and said they would love to showcase this because it means a lot.
— Stella Meghie
And then there was the veteran of the cast, Kym Whitley, who plays Zamata's mother.
"She has a few dramatic scenes where … people don't even know her levels and layers," said Meghie. "It just always makes me happy to give someone a role like that so people can see the breadth of what they can do."
Zamata agreed, noting how excited she was to work with the seasoned funnywoman "because she's in everything that I love."
"And those emotional scenes, she was making me more emotional because she was giving me so much. We just kept saying, 'I'm glad I'm doing this with you because you're pulling so much more out of me.' I feel very fortunate to have worked with her."
"The Weekend" scoring a world-premiere slot at TIFF is a homecoming for Meghie. Not only did "Jean" screen at the festival, after its South by Southwest premiere, but she was born in the Canadian city. But this will be her first time attending with a film, as she was in production on "Everything" when "Jean" came to town.
"I was emotional when [TIFF artistic director] Cameron [Bailey] hit me up and said they would love to showcase this because it means a lot — that validation and feeling like you're playing alongside your peers, and what a year of your peers at TIFF," she said. "It just feels good."
Meghie is one of several notable black filmmakers with films world premiering at TIFF this year, including Barry Jenkins ("If Beale Street Could Talk"), Steve McQueen ("Widows"), George Tillman Jr. ("The Hate U Give") and Amma Asante ("Where Hands Touch").
And for Meghie, returning to her hometown with a cast of black 30-somethings on the rise is even better, she said.
"That's part of the reason that I know I can't stay out of the indie space," she said. "I have to make sure that I help break actors that aren't yet being given opportunities on that studio level.
"You do movies like this, go to TIFF with them and build your careers together."
---
Get the Indie Focus newsletter, Mark Olsen's weekly guide to the world of cinema.
You may occasionally receive promotional content from the Los Angeles Times.