Government corruption and big-wave fever: Two docs look at California's fraught relationship with water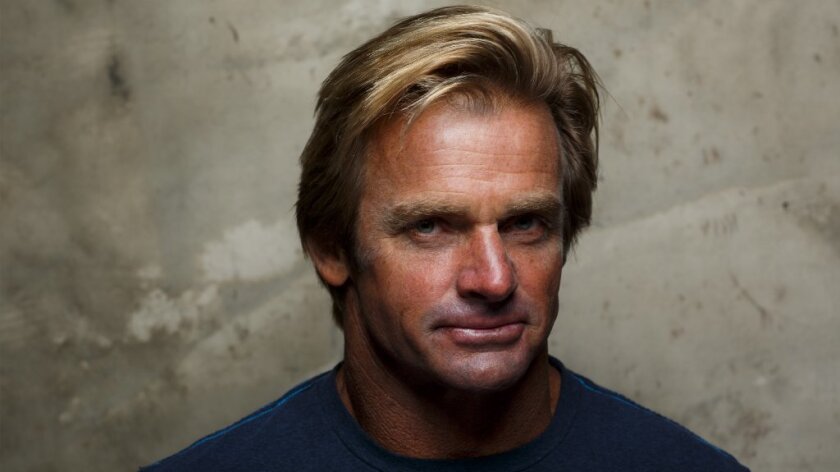 Reporting from PARK CITY, Utah —
Marina Zenovich holds up a glass and looks hard at the clear liquid inside. "Water is right there, we see it every day. It's something we all need, but we don't necessarily know where it comes from."
Rory Kennedy looks out a window at a snowy mountain and talks about seeing Laird Hamilton "surf these avalanches of water. It was really incredible, there is some awe and wonder that I will admit to."
California may be the Golden State, but given how important water is both to our survival living in a desert and to our image as home to surfer culture, maybe the Aqua State would be a more fitting name.
In one of those only-in-Sundance coincidences, two excellent documentaries dealing with different aspects of that essential liquid are debuting here: Zenovich's "Water & Power: A California Heist," a scalding investigation of the politics of water, and Kennedy's "Take Every Wave: The Life of Laird Hamilton," a compelling look at the remarkable achievements and unbending personality of a legendary surfing innovator.
In another coincidence, both documentaries are departures from their directors' usual focuses.
Kennedy ("Last Days in Vietnam," "Ghosts of Abu Ghraib") smiles and says "most would agree that this is an unusual pairing to say the least" for a filmmaker whose "passion is pretty hard-hitting documentaries about social issues, paying attention to people who don't have a voice. This was not that."
Zenovich, best known for "Roman Polanski: Wanted and Desired" and "Richard Pryor: Omit the Logic," grins as well when she jokes "maybe Rory should have made my movie and I should have made hers."
Yet not only do both documentaries turn out exceptionally well, both have factors that connect to the filmmakers' life and work in an essential way.
Zenovich for her part says "I make films about difficult men," which includes the water barons who are at the heart of her investigation into a situation so suspicious that when executive producer Alex Gibney pitched it to her he called it "'Chinatown,' the Documentary." More than that, Zenovich turns out to have a strong connection to both politics and California's Central Valley, the documentary's ground zero.
Not only was she born and raised in Fresno, her father, George N. Zenovich, represented the area in both the state's Assembly and Senate and now has a courthouse in the city named after him. "As a kid I went to Sacramento every other summer," she remembers. "I know how the sausage is made."
Though she "started out knowing nothing" about California water issues, Zenovich quickly got up to speed while investigating why people in places like East Porterville in Tulare County have no water they can drink while wealthy agricultural interests have all they need to grow high-profit, water-intensive crops.
The answer, she found, was in a little-known 1994 agreement called the Monterey Amendments, negotiated under the radar, which resulted in private companies having control over a big chunk of California's water, a situation that infuriates Zenovich for more than one reason.
"How did it happen that this precious resource, which should have been kept for the people, has been privatized?" she asks. "And it happened behind closed doors, there should have been transparency and there wasn't. No one wants to tell you about it, no one is shouting it from the mountaintops.
"I wanted to tell the story of greed and the little guy. 'Never underestimate the power of greed,' water attorney Tony Rossman told me. 'If you're not a greedy person you don't really comprehend.'"
Like Zenovich, Kennedy did not originate the idea for her documentary; it was the brainchild of producer Paul Speaker. "Honestly, initially I said no," she remembers. "With the world falling apart, why would I be doing a film about a surfer?"
But to her surprise, Kennedy found "I couldn't let go of it. The challenge was to come to terms with the fact that I was making a surf film. I had to give myself permission to do that." But just as Hamilton is hardly the average surfer, "Take Every Wave" has little in common with the standard surfing movie.
A visionary pioneer in both tow-in, big-wave surfing and foil boarding, someone who never took part in competitions because he was hungry for pure experience, Hamilton has had some spectacular ocean rides, and "Take Every Wave" has the dazzling archival footage to prove it.
But Kennedy has seen to it that the film is first and foremost an exploration of Hamilton's dynamic, contrarian personality as revealed through conversations with the man himself, his oldest friends (even those he is estranged from) and his wife, world-class volleyball player Gabrielle Reece.
"Laird doesn't really sit, and I needed 12 hours of sit-down interviews," Kennedy says. "But the thing about him that is amazing is that when he's uncomfortable he dives in. Just like in surfing, if he is fearful or scared in a situation, that's where he goes."
What Kennedy saw in Hamilton, what she finally felt was of value exploring, was "a person pushing his own limits, what happens in that space.
"Laird is someone who really followed his dream, who made his life what it is today. But there is a cost to being spectacular at what you do. Laird is not easy — he's a hero but a flawed hero. He's always kept going because he still had work to do."
---
Get the Indie Focus newsletter, Mark Olsen's weekly guide to the world of cinema.
You may occasionally receive promotional content from the Los Angeles Times.