Commentary: Sundance: 'Landline' doesn't connect, but 'Novitiate' is worthy of praise
Film Critic
Reporting from Park City, Utah —
"The inauguration is over, so you can turn off your cellphones!"
That was the Sundance Film Festival's director, John Cooper, introducing the Friday afternoon screening of Gillian Robespierre's new comedy, "Landline." For those of us who chose to bury ourselves in movies rather than pay attention to the events transpiring across the country, the mention of the inauguration jolted us briefly back to reality — a needle puncturing our cozy Hollywood bubble, if you will — shortly before the lights dimmed and a fresh distraction took over the screen.
Reactions to the inauguration seemed fairly muted in Park City, at least from this observer's admittedly limited, partly scarf-concealed vantage. Rather than cheer, jeer or laugh in response to Cooper's mention, most of us simply followed his instructions and put our cellphones away — a fitting enough way to ease oneself into a movie called "Landline." In this 1995 nostalgia-fest, a Manhattan family must rely on floppy disks and mixtapes to make their way through a gauntlet of dysfunction and bad decision-making. (More political reminders: At one point, the characters watch Hillary Clinton delivering her "Women's rights are human rights" speech in Beijing, though mostly they just admire her pink pantsuit.)
The movie centers around twentysomething Dana (Jenny Slate), who's in love but a tad bored with her fiancé (Jay Duplass), and her 17-year-old sister, Ali (Abby Quinn), who's starting to experiment with boys and drugs. They clash to varying degrees with their parents (Edie Falco and John Turturro), whose long marriage is showing signs of strain. The insight of the movie — delivered amid a torrent of half-germane, half-gratuitous raunch — is that lust, dissatisfaction and restlessness have a way of manifesting themselves at every age and stage of life.
"Landline" is the latest collaboration between Robespierre and Slate since "Obvious Child," which made a splash at Sundance in 2014 as a kind of pro-choice indie-comedy rejoinder to "Juno." Their new movie isn't as daringly high-concept, or as effective. The family dynamics are persuasive enough, particularly Slate and Quinn's snappish, sisterly rapport. But the tetchiness soon turns monotonous. Great movie bickering becomes a kind of music, but well before the end of "Landline," I just wanted the characters to cease their ranting and storming, or at least lower the volume.
::
Speaking of lowering the volume: In writer-director Maggie Betts' exquisitely cloistered drama "Novitiate," a fresh class of aspiring nuns are introduced to the harsh, sacred rigors of convent life. Their days are divided between "regular silence," during which some talking is permitted, and "grand silence," when it is expressly forbidden. Eye contact between nuns is frowned upon; physical touch is an outright sin.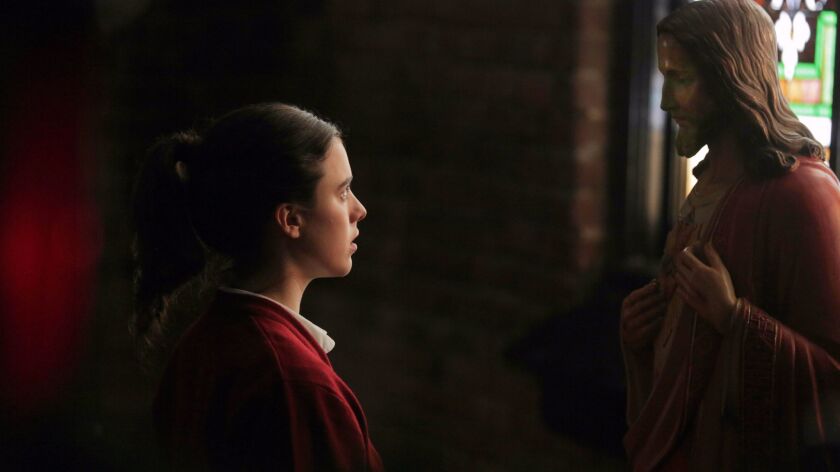 It's sometime during the early 1960s, shortly after the sweeping reforms introduced by Pope John XXIII and the Second Vatican Council, which allowed nuns to shed their literal and figurative habits. But the Reverend Mother (Melissa Leo), who oversees the Sisters of the Blessed Rose, is having none (ahem) of it. She suppresses the news of Vatican II's decisions and continues to discipline her postulants with every instrument at her disposal — none more nightmarish than the "chapter of faults," a regular gathering where the young sisters are ordered to confess their gravest weaknesses.
The tension Leo can generate simply by entering a room is extraordinary; the folds in her wimple look like extra neck tendons. Her performance immediately joins the all-time great screen depictions of domineering clergywomen — right up there with the late Geraldine McEwan in "The Magdalene Sisters" and Agata Kulesza in last year's Sundance-premiered "The Innocents." Hell, I'll even throw in Maggie Smith in "Sister Act," but I'm leaving out Meryl Streep in "Doubt" (Leo would eat her for breakfast). The scenery-chewing doesn't cancel out the emotional depth in this case; it amplifies it. This performance becomes a small masterpiece of camp humanism.
Leo may be "Novitiate's" standout element, but she isn't its center. That would be a young postulant named Sister Cathleen, embodied with gorgeous stillness by Margaret Qualley, who defies the wishes of her mother (Julianne Nicholson) to pursue her love of God to its fullest. Sister Cathleen takes her vocation more seriously than her fellow trainees (one of them claims to have signed up after seeing Audrey Hepburn in "The Nun's Story"), which only makes her more susceptible to the more unyielding aspects of the calling.
This is an excellent narrative feature debut for Betts, who previously directed the 2011 documentary "The Carrier," about the impact of the AIDS crisis on a Zambian family. Her nonfiction training can be seen in the immersive, even-handed way she captures the convent's hushed environs and ritualistic way of life, but it doesn't account for her remarkable skill with actors. In an ensemble without a weak link, special note should be made of Dianna Agron ("Glee"), gently heartbreaking as an empathetic, progressive-minded young nun who learns, well before any of the others, that you can only repress the body so long before crushing the spirit.
The strongest film I've seen in the U.S. dramatic competition so far, "Novitiate" made an unexpectedly stellar double bill with Jeff Baena's Midnight entry, "The Little Hours." A gleefully anachronistic comic riff on "The Decameron," set in a medieval convent that becomes a hotbed of horny activity, the movie stars Alison Brie, Aubrey Plaza and Kate Micucci as a wicked trio of mean-girl nuns who drop more expletives than Hail Marys, get drunk on sacramental wine and think nothing of sexually assaulting the hunky new handyman (Dave Franco).
If the humor gets a bit one-joke — I wish Molly Shannon's Mother Superior, in particular, had more to do — "The Little Hours" is nonetheless a cohesive vision. And like "Novitiate," it's a surprisingly shrewd reflection on the age-old tension between devotion and desire. Baena, who was previously at Sundance with "Life After Beth" and "Joshy," earned a minor in medieval and Renaissance studies while at NYU film school, and while he has clearly taken a few artistic liberties with what he learned, he somehow achieves that rare form of cinematic transubstantiation whereby mockery becomes an act of love.
---
Get the Indie Focus newsletter, Mark Olsen's weekly guide to the world of cinema.
You may occasionally receive promotional content from the Los Angeles Times.