Filmmaker Debra Granik returns with drama of family and survival in 'Leave No Trace'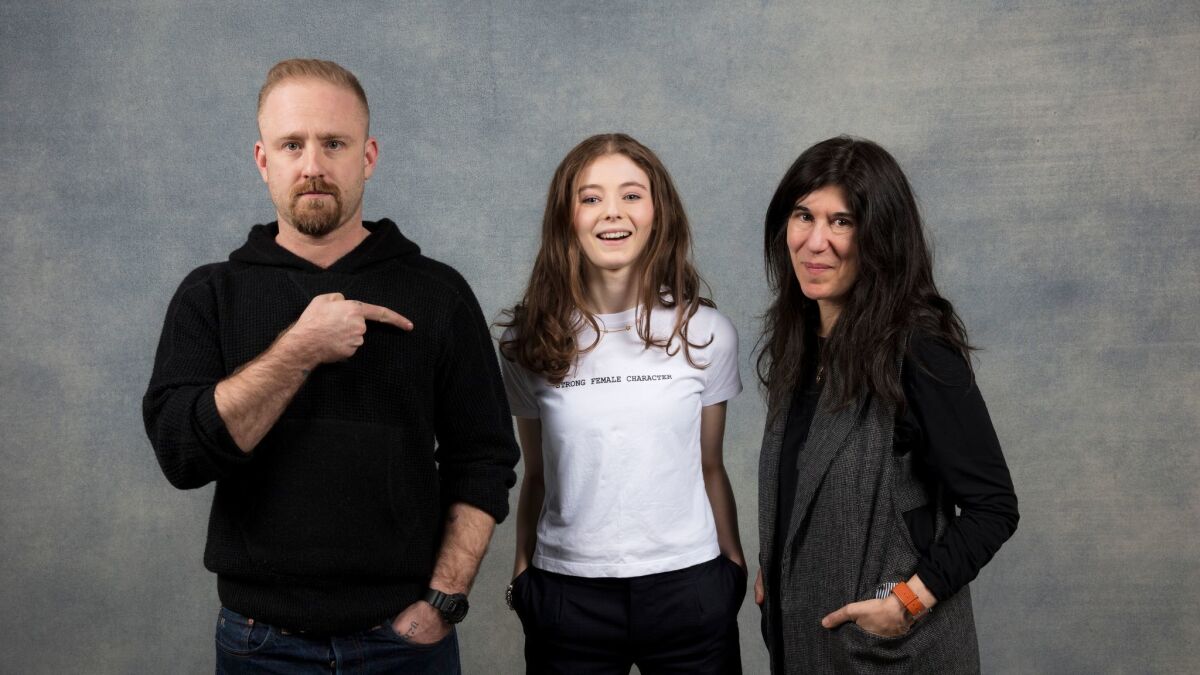 Among the most anticipated films of this year's Sundance Film Festival has been director Debra Granik's "Leave No Trace." Granik's previous feature, "Winter's Bone," won the festival's grand jury and screenwriting prizes in 2010 and went on to four Academy Award nominations — including best picture — and helped launch Jennifer Lawrence to stardom.
"Leave No Trace" had its world premiere on Saturday as part of Sundance's Premieres section and by early Sunday, Sony Pictures Worldwide Acquisitions had acquired nearly all international rights for the film.
Producers Linda Reisman and Anne Harrison first sent Granik and her producer and co-writer Anne Rosellini the novel "My Abandonment" by Peter Rock, which they adapted into "Leave No Trace."
The film opens with Will (Ben Foster) and his teenage daughter Tom (Thomasin Harcourt McKenzie) living in undetected isolation in a vast park on the edge of Portland, Ore., their days mostly filled with the essentials of survival. When they are discovered and brought in by authorities, their connection to each other becomes strained, as Tom starts to feel a pull toward community while Will's inner conflicts push him further and further away.
FULL COVERAGE: Sundance Film Festival 2018 »
The film's unvarnished, observant style gives a platform to two riveting performances. Foster brings a humane warmth to his role while also tapping into a deep well of torment and sadness, while 17-year-old, New Zealand-born McKenzie is a fresh, exciting discovery with an enigmatically winsome screen presence.
Since "Winter's Bone," Granik has made only one other feature — the 2014 documentary "Stray Dog," about a Vietnam veteran and biker in the same vicinity of Missouri as the setting for "Winter's Bone." Granik spoke on the phone from New York ahead of Sundance and in conversation was energetic, engaged and thoughtful, underscoring the quiet passion that runs through her work. Reflecting on what appears from the outside to be the gaps between films, she said, "They take these years that you can't really account for."
Having made both narrative and nonfiction films, how do you view the intersection of documentary and fiction? How do you decide that you want to explore a story like "Leave No Trace" as a fiction piece and not make a documentary on reclusive veterans?
That's something I ask myself, honestly. Thinking right now about the process of production, I'm thinking about what it meant to stand in this magnificent, emerald green Pacific temperate rain forest, and to be able to compose a shot and to work with my beloved colleague [cinematographer] Michael McDonough and the amazing grip crew. We were using a lot of natural light, so we weren't hauling big lighting rigs into that natural forest, we were bouncing light, gently, and leaving a very small footprint. But what it meant versus documentary was to be able to say, "We want to take our time and show that the canopy is really tall and they are very small people in this very large forest." To me, part of working in the fiction realm for this story was to celebrate the glory of the environment. To celebrate the settings in which this film was going to take place.
But being able to slow things down, being able to stabilize, being able to lift things to that next level where all of us who appreciate even sophomore high school literature — man versus self, person versus society — we've learned those essential conflicts of all literature, all film, all theater. It's easier to explore them in the fiction realm, because you can purify. I don't have to deal with everybody's warts.
In documentary, mostly people are going to say untoward things, people are going to have gnarly beliefs, people aren't perfect. I don't want to make fictional characters who are perfect, that's a vanilla situation, but the fact is you are allowed to more carefully select and curate what it is you're going to explore. In documentary you are sometimes burdened or you feel very responsible for dealing with — I want to say — more complicated themes. Fiction allows for greater distillation.
In casting Thomasin McKenzie did the success that Jennifer Lawrence had following "Winter's Bone" cause you to feel any extra pressure this time?
Well in order to work with that, I have to be, I want to say stubborn as ... I am a very, very stubborn person because I have to constantly differentiate what I do from the larger machinery. I have obviously a very complex relationship with the more industrial side of filmmaking, and the machinery that can take an actor or an actress and create something so bamboozling and monumental and fathomless in terms of publicity hits. In order to drill into my work, I have to stay in a tunnel, I almost have to be a little reclusive, to be honest, and let that do what it does. And always tune into who would be an interesting collaborator for this project. It doesn't help my work that Jennifer is a very financeable investment in the film industry.
I was looking for a teen woman who was going to do a good job in this film... I don't have to say, "Am I looking for the next Jen Lawrence?"

— Debra Granik on casting 'Leave No Trace'
I was looking for a teen woman who was going to do a good job in this film. I don't have to apply that rubric at all, I don't have to say, "Am I looking for the next Jen Lawrence?" Instead I'm saying let me sort through these talented and aspiring young women and see who seems right for this project, is game for this project. And wasn't too urban. That was a big problem. This was a rustic situation, people might get really muddy. That mud, those chapped hands that Tom had is the result of using that knife in inclement weather. She's stoic. I I'm very attracted to stoic people.
Do think that your contentious relationship with the industrial side of filmmaking was a factor in your being way from fiction features for so long? Does it have to do with your own filmmaking practice?
Definitely. Did you use the word contentious? I don't want to be Pollyanna, but I would want to say, it takes a lot of time to make films and life is short. I don't have time to be contentious. Contentious is what I could afford to do right out of film school. Contentious is when you can feel hotheaded. I need to be able to have a richer dialogue with that.
I remember how exciting it was in the early years of when we called ourselves an indie movement, when you'd see Edie Falco for the first time or Christine Vachon would say part of our mission of being a little bit outsider is so that we can introduce new talent. So indie film can be a new vein for talent to enter and that indie films can get made. That sort of got weirdly harder and harder to achieve. So the indies sometimes have that weird — I call it the canary in the mine. It's a stressful dialogue to have.
SIGN UP for the free Indie Focus movies newsletter »
Follow on Twitter: @IndieFocus
---
Get our L.A. Goes Out newsletter, with the week's best events, to help you explore and experience our city.
You may occasionally receive promotional content from the Los Angeles Times.