Sundance: In Justin Chon's 'Ms. Purple,' a Koreatown karaoke hostess lives an L.A. story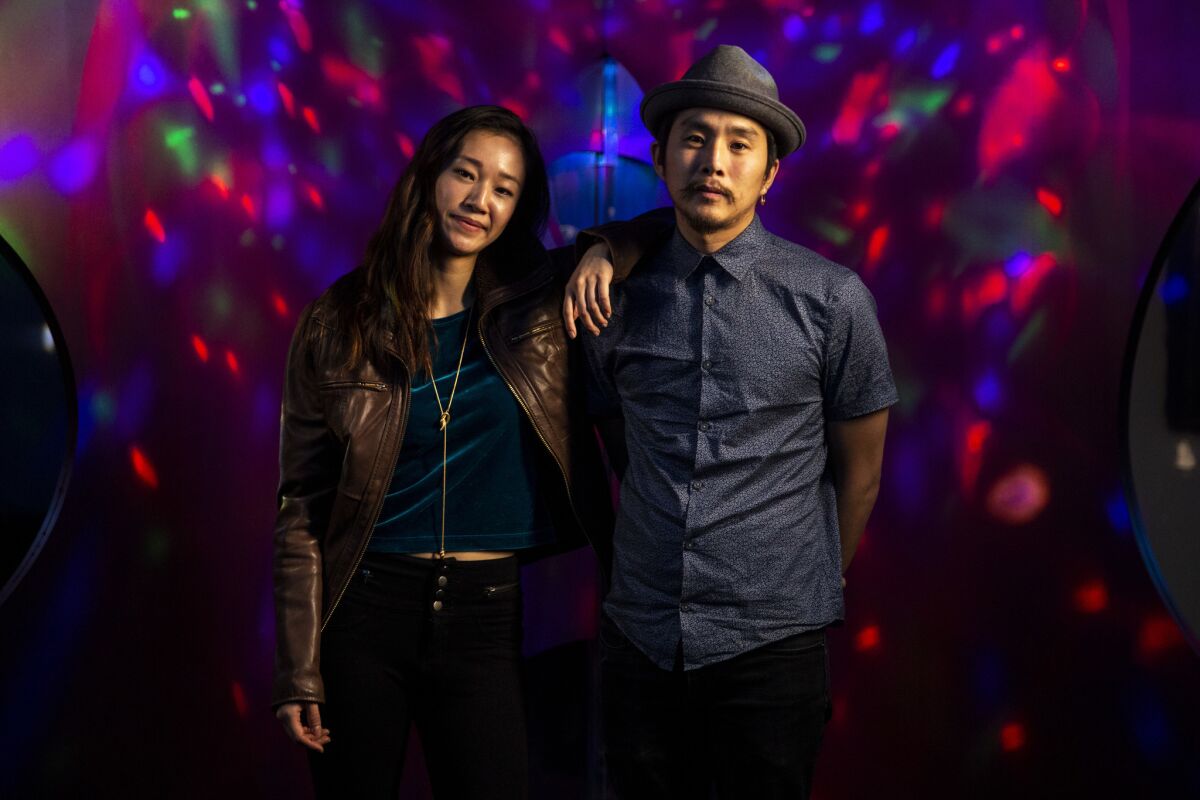 Kasie, the quietly spiraling heroine of the drama "Ms. Purple" played by newcomer Tiffany Chu, spends her days caring for her dying father in the cramped Koreatown apartment they share.
Her brother, Carey, left home a while ago. Shared sorrow unites them through the distance. But now bills are mounting, and Kasie refuses to turn her dad over to hospice care.
So at night she goes to work plying businessmen with booze and attention as a doumi, or paid hostess, in the dimly lighted karaoke joints of Los Angeles.
And in writer-director Justin Chon's sophomore feature, premiering in the U.S. dramatic competition at the Sundance Film Festival, those swirling pressures of family obligations, cultural expectations and the looming impossibility of survival are slowly, invisibly, suffocating Kasie.
Mainstream awareness of doumi life is virtually nonexistent. To most audiences the film will be an introduction to the under-the-radar practice common in L.A.'s Korean nore bangs, or private karaoke rooms, in which young women are paid to party with men.
Free-flowing soju and patriarchal power dynamics inherent to the scene can lead to illicit activity and assault, which is why the LAPD's vice squad started cracking down on late-night karaoke establishments in recent years. For the mostly cautious Kasie, it's an extension of the gendered expectations she's grown up with and one of few options she thinks she has to keep the lights on at home.
Chon, who was raised in Orange County and spent his life in and around Koreatown, saw the nore bangs as an untapped backdrop for the kind of humanistic reflections of Asian American life he seeks to tell.
"I felt like, let's talk about it. Asian cultures specifically are very male-dominated, and I felt like it was such a great conduit to parallel how she deals with her father," the director says. "It's this vicious cycle of finding comfort in not the best situations."
Chon, an actor known for his roles in "The Twilight Saga," "21 & Over" and many other films, initiated a career evolution starring in 2017's "Gook," which he also wrote and directed. That film, about the friendship between an African American girl and a Korean American on the eve of the 1992 L.A. riots, premiered at 2017's Sundance Film Festival, where it won the Next category.
By the time "Gook" won Chon the Film Independent Someone to Watch award, the director had his next feature in his sights.
"Instead of going bigger, I wanted to go more intimate and more specific and more tribal — because I feel that the more specific it is, the more universal it tends to be," Chon says.
Co-written with Chris Dinh, "Ms. Purple" is set in present-day Koreatown, telling a story of cultural expectations, generational guilt, toxic masculinity and liberation. Filmed across the heart of the city from Ktown to Pico-Union, Kasie's journey plays out across concrete strip malls and bustling residential blocks familiar to Angelenos but rarely seen onscreen.
"Ms. Purple" tracks Kasie's gradual awakening through her relationships with the men in her life: the Korean immigrant father broken by his own failed American dream (James Kang); the wealthy boyfriend who sees her as an object to be controlled (Ronnie Kim); Octavio, the charming new friend who breaks down her walls (played by a charismatic Octavio Pizano); and brother Carey (Teddy Lee), who would rather waste away his life at an online cafe than confront the traumas of the past.
Chu, the daughter of Taiwanese immigrants who hails from the Bay Area, was only a few years into her acting career when she landed the role in Chon's intimate indie drama. A self-described former shy kid and only child, Chu's unshowy gravitas lends a melancholic undercurrent to Kasie's emotional isolation.
To better understand Kasie's world, Chu worked as a doumi for a night, answering a Craigslist ad that led her to an "interview" with a recruiter. It "was basically just showing up at the Denny's on Vermont to make sure that you're not fake," she says.
Chu was later picked up at the same Denny's and driven in a Mercedes with other girls from karaoke joint to karaoke joint across town, given a quick rundown by a driver and other hostesses: "Watch your drinks, and watch your dollar bills."
"Obviously it's very unpleasant," Chu says. "The guys are pretty gropey. They ask to kiss you … I was really being cautious of what I was doing, what other girls were doing, asking them their experience, and [I learned that] everyone has their own reasons."
FULL COVERAGE: 2019 Sundance Film Festival »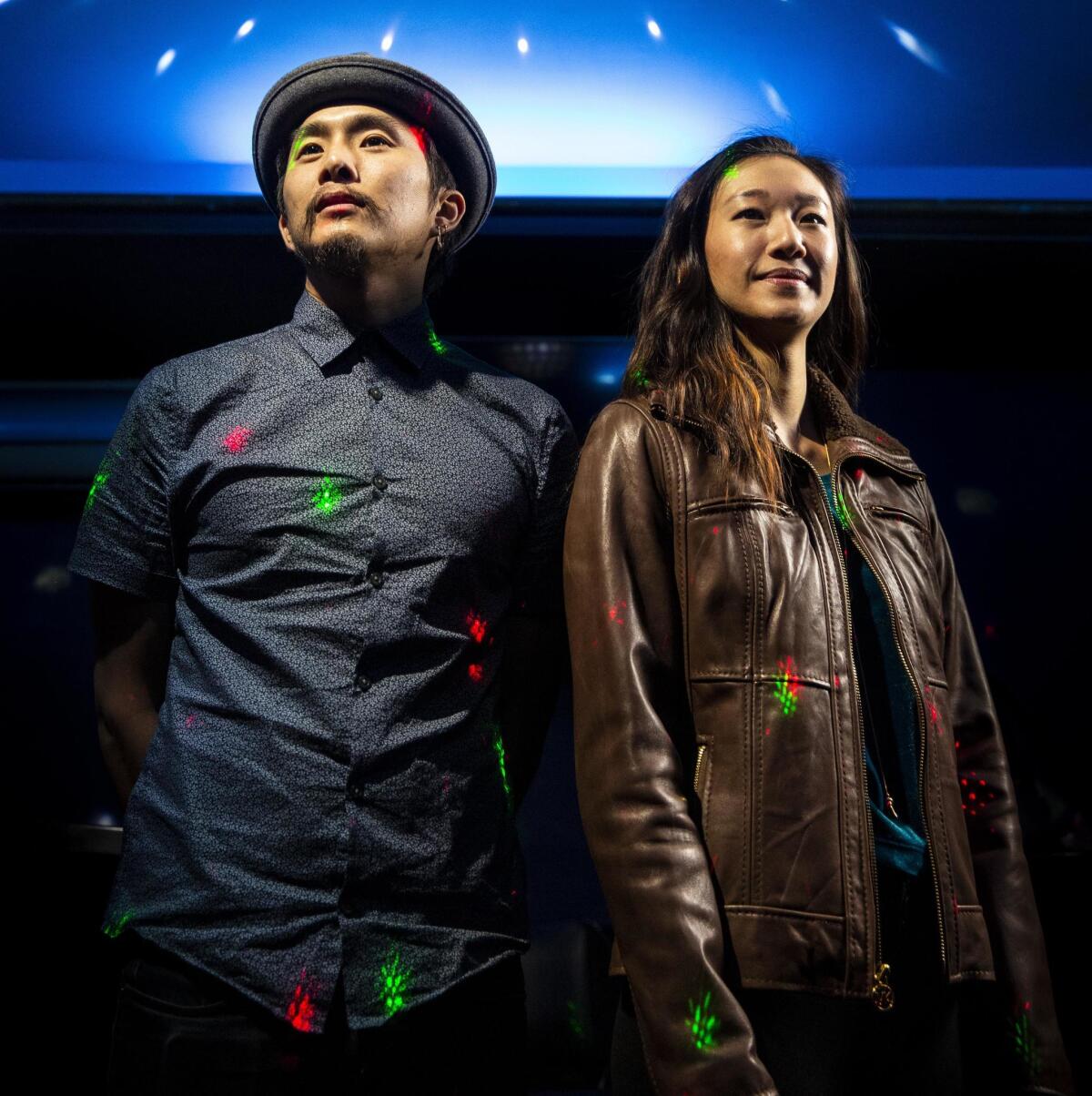 More important, Chu and Lee spent extensive time together before filming to develop the complex sibling bond between Kasie and Carey, young adults wrestling with filial duty and frustrations who each have their own complicated relationship to their father.
At its heart, "Ms. Purple" is a story of siblings — the kind of story Asian American filmmakers haven't had much chance to tell before, says Chon.
"Some of my favorite movies, like 'You Can Count On Me' or 'The Savages,' are always [centered around] white people," he says. "And I always felt like we're not allowed to tell those stories because we don't have enough bankable actors to warrant a budget to be able to tell it properly."
But while "Ms. Purple" is at once universally relatable in its familial dynamics, it's also specific to Kasie's unique second-generational L.A. existence — caught between cultures, expectations and obligations, unseen in a predominantly Latino Koreatown, seemingly alone in a city of 4 million.
"A lot of it is her mental struggle of what she's battling against, what she wants, what other people want, what her father wants and what she thinks her family wanted for her," says Chu, who can currently be seen in the Twitch original series "Artificial." "A lot of Asians, they go it alone and don't want to reach out for help. It was important for me to show that she's not alone."
Even now, sitting in an empty party room at Soopsok Karaoke and Restaurant on 3rd Street, where they filmed much of "Ms. Purple," Chon and Chu have flashbacks to the "impossible" 34-day shoot last May. The proprietors of Soopsok, a K-town fixture, were one of many local supporters in the community, including musician-actor Dumbfounded, rapper Rekstizzy, actor Sung Kang and executive producer Daniel Dae Kim, whose support made the scrappy low-budget indie possible.
"They opened their doors to us, and if they hadn't done that this movie wouldn't have been possible," he says with a smile, jokingly grateful to not be sitting in the upstairs party room where they staged a difficult moment of intense violence during a hectic schedule of night shoots. Ultimately Chon says he hopes "Ms. Purple" encourages conversations about finding identity within communities free of external expectations, a thread that manifests symbolically in a purple traditional Korean gown, or hanbok, that Kasie is given as a gift.
"The question I raise for the audience is, what are the cultural things that are great for us to bring with us from our old country — and which can we leave behind?" he says. "But it's not just Korean culture. For all of us Asian Americans, it represents the baggage that we bring that we don't need to carry with us."
It's also a story of melting together, which is why it was important to Chon that his Koreatown also represent the city and neighborhood's Hispanic population.
"I feel like we're living in a time that is so segmented, like, 'This is our thing. That's your thing.' And we need to have our own things," says Chon, who plans to continue to act, write and direct. "But through my storytelling my agenda is, how do we exist as a whole?"
"Ms. Purple" screens at the Sundance Film Festival on Jan. 25, 5:45 p.m., at the Library Center Theatre in Park City; Jan. 26, 8:30 a.m., at the Egyptian Theatre in Park City; Jan. 27, 3 p.m., at the Salt Lake City Library Theatre in Salt Lake City; Jan. 30, 5:30 p.m., at the MARC Theatre in Park City; Jan. 31, 6 p.m., Sundance Mountain Resort Screening Room in Sundance; and Feb. 1, 3:30 p.m. at the Eccles Theatre in Park City.
Sundance 2019 Film Festival: See the latest video interviews
On Now
Video: Behind the scenes of the L.A. Times 2019 Sundance photo/video studio
On Now
Video: The 2019 Sundance Film Festival Boomerang Supercut
On Now
Video: How do you make the most of a small budget?
On Now
Video: Cast and filmmaker discuss trusting each other while shooting 'Premature'
3:12
On Now
Video: 'Brittany Runs a Marathon' breaks conventions and stereotypes
On Now
Video: Jillian Bell is tired of getting scripts about body image issues
On Now
Video: Jillian Bell lost 40 pounds for her role in 'Brittany Runs a Marathon'
On Now
Video: 'Brittany Runs a Marathon' actors break out of their sidekick roles
---
Get our L.A. Goes Out newsletter, with the week's best events, to help you explore and experience our city.
You may occasionally receive promotional content from the Los Angeles Times.