The dilemma facing Sundance filmmakers: Attend Robert Redford's directors breakfast or join the protest march?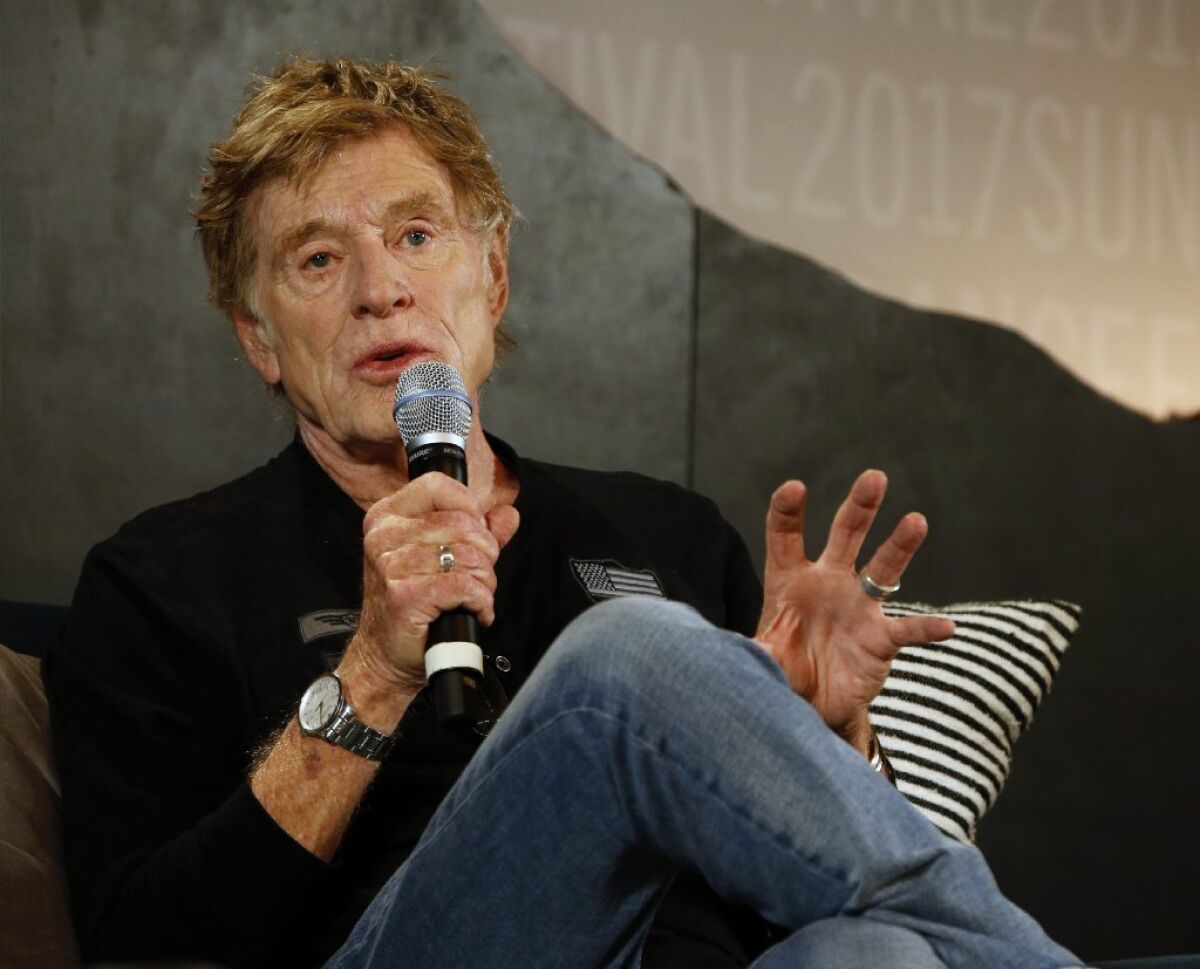 In a year uniquely marked by election-amplified clarion calls for political and artistic engagement, some filmmakers premiering their new films at the 2017 Sundance Film Festival are faced with a tough dilemma on Saturday: March or munch?
A star-studded protest march and rally is slated to take over Park City, Utah, in the heart of the festival on Saturday, led by comedian Chelsea Handler. The independently organized event will coincide with the Women's March in Washington, D.C., and will feature speeches by filmmakers, local activists and politicians including Aisha Tyler, Benjamin Bratt, Dolores Huerta and Connie Britton.
FULL COVERAGE: 2017 Sundance Film Festival »
The Sundance protest march is scheduled to begin at 9 a.m. Saturday morning, wind its way down Main Street, and conclude with a star-studded rally over the course of two hours. Over 4,200 people are currently RSVP'd on Facebook for the event, which will shut down major traffic arteries in and around the festival on one of its busiest, and snowiest, days.
At virtually the same time, Sundance founder Robert Redford will host his annual private filmmakers-only brunch, held offsite 40 miles away at the Sundance resort, where directors with films in the festival can make valuable industry connections and rub elbows with the indie cinema icon.
Logistics make it all but impossible to do both, so this year many invitees will have to choose to either skip their audience with Redford or pass on the Sundance march.
One veteran publicist who declined to be named wondered why the festival and Redford, himself an outspoken activist on environmental issues in particular, have not rescheduled the brunch to accommodate the competing march. She is planning on participating in the march and rally with several clients, including prominent filmmakers with films in the festival.
"I am shocked that the festival decided to keep it scheduled opposite the march," she told The Times. "Why doesn't Robert Redford come down and give his remarks at the rally?"
In a press conference Thursday, Redford took pains to establish an institutional distance between the prestigious film festival and the current groundswell of political engagement from the artist community.
"We don't play advocacy," he said. "The idea of us being involved in politics is just not so. We stay away from that. We feel it's more important to support the storytellers."
This year's Sundance Sophie's Choice is a no-brainer for many female filmmakers. Out of 13,782 films submitted to the 2017 festival, only 188 feature-length and short films were selected to screen here. This year women represent 34% of Sundance directors, a notable increase from last year's festival.
Attending the directors' brunch is an annual rite of passage for young filmmakers. It's also a prime networking opportunity for new directors to make valuable industry connections -- particularly for the women and minority filmmakers who are vastly underrepresented across the entertainment industry and need as much help as possible in getting their second films off the ground.
Participating in the March on Main is also a personal priority for artists attending Sundance – and in the spirit of a festival, run by nonprofit Sundance Institute, that's cultivated a streak of activism by programming politically-themed features and documentaries since Redford founded it in 1981.
In contrast to Redford's assertion that Sundance the institution is apolitical, the films in this year's program represent hot-button issues from across the political and social spectrum. Al Gore's documentary follow-up "An Inconvenient Sequel: Truth to Power," is one of the festival's high-profile opening-night films. "Trumped: Inside the Greatest Political Upset of All Time" was a late addition to the lineup and has its world premiere on Jan. 27.
"I'm marching at Sundance because I couldn't think of a better thing to be doing with my time on that day," filmmaker Marianna Palka, whose fourth feature film as a director, "Bitch," premieres at the festival on Friday night. "I want to support all women everywhere."
Palka also wrote and co-stars in "Bitch," about a woman who snaps and assumes the psyche of a dog, forcing her husband to step up to keep their family together. "It's not just a feminist film," said Palka. "It's also made for a white Republican man. It's made for people who voted for Trump."
She optimistically hopes to make both the march and the directors brunch, which is scheduled to begin at 10 a.m. But given the logistics of ground transportation out of the march vicinity, an expected high attendee turnout, and anticipated snow starting Friday in Park City, making both key events seems an impossible task. Representatives for the festival, which begins today, could not be reached for comment.
Stacey Offman executive produced the Marina Zenovich-directed documentary "Water and Power: A California Heist," which premieres Monday.
"Sundance has always been a place for people to call attention to issues," said Offman, who had already booked a trip to attend the Washington, D.C., march before changing her schedule to come to Sundance.
She is planning on marching Saturday at Sundance, along with a growing number of filmmakers and festival guests. "There's a real galvanizing force of organizations and women and celebrities, thankfully, coming together in Park City. I'm looking forward to being a part of that, and I think it's going to be powerful."
---
Get the Indie Focus newsletter, Mark Olsen's weekly guide to the world of cinema.
You may occasionally receive promotional content from the Los Angeles Times.