Sundance filmmakers and local businesses steel for women's march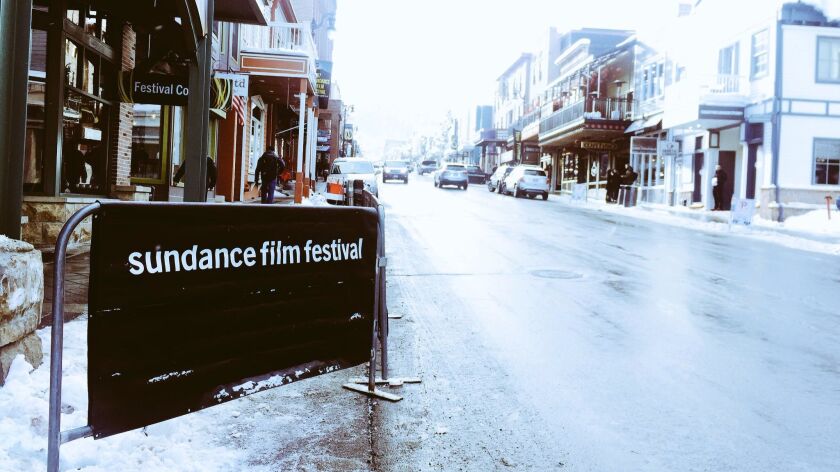 Reporting from Park City, Utah —
"Eight years ago was an amazing day," said Emmy-winning film producer Julie Goldman ("Life, Animated," "Weiner") on a palpably subdued inauguration morning at the Sundance Film Festival. "Today is the opposite."
Sundance veterans can vividly recall Inauguration Day 2009, when attendees of the prestigious annual film festival put the movies on pause, gathered in the snow-covered streets of Park City, Utah, and squeezed into viewing parties to watch Barack Obama get sworn in as the 44th president of the United States of America.
Friday morning at this year's Sundance, no such celebration greeted the anointing of President Trump.
"There's a cloud hanging over the festival in general. Everyone is down," added Oscar-winning filmmaker Roger Ross Williams, who directed the Oscar shortlisted documentary "Life, Animated," about a family using movies to communicate with their autistic son.
I cannot watch the inauguration. It's too painful. It's great to be able to watch films and escape from this reality.
— Oscar-winning documentarian Roger Ross Williams
Goldman and Williams sat with their backs to the Trump broadcast inside a Sundance lounge hosted by CNN Films. Like many Sundance-goers, they woke up Friday morning choosing to not actively watch the inauguration.
"I do not want to watch the inauguration," said Williams, who attended Al Gore's "inspiring" opening night premiere of "An Inconvenient Sequel: Truth to Power." "I cannot watch the inauguration. It's too painful. It's great to be able to watch films and escape from this reality."
A day ahead of a quickly swelling anti-Trump protest in Park City, businesses and visiting filmmakers alike were steeling for the event expected to attract over 4,200 people to the top of Main Street on Saturday morning.
On Friday, however, even those planning to join the march expressed a feeling of mournfulness as Trump officially took office.
Unlike the first Sundance of the Obama era there were no high-profile viewing parties to be had, no cheering in the streets. Walking the central thoroughfare of Main Street past stores and restaurants prepping for the weekend crush, it was difficult to find a venue, any venue, showing an inauguration broadcast.
As the swearing-in ceremony began, a small group of festival attendees trickled into the CNN Films lounge — the rare venue along Main Street televising the event.
Guests watched quietly as President Trump vowed to be a global unifier, particularly against the "radical Islamic terrorism" he promised to "eradicate from the face of the Earth." His address prompted quiet outbursts from a Park City local.
"Sure," she sighed, sarcastically.
Liz Nord, filmmaker and editor in chief of No Film School, found the silver lining in spending a depressing inauguration weekend among a community of like-minded filmmakers now further galvanized to put their art into action.
"It's been heartening to be around people who I believe will be involved in creative resistance in the next four years," she said. "They're working on so many important issues, and raising the visibility of these issues is going to be more important than ever."
We also have to try to find a way to understand the whole country and make films that speak to people, no matter what their affiliation is.
— Emmy award-winning film producer Julie Goldman
Said Goldman: "We have a big challenge ahead. First of all, we're going to be in a struggle and a fight to get funding. We also have to try to find a way to understand the whole country and make films that speak to people, no matter what their affiliation is."
Businesses, meanwhile, were steeling for different kinds of challenges over inauguration weekend. The festival brings in an estimated $143 million in economic activity to the state each year, but while restricted access around the protest route will have a direct effect on parking for employees, shops and cafes along Main Street were eagerly stocking and staffing up well in advance of Saturday's march.
On Friday afternoon Kathie James was working behind the counter at Southwest Indian Traders, a shop lined with wood carvings, animal skin rugs and Native American jewelry downstairs from the Sundance Filmmakers Lounge on Main Street. She said she was dreading Saturday's expected influx of protesters because additional street closures and massive crowds will make getting to work more difficult.
Despite the potential increase in protest-related foot traffic, the store's owner decided to reduce Saturday's hours in order to avoid the potential chaos and congestion directly outside its doors.
James, a septuagenarian who voted against "crooked Hillary" in November and tuned into the inauguration broadcast before her work shift, described Saturday's celebrity-studded protest with bemused detachment.
"It's the Democrats who are [angry]. It's the liberals!" she said. "They're the ones who are throwing the fit. You're not going to see any conservatives out there."
Tight security was already in place at Thursday's opening night premieres, where guards inspected the bags and heavy snow jackets of all ticketed festival guests. On Main Street at midday on Friday, a police officer on loan from the Salt Lake Airport Police Department patrolled the sidewalk with a bomb-sniffing dog.
Connie Marshall, who works at two stores along the protest route, voiced concern over potential safety risks at Saturday's event given its highly public and highly politicized nature. "I hope tomorrow's not going to bring anything bad," she said. "I worry about that too."
James disagreed. "The people who are conservative in Utah are not fighters," she laughed. "They're Mormon."
---
Get the Indie Focus newsletter, Mark Olsen's weekly guide to the world of cinema.
You may occasionally receive promotional content from the Los Angeles Times.